5 of Warren Buffett's Top Dividend Stocks Crushed Q3 Earnings Expectations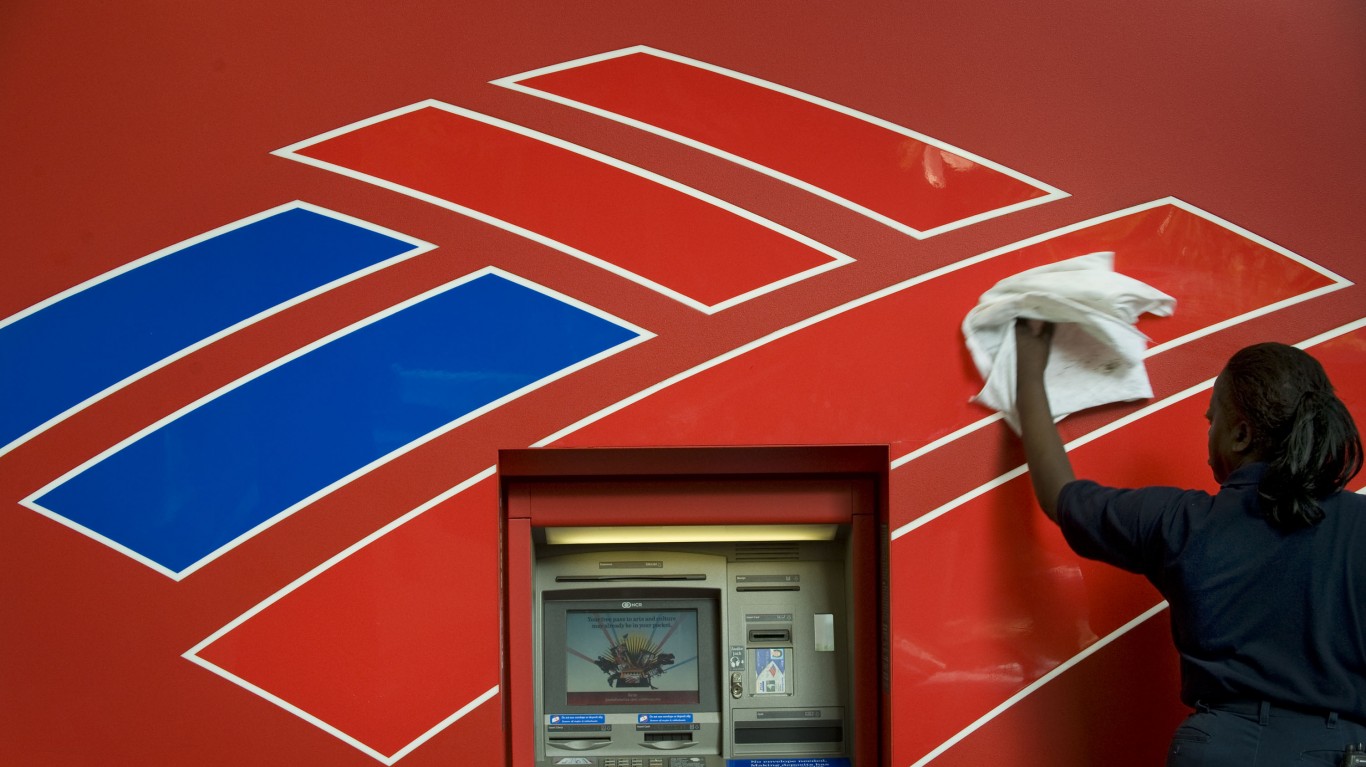 If any investor has stood the test of time, it is Warren Buffett. For years, the "Oracle of Omaha" has had a rock-star-like presence in the investing world. His annual Berkshire Hathaway shareholders meeting draws literally thousands of loyal fans who are investors. Known for his long buy-and-hold strategies and his massive portfolio of public and private holdings, he remains one of the preeminent investors in the entire world.

The Federal Reserve has stated its intent to have the federal funds rate to 4.75% to 5.00% by the end of the year, or early next year, which implies yet another 75-basis-point increase in November and a 50-basis-point raise in December. That does not bode well for stocks. So, it makes sense to continue to raise as much cash as possible. For those looking to add new positions now, we decided to screen the Berkshire Hathaway holdings for companies that pay solid dividends and topped third-quarter earnings estimates.
These five top companies that the "Oracle of Omaha" has a stake in make sense for worried investors with a long-term horizon, as they came up big in the third quarter and are rated Buy by top Wall Street firms. It is important to remember that no single analyst report should be used as a sole basis for any buying or selling decision.

Bank of America
Interest rate increases are welcomed by banks, and this is one of the biggest in the country. Bank of America Corp. (NYSE: BAC) is a ubiquitous presence in the United States, providing various banking and financial products and services for individual consumers, small and middle-market businesses, institutional investors, corporations and governments in the United States and internationally. It operates 5,100 banking centers, 16,300 ATMs, call centers and online and mobile banking platforms.
Bank of America has expanded into several new U.S. markets, with scale across the country positioning it ideally to benefit from accelerating loan growth over the next two years. Moreover, unlike smaller peers, scale allows the bank to increase investment substantially over the next few years without notably jeopardizing returns, driving further market share gains.
Note that Warren Buffett owns a stunning 1.1 billion shares of the bank.
The company posted stellar third-quarter results that beat expectations, with better-than-expected fixed-income trading results and very solid net interest income.
Shareholders receive a 2.40% dividend. Barclays has a $51 target price on Bank of America stock. The consensus target is $40.96, and shares closed on Thursday at $35.87 apiece.

Chevron
This integrated giant remains a safer way for investors looking to get positioned in the energy sector. Chevron Corp. (NYSE: CVX) engages in integrated energy and chemicals operations worldwide.
Chevron's Upstream segment is involved in the exploration, development, production and transportation of crude oil and natural gas; processing, liquefaction, transportation and regasification associated with liquefied natural gas (LNG); transportation of crude oil through pipelines; and transportation, storage and marketing of natural gas, as well as operating a gas-to-liquids plant.

The Downstream segment engages in refining crude oil into petroleum products; marketing crude oil, refined products and lubricants; manufacturing and marketing of renewable fuels; transporting crude oil and refined products by pipeline, marine vessel, motor equipment and rail car; and manufacturing and marketing of commodity petrochemicals, plastics for industrial uses, and fuel and lubricant additives. It is also involved in cash management and debt financing activities, insurance operations, real estate activities and technology businesses.
Chevron posted strong third-quarter results, and it remains one of the best ways to play energy safely.
Chevron stock comes with a 3.20% dividend. Credit Suisse's $202 target price is well above the $181.30 consensus target and Thursday's close at $177.90 a share.
Coca-Cola
This remains a top Buffet holding, as he owns a massive 400 million shares. Coca-Cola Co. (NYSE: KO) is the world's largest beverage company, refreshing consumers with more than 500 sparkling and still brands. It has an incredibly strong worldwide brand, with 40% overseas sales.
The company's portfolio features 20 billion-dollar brands including Diet Coke, Fanta, Sprite, Coca-Cola Zero, vitaminwater, Powerade, Minute Maid, Simply, Georgia and Del Valle. Globally, it is the number one provider of sparkling beverages, ready-to-drink coffees and juices and juice drinks.
Through the world's largest beverage distribution system, consumers in more than 200 countries enjoy Coca-Cola beverages at a rate of more than 1.9 billion servings a day. Also remember that the company also owns 16.7% of Monster Beverage, which continues to deliver big numbers.
Earlier this week, Coca-Cola posted earnings per share that beat Wall Street estimates. Revenue of $11.05 billion was also slightly ahead of expectations.
Investors receive a 2.93% dividend. The $75 Truist Financial target price is a Wall Street high. The consensus price objective for Coca-Cola stock is $66.94. Thursday's final trade came in at $59.53.

Kraft Heinz
Even in bad times, everybody has to eat, and this company always stands to benefit. Kraft Heinz Co. (NASDAQ: KHC) was formed via the merger of H.J. Heinz and Kraft Foods. The company is a leading global food company, with $29 billion of annual revenues generated by such well-known brands as Kraft, Heinz, Oscar Meyer and Maxwell House. Warren Buffett holds a huge position in Berkshire Hathaway of 325 million shares.
Kraft Heinz is the third-largest food and beverage manufacturer in North America, deriving 76% of revenues from that market and 24% internationally. Additional brands include Oscar Meyer, Maxwell House, Capri Sun, Classico, Jell-O, Kool-Aid, Lunchables, Ore-Ida, Oscar Mayer, Philadelphia, Planters, Plasmon, Quero, Weight Watchers Smart Ones and Velveeta.

The company reported fiscal third-quarter sales growth of 2.9% year over year to $6.50 billion, beating the consensus projection. Sales in North America rose 1.5% year over year, and International sales climbed a very solid 7.7%.
The dividend yield here is 4.33%. Goldman Sachs has set a $43 price target, and the consensus target is $41.18. Kraft Heinz stock closed on Thursday at $38.02.

McDonald's
The legacy fast-food heavyweight is a solid pick when the economy goes south, and it is among the safest large-cap restaurant plays. McDonald's Corp. (NYSE: MCD) operates and franchises McDonald's restaurants in the United States and internationally.
The company's restaurants offer hamburgers and cheeseburgers, chicken sandwiches and nuggets, wraps, fries, salads, oatmeal, shakes, desserts, sundaes, soft serve cones, bakery items, soft drinks, coffee, and other beverages, as well as a breakfast menu, including biscuit and bagel sandwiches, breakfast burritos, hotcakes and other sandwiches. As of December 31, 2021, the company operated 40,031 restaurants.
The company posted very solid results, with $5.87 billion in revenue and per-share earnings both topping consensus estimates. The company cited solid marketing efforts and higher menu prices as positive factors in the outstanding results.
McDonald's stock investors receive a 2.15% dividend. The BMO Capital Markets target price is $300 and a Wall Street high. The consensus is $282.88. Thursday's close was at $265.11.

Given Warren Buffett's proclivity for only owning the stocks of companies that he understands inside and out, these stocks make sense now for growth and income investors worried about the potential for a continued steep market decline. While they could sell off some in a large correction and a recession, they will hold up far better than most companies will.
Sponsored: Attention Savvy Investors: Speak to 3 Financial Experts – FREE
Ever wanted an extra set of eyes on an investment you're considering? Now you can speak with up to 3 financial experts in your area for FREE. By simply clicking here you can begin to match with financial professionals who can help guide you through the financial decisions you're making. And the best part? The first conversation with them is free.
Click here to match with up to 3 financial pros who would be excited to help you make financial decisions.