Retailers Closing the Most Stores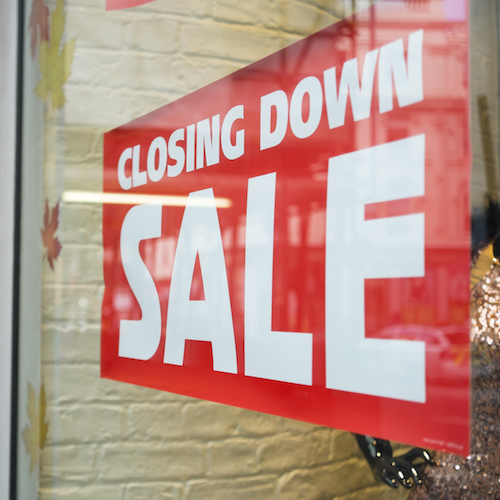 This March, for the second time in just over two years, RadioShack filed for Chapter 11 bankruptcy protection. The company has already made plans to close more than 500 stores nationwide. It has yet to announce what it would do with its remaining 1,000 locations. During the 2015 bankruptcy, about 2,000 RadioShack stores closed.
RadioShack's bankruptcy announcement is the latest in what has been a disastrous year for retailers. Many of the nation's largest retailers have closed or are in the process of shutting down operations. These retailers are shuttering a varying number of locations. Including the RadioShack announcement, just a few of the major retailers alone that are going bankrupt or restructuring plan on closing well over 2,500 stores nationwide, often at some of the biggest malls in the country.
American Apparel, The Limited, and others have declared bankruptcy and will be gone by the end of the year. Big names such as Kmart, Macy's, J.C. Penney, and others will each close dozens of stores as they attempt to respond to the changing shopping habits of Americans, who more and more consumers choose to shop online. These are the 18 retailers closing the most stores in 2017.
Click here to see the retailers closing the most stores.
Many of the companies on this list have long fought an uphill battle — and many would say a losing one — against surging e-commerce companies such as Amazon. Amazon's revenue reached $136 billion in fiscal 2016, about nine times its revenue a decade ago. It is now, according to the National Retail Federation, the eighth-largest U.S. retailer based on annual sales.
As Amazon and other e-retailers thrive, major, primarily brick-and-mortar retailers have struggled and have been forced to shut down dozens, if not hundreds, of stores each year. In some cases, the closures are part of a major retailer's restructuring, as many eliminate less profitable locations and work on focusing their operations. Wal-Mart closed over 150 U.S. locations last year, but the company was and remains one of the largest and most profitable retailers in the world.
For other retailers, however, this year's closings are likely to be evidence of a dying business. Sears Holdings Corporation, which owns two brands that are closing stores this year — Sears and Kmart — reported net losses in each of its last five fiscal years. J.C. Penney, which will close 140 of its roughly 1,000 U.S. locations in 2017 — with some analysts anticipating more closures announced by the end of the year — has reported net losses in its last seven fiscal years
One of the most foreboding signs of the changing American retail landscape is the fact that mall development in the United States has ground to a halt. Currently, only two shopping malls are being built in the United States, and dozens have closed in recent years. J.C. Penney and Macy's frequently serve as cornerstone stores — the major department stores that drive foot traffic to American malls. As these stores go out of business, they cause a chain reaction, severely cutting down traffic to the smaller stores commonly found at malls.
In its most recent annual report, Abercrombie & Fitch, which will close 60 locations this year, stated, "We cannot control the loss of an anchor or other significant tenant in a shopping mall in which we have a store … if the popularity of mall shopping continues to decline generally among our customers, our sales may decline, which would impact our gross profits and net income." Over the past three years, A&F's revenue has fallen by more than $1 billion, and net income declined by almost 85%.
Some of the retailers closing the most stores this year are not downsizing but shuttering their businesses entirely. The four companies at the top of this list have all filed for bankruptcy and, with the exception of RadioShack, have announced plans to close all of their stores.
To identify the companies closing the most stores, 24/7 Wall St. reviewed major U.S. retailers that have announced store closings for 2017. All listed store closings are based on company announcements that will either take place primarily, entirely, or will have started in 2017. Total store counts are based on company annual reports, when available, or corporate websites, and are U.S. store closures only, unless otherwise specified.
18. Sears
> Closings: 42
> Total stores: 705
> Industry: Department store
Sears Holdings Corporation, which owns the eponymous retail brand as well as Kmart, has long struggled. The retailer has reported five straight years of losses, totaling over $8.2 billion. In an attempt to stem the bleeding, the company has been shuttering locations for years, including 23 Sears locations in 2013, 61 in 2014, and 12 in 2015. In 2007, there were over 900 Sears locations in the United States and Puerto Rico. As of January 2016, there were barely over 700. And this trend appears likely to continue. Just a few days into 2017, the company announced its intentions to close about 42 Sears locations this year.
17. Abercrombie & Fitch
> Closings: 60
> Total stores: 340
> Industry: Teen apparel
Teen and young adult apparel company Abercrombie & Fitch, which also owns Hollister, has fallen on hard times as of late. The company's sales have been hurt by the ever-growing popularity of online shopping and by more affordable fast-fashion retailers. In its most recent annual report, A&F noted that its success is closely tied to foot traffic in American malls, which has been flagging heavily lately. The company warned that if mall traffic continues to decline, it will likely be felt in the retailer's bottom line.
During its fourth quarter conference call in March, the company said it will close 60 stores this year. Given that sales of the company's namesake brand are down 11% from 2015 to 2016 while Hollister sales have remained steady, it is likely that most closings will be A&F locations.
16. CVS Health
> Closings: 70
> Total stores: 9,709
> Industry: Health and wellness
CVS Health announced in December 2016 its plans to close 70 of its 9,700 locations over the next few months. The announcement came after a relatively good year for CVS, in which the company's annual revenue increased 16% from $153.3 billion in 2015 to $177.5 billion in 2016. The closures are part of several cost-cutting measures CVS is implementing that the company estimates will generate $3 billion in savings by 2021. While the company has reported improving profits in recent years, the cost-cutting initiative may be a precautionary measure in light of growing uncertainty within the health care industry under the current presidential administration.
15. Office Depot
> Closings: 75
> Total stores: 1,441
> Industry: Office products
In August 2016, three months after a federal judge blocked the company's proposed merger with Staples, Office Depot announced its plans to close approximately 300 stores over the next three years. The company intends to close 75 locations in 2017. The closures are part of a cost savings program that Office Depot expects will generate $250 million in benefits by 2018. The company has already closed 400 stores since 2014, but plans to expand its pilot program for a new store concept by opening 100 redesigned stores roughly half the size of a typical Office Depot location.
14. HHGregg
> Closings: 88
> Total stores: 220
> Industry: Appliance, electronics, and furniture
In March 2017, four days before the company disclosed it filed for Chapter 11 bankruptcy protection, HHGregg announced its plans to shutter 88 stores by the middle of April. The closings amount to 40% of HHGregg's total store count and will affect an estimated 1,500 employees. Most of the closures will take place in Florida, Maryland, Pennsylvania, and Virginia. The company's decision to close stores and file for bankruptcy comes at a time when more and more consumers are doing their shopping online. This has forced many retailers to slim down their brick-and-mortar operations. HHGregg lost money in the last two years, and the company's total revenue fell by 8% from 2015 to 2016.
13. The Children's Place
> Closings: 80
> Total stores: 930
> Industry: Children's apparel
The Children's Place is one of many retailers shifting focus away from its brick-and-mortar operations and dedicating more resources to digital distribution channels. In 2012, Children's Place began a series of store closings that will amount to 200 closed locations by the end of 2017. Having already closed 120 stores, the company plans to shutter the remaining 80 locations this year. One reason for the store closures is Children's Place's prioritization of e-commerce sales. The company reported that online sales have increased in the areas where brick-and-mortar stores have been closed. The Children's Place's online sales have increasingly accounted for a larger share of total revenue, from 15.9% of net sales in 2014 to 17.1% in 2015.
12. GNC
> Closings: 100
> Total stores: 4,464
> Industry: Health and wellness products
As part of its One New GNC rebranding campaign, GNC is reducing prices on half of its products, introducing a new customer loyalty program, and expanding its generic product line. The company also plans to close approximately 100 of its less profitable stores in 2017. The rebranding campaign and store closure announcement come at a time of declining profitability for the health retailer. GNC reported a net loss of $286.3 million in 2016, down from a profit of $219.3 million the year before.
11. Macy's
> Closings: 100
> Total stores: 730
> Industry: Department store
Macy's, one of the nation's oldest and most famous retailers, announced in August of last year its plans to close 100 stores, or 14% of its store count, by early 2017. Macy's has already determined the locations of 68 of the 100 stores it plans to shutter. The majority of these will close by spring. Unlike a number of other retailers on this list, Macy's does not appear to be at risk of bankruptcy, nor will its physical presence likely disappear any time soon. The company reported over $1 billion in net income in each of the last five fiscal years.
10. Kmart
> Closings: 108
> Total stores: 801
> Industry: Department store
Sears Holdings Corporation announced in January 2017 its plans to shutter 42 Sears locations and 108 Kmart locations for a total of 150 store closings. The announcement is the latest in a series of closings that have reduced the total number of Kmart locations in the United States from 1,480 in 2004 — the year Sears Holdings Corporation purchased Kmart — to 801 today. Over the same period, sales at Kmart stores has fallen from $19.8 billion to less than $11 billion. Most analysts believe Sears Holdings Corporation is no longer viable and is unlikely to steer itself away from its current path toward bankruptcy.
9. American Apparel
> Closings: 110
> Total stores: 110
> Industry: Fashion
Trendy clothing store American Apparel has been beleaguered by scandal for years. In 2009, a federal investigation revealed the company employed hundreds of unauthorized workers. In 2014, the company board forced founder Dov Charney out as CEO based on a number of outstanding harassment charges. Later that year, the former CEO attempted to stage a hostile takeover of the company, leading eventually to Charney being hired as a paid consultant for the company. In the midst of all this, American Apparel was failing, reporting over $330 million in losses from 2010 through 2014. In early January 2007, the retailer, which was once valued at over $1 billion, was acquired by Canadian company Gildan Activewear for less than $100 million. Shortly thereafter, Gildan announced it would close all 110 locations, as well as the company headquarters in Los Angeles.
8. BCBG Max Azria
> Closings: 120
> Total stores: 175
> Industry: Fashion
California-based fashion retailer BCBG Max Azria Group announced on February 28 it had filed for bankruptcy. The company obtained a $45 million loan to conduct its reorganization and to help reduce its debt. According to court filings, BCBG owes it creditors $459 million. Earlier in February, BCBG announced its plans to close 120 stores, and the closures may continue under the restructuring plan. The bankruptcy and store closings reflect industry-wide shifts in shopping patterns, including a decline in purchasing branded clothing, as well as the growth of online shopping.
7. J.C. Penney
> Closings: 130-140
> Total stores: 1,021
> Industry: Apparel and furnishings
J. C. Penney Company says it will close between 130 and 140 of its roughly 1,000 stores over the next several months, in addition to two distribution facilities. In the February announcement, CEO Marvin Ellison said closing stores will allow J.C. Penney to more effectively compete with online retailers. The company expects to incur $225 million in costs as a direct result of these store closings, primarily because of the termination of store leases. The company has announced it will include voluntary early retirement plans for approximately 6,000 of its employees. The company projects savings of $200 million a year in payroll and other costs as a result of the stores closures.
6. Vanity
> Closings: 137
> Total stores: 137
> Industry: Women's clothing
Based in Fargo, North Dakota, Vanity has sold women's clothing in malls throughout the United States for over 50 years. In early 2017, however, Vanity announced its intention to close all 137 of its locations after filing for Chapter 11 bankruptcy protection. Vanity's bankruptcy announcement comes at a time when more and more consumers are doing their shopping online rather than at the mall, which Board Chairman Jim Bennett cited as a primary reason behind the company's poor sales performance. The company has indicated on its website that liquidation sales have begun and that all sales are final.
5. Crocs
> Closings: 160
> Total stores: 558
> Industry: Specialty footwear
Crocs, Inc. revenue fell by roughly 5.0%, or $54.4 million, between 2015 and 2016. In the wake of falling sales, Crocs announced in March 2017 the promotion of a new CEO, several changes to its executive team, and a number of future store closings. Current President Andrew Rees will assume the CEO role as well. The company will also establish a new e-commerce division and close 160 of its retail locations by the end of 2018. Crocs is one of many retailers that are doubling down on e-commerce while slimming their brick-and-mortar operations. While the company's retail sales fell by 5.0% between 2015 and 2016, Crocs's e-commerce sales increased by 7.9%.
4. Wet Seal
> Closings: 171
> Total stores: 171
> Industry: Women's apparel
Wet Seal filed for bankruptcy protection in February for the second time in its history, claiming assets valued between $10 million and 50 million and liabilities between $50 million and 100 million. The teen clothing chain joins a number of brick-and-mortar retailers struggling with the growing trend among shoppers of purchasing items online. Like most retailers, Wet Seal has its own web option for customers, although its efforts to grow online sales clearly have not kept pace with the declining in-store sales.
According to court documents, Wet Seal's largest creditor is FedEx Corporation, which is owed $608,977. Creditors with the largest unsecured claims also include Celebrity Pink, GF Holdings, and Google.
3. Family Christian Store
> Closings: ~240
> Total stores: ~240
> Industry: Christian retail
The evangelical Christian market grew rapidly in the 1990s and continues to represent a substantial share of U.S. spending. Despite the interest in such products, Family Christian Store, once the self-proclaimed leader of the industry, has not managed to combat shifts within the retail sector. Christian-related product retailer and consolidator Family Christian Store filed for bankruptcy protection in 2015. Creditors forgave $127 million in debt to help the retailer recover. Despite this, the company announced just two years later, on February 23 2017, that it would close all of its 240 stores.
2. The Limited
> Closings: 250
> Total stores: 250
> Industry: Apparel
As part of what seems to be the ongoing destruction of the U.S. brick-and-mortar retail industry, women's clothing seller The Limited announced January 8 it would close all of its approximately 250 physical locations. While company officials stated in January that the retailer would continue to exist as an online merchant, The Limited website was down as of the time of this writing.
With the store closures, roughly 4,000 jobs were eliminated. Despite the closures, private equity firm Sun Capital Partners, which purchased the retailer outright in 2010, disclosed at the time of the closure announcement it had doubled its investment in The Limited in early January. However, on January 17 The Limited filed for bankruptcy.
1. Radioshack
> Closings: 530+
> Total stores: 1,500
> Industry: Electronics
Just over two years ago, unable to compete with other brick-and-mortar stores and online retailers like Amazon, electronics retail giant RadioShack declared bankruptcy. At the time, General Wireless Operations, Inc. won a bankruptcy auction and bought the brand. In order to keep some of its locations, the company made a deal with Sprint, agreeing to host a number of the wireless provider's stores inside RadioShack locations. RadioShack proceeded to close more than half of its roughly 4,000 stores.
Now owned by General Wireless, RadioShack has once again filed for Chapter 11 bankruptcy protection in early March. When the announcement was made, 187 RadioShack locations were already in the process of closing their doors. An additional 365 stores will close by the end of the month. The company has yet to decide what will happen to its remaining roughly 1,000 locations.