Traditional Easter Foods Around the World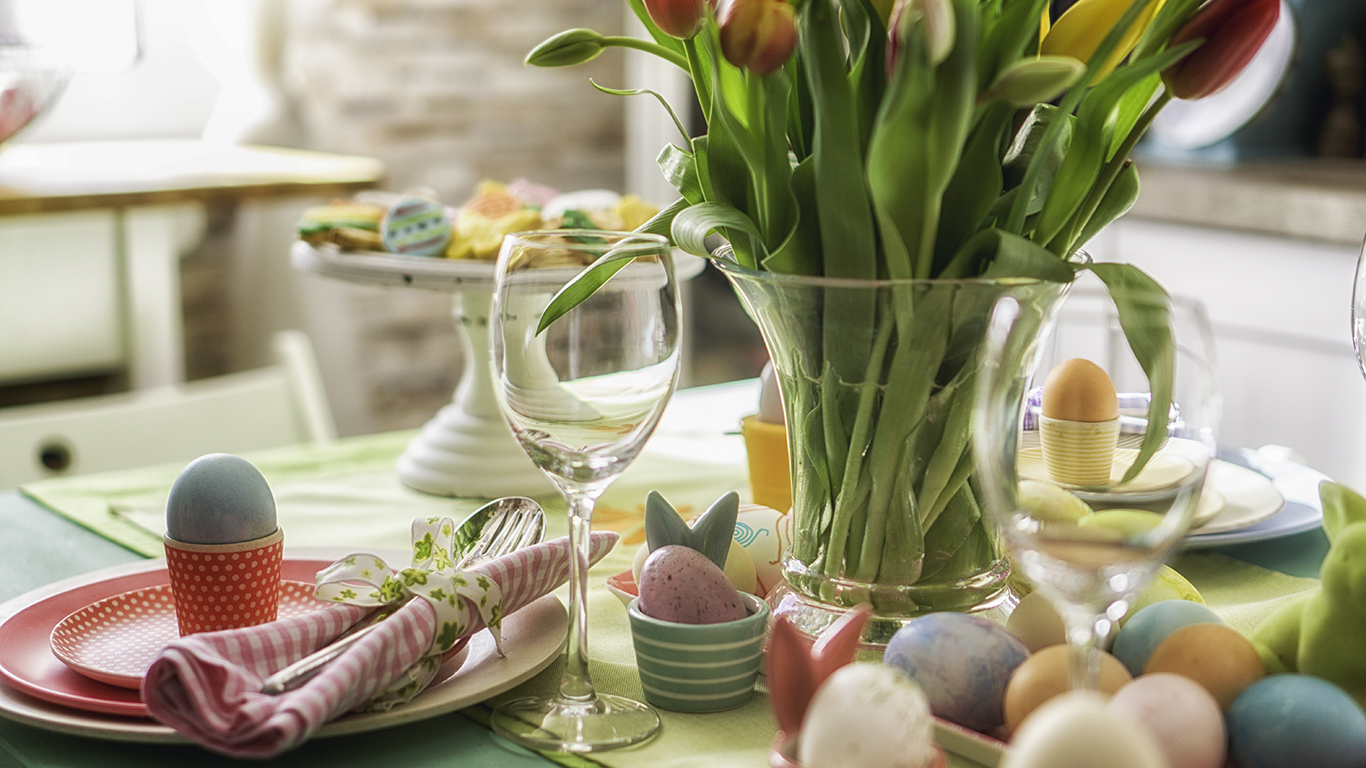 Easter, along with Christmas, is one of the two most important occasions on the Christian calendar, celebrating the resurrection of Christ after his crucifixion — and by extension the idea of spring as a season of rebirth after a moribund winter.
Falling on Sunday, April 21, this year, it is also an extremely popular secular holiday, symbolized by rabbits (most notably the Easter Bunny), baby chicks, colorful dyed eggs, and confections ranging from eggs and rabbits made of chocolate to the now-iconic chick-shaped candies known as Peeps.
There's much more to Easter food than sweets, however. Whether secular or religious or a combination of the two, the holiday is an occasion for feasting, with big midday (or sometimes evening) meals usually involving traditional foods that may have symbolic meaning (as many of the holiday traditions do).
Click here for traditional Easter foods around the world.
The particulars vary from continent to continent, country to country, and even region to region, but certain themes tend to be repeated — among them, sweet breads of various kinds, dishes made or decorated with eggs, bacalao (salt cod), and roast lamb or baked ham.
24/7 Wall St. has identified some Easter specialties from 20 nations around the world. These certainly aren't the only foods eaten for the holiday in these places, and they may not be universally consumed in their homelands, but they add up to a colorful — and tasty — representation of the season.

One of the sweet cake-like breads common to holiday celebrations in many cultures — it's not unlike Germany's popular Stollen — kozunak is a staple of Easter Sunday breakfast in Bulgaria. Rum-soaked raisins, lemon zest, chopped nuts, Turkish delight, and/or other enhancements are typically added to the braided, brioche-style egg-enriched loaf before baking.
Brazil
> Paçoca de amendoim
Paçoca de amendoim, a crumbly confection made with roasted peanuts, sugar, and toasted manioc flour, is eaten year-round in Brazil, but it is a traditional Easter dessert in some parts of the country — notably the Vale do Paraíba region of São Paulo state. Also called paçoquinha (little paçoca), the sweet takes its name from the indigenous Tupi word "pa'soka," meaning to crumble or crush in a mortar.
Costa Rica
> Empanadas de chiverre
Chiverre, also called chilacayote and fig-leaved gourd, among other names, is a kind of squash whose sweet flesh separates easily into fibres like those of spaghetti squash (its name in Spain is calabaza de cabello de ángel, angel's hair squash). It's so important to Easter season celebrations in Costa Rica that, although it can be cultivated at any time of year, farmers tend to sow the seeds so that it will be ready in abundance for Holy Week — the last week of Lent. Sweetened with honey, the pumpkin fibres are placed inside empanadas made with cinnamon-flavored dough.
Fanesca is traditionally made only during Lent and over Easter. The rich soup is made with bacalao (salt cod), an assortment of vegetables (typically including favas and other beans, corn, squash, peas, and onions), rice, peanuts, and cream cheese, and flavored with cumin, oregano, garlic, and annatto powder. It may be served with assorted garnishes, including hard-boiled eggs, fried plantains, avocado slices, and cheese empanadas.
Easter, called Fasika in Amharic, Ethiopia's official language, is a major holiday in the Eastern African nation. A kind of beer called tella and the mead known as tej are often home-brewed for the occasion. An essential Eastertime food is difo dabo, a large round loaf of bread made with wheat flour, flavored with spices (among them black cumin and the tiny pods of the spice called ajwain, or bishop's weed), wrapped in the leaves of a plant called koba (known as false banana), and baked in a clay oven.
The Finnish Easter specialty called mämmi is a kind of dense porridge (some call it sludge) made by mixing rye flour and rye malt with water and simmering the concoction long and slow. It is considered very much an acquired taste — though modern variations, flavored with vanilla or cocoa or enhanced with chocolate, berries, or other ingredients, are more palatable to the uninitiated.
France
> Gigot d'agneau Pascal
Easter lamb roast is a tradition in many parts of the world ("Pascal" is the adjectival form of Pâques, or Easter in French). The French prepare their version in a simple, classic manner: the bone-in leg, or gigot, is trimmed, studded with slivers of garlic, seasoned with salt and pepper, and often dusted with rosemary or herbes de Provence, then roasted until pink. Easter lamb is typically served with roasted potatoes and flageolets (a kind of green bean).
Germany
> Bunter Osterkuchen
As in many other countries, lamb is a typical main dish for the Easter feast. A unique dessert that may follow in Germany, however, is Bunter Osterkuchen — literally "colorful Easter cake." This is a carrot and apple cake, bound with ground almonds, decorated with marzipan eggs in various colors and with sugar flowers and leaves.
A Hellenic relative of Bulgaria's kozunak, Germany's stollen, and other brioche-like sweet breads, tsoureki is traditionally flavored with a spice called mahlepi or mahleb, made from the seeds of the Persian cherry tree. Besides its flavor, the bread is imbued with religious symbolism: It is made with three interwoven strands of dough, representing the Holy Trinity; it's covered with an egg wash, whose glossy finish is meant to suggest the light of Christ; and it's inset with hard-boiled eggs dyed red to symbolize Christ's blood.
Though Hinduism is by far the major religion in India, with Islam a distant second, the country also has a Christian population estimated at some 30 million. Different regions have varying Easter traditions. In East India, which includes the metropolis of Kolkata (formerly Calcutta), which has a large Catholic population, an Easter favorite is fugias, fried risen-dough balls that more or less resemble eggs.
Italy
> Colomba di Pasqua
Colomba di Pasqua, which means "Easter dove," is a dove-shaped sweet yeast bread loaf, similar to panettone, topped with almonds and sugar crystals. Some recipes add hazelnuts, cherries, or other ingredients. Though the dove is universally recognized as a symbol of peace, one legend links the shape to two doves who appeared on the battlefield after a Lombard victory over the armies of the Holy Roman Empire in 1176.
Many Easter confections are rich with butter and eggs — foods that observant Christians typically gave up for the 40-day period of Lent preceding Easter. Maamoul, buttery shortbread cookies that sometimes resemble small Chinese dumplings in shape, are filled with dates or chopped nuts, flavored with rosewater and/or orange flower water, and dusted with powdered sugar.
The potato pudding known as kugelis — also called bulvių plokštainis (potato pie) — combines grated potatoes with bacon, onions, eggs, milk, and farina (milled wheat) into a casserole that is considered Lithuania's national dish. Typically served with applesauce, lingonberries, or sour cream, sometimes with crumbled bacon added on top, it is a common side dish at Easter feasts (and Christmas feasts as well).
Considered the most popular Easter food in this Mediterranean island nation, figolli are small, sweet almond-flavored cakes, covered in icing or chocolate and inset with tiny candy Easter eggs. They are molded into a variety of shapes, including rabbits and eggs but also fish, birds, hearts, and cars, among other things.
The Netherlands
> Paastaart
Holland's Eastertime Paastaart, or Easter cake, is an eggy confection that may take different forms, but is usually frosted with yellow-hued whipped cream and decorated with chocolate Easter eggs. The secret ingredient is advocaat, a kind of drinkable custard spiked with brandy.
The African nation boasts the fifth largest Christian population in the world, estimated as high as 107 million, so it isn't surprising that Easter is a major holiday there. Festive communal dishes like tomato-y jollof rice and various preparations of chicken or goat are likely to be found on the holiday table, but the dish most associated with the season in Nigeria is frejon — the traditional repast not on Easter itself but on Good Friday. This is a kind of pudding or puree of spiced brown beans or black-eyed peas cooked with coconut milk and fish sauce and sprinkled with garri, a powder of fermented cassava.
Poland
> Babka wielkanocna
A relative of Bulgaria's kozunak and the tsoureki of Greece, the babka wielkanocna is an eggy sweet yeast bread full of raisins, typically frosted with a white sugar icing. The name simply means "Easter babka" — babka being a generic term for this kind of cake-like bread.
Pashka is a preparation of creamy sweetened cheese, shaped into a mound or dome and studded with candied (and sometimes fresh) fruit. Pieces of the fruit are traditionally used to form the Cyrillic letters "X B," representing the Russian words for "Christ is risen." Pashka is typically spread on slices of kulich, a tall, cylindrical sweet yeast bread.
South Africa
> Ingelegde vis
Ingelegde vis — "pickled fish" in Afrikaans — is the traditional Eastertime meal in Cape Town and the vicinity. While it is eaten mostly on Good Friday, the theory is that it may have become so popular this time of year because it will stay fresh over the whole long Easter weekend. To make the dish, fresh fish is fried, then marinated in a mixture of onions, spices (including turmeric), vinegar, and sugar. It is refrigerated for at least 24 hours before being served cold with bread or hot cross buns.
United States
> Baked ham
In some American households, spring lamb is the piéce de résistance for the Easter feast, but Easter ham is far more popular overall — whether glazed with honey or marmalade, coated with breadcrumbs or mustard, or prepared just about any other way. The association of ham with Easter dates back to at least the sixth century in Germany. Pigs were slaughtered in the fall and the cured hams they yielded needed six months or so to age, so they were ready to eat in the spring. The custom came to America with immigrants from Germany and elsewhere in Europe.
Sponsored: Want to Retire Early? Here's a Great First Step
Want retirement to come a few years earlier than you'd planned? Or are you ready to retire now, but want an extra set of eyes on your finances?
Now you can speak with up to 3 financial experts in your area for FREE. By simply clicking here you can begin to match with financial professionals who can help you build your plan to retire early. And the best part? The first conversation with them is free.
Click here to match with up to 3 financial pros who would be excited to help you make financial decisions.