The Best Breakfast Sandwich in Every State Everyone Should Try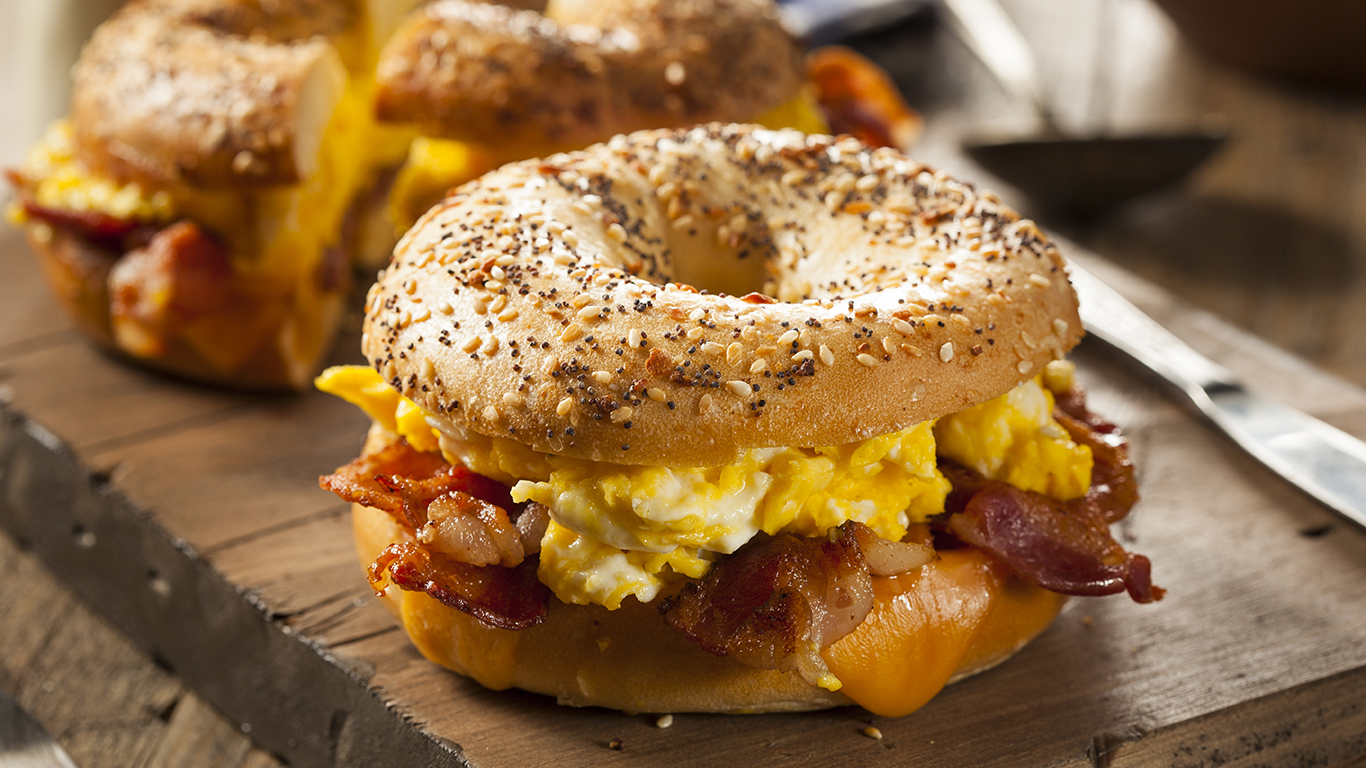 "It is a hero among sandwiches, although it is not the one called a hero," wrote critic Pete Wells in the New York Times several years ago. He was talking about the breakfast sandwich, an iconic American combination of — at least in its classic form — eggs, cheese, and usually meat of some kind (typically pork-based) on a roll or bagel or toast.
There probably aren't any statistics to prove this, but New York City may well be the capital of breakfast-sandwich consumption. These morning hand-held meals are dispensed by the many thousands every day from delis, bagel shops, coffee shops, street carts, and even some full-scale restaurants in every corner of the city.
The classic example is the BEC — bacon, egg, and cheese, traditionally served on a crusty roll. Countless variations exist, of course, especially outside New York. (Critic Wells came down against the idea of fancying breakfast sandwiches up too much.)
Click here for the best breakfast sandwich in every state
All-American though it may seem today, the breakfast sandwich probably originated in 19th century London, where workers on their way to their jobs in the morning would buy a "bap" — a kind of soft roll — filled with eggs and sausage or back bacon (or just the meat) from street vendors.
The idea made its way to America, becoming especially popular in the 1950s and 1960s, though breakfast sandwiches truly entered our dietary mainstream slightly later, thanks to the fast food industry. The first fast food breakfast sandwich might have been an egg, meat, and cheese concoction on an English muffin introduced by the Jack-in-the-Box chain in 1969, but it was only after the Egg McMuffin made its debut at McDonald's in 1972 that the idea really took off. This item and its countless variations became so popular that the burger chain now serves them all day long.
Today, around the country, there are breakfast sandwiches not just at McDonald's and its counterparts, but at a wide range of other establishments, both casual and otherwise, traditional and modern. 24/7 Tempo has assembled a list of the nation's best examples. Sometimes they are among the unhealthiest fast-food items on the menu.
Though they are analogous to breakfast sandwiches, no breakfast tacos, burritos, or wraps have been included. Sandwiches made with biscuits, however, are common on the list, especially in the Southern states.
Often the best breakfast sandwiches reflect local tastes or ingredients. Sometimes they're whimsical. Other times, they're just straightforward and satisfying. They're always, though, a great way to start the day.
To assemble a list of the best breakfast sandwich in every state, 24/7 Tempo consulted user reviews on Yelp, TripAdvisor, and Zomato, as well as local and regional review sites and national roundups of best breakfasts and best breakfast sandwiches. You can also find out which is the best independent sandwich shop in every state.

Alabama
> Sandwich: Chicken and the Egg Biscuit
> Restaurant: Cahawba House
> City: Montgomery
This Montgomery mainstay offers a "build your own" selection of breakfast sandwich ingredients to be enclosed in a biscuit, a bagel, or a couple of pieces of toast, but also lists this particular sandwich as one of the house favorites. The ingredients are a fried chicken patty, an egg, and goat cheese.
Alaska
> Sandwich: Reindeer Breakfast Sausage
> Restaurant: The Sandwich Deck
> City: Anchorage
Yes, the sausage is made with reindeer meat. Scrambled eggs and American cheese complete the sandwich on toasted bread.
Arizona
> Sandwich: No. 22 Breakfast Sandwich
> Restaurant: Zookz Sandwiches
> City: Phoenix (two locations)
The ingredients in this sandwich acknowledge the Southwest, adding black beans, avocado, and Chipotle sauce to two poached eggs, bacon, ham, and cheddar.
Arkansas
> Sandwich: Big Pig
> Restaurant: Ozark Mountain Bagel Co.
> City: Bentonville
Ozark offers 17 kinds of "New York style bagels made in Northwest Arkansas." The Big Pig is a sandwich on any one of these that includes egg, cheese, and three pork products — bacon, ham, and sausage. The combination probably goes better with some bagels than others — plain or onion, say, rather than blueberry or chocolate chip.
California
> Sandwich: Sausage, Egg & Cheese
> Restaurant: Eggslut
> City: Los Angeles (four area locations)
This cult breakfast spot doesn't serve just any old sausage, egg, and cheese breakfast sandwich. The sausage is house-made turkey; the over-medium eggs are cage-free; the cheese is cheddar; and there's honey-mustard aïoli on the brioche bun.
Colorado
> Sandwich: The Dahlia
> Restaurant: Denver Biscuit Company
> City: Denver (six area locations)
Fresh-baked buttermilk biscuits are the specialty here and 11 fairly elaborate biscuit sandwiches are on the menu. The variation that usually gets singled out is the Dahlia — a sausage patty with a fried egg and apple butter, the whole thing draped in maple syrup. (This is a knife-and-fork sandwich.)
Connecticut
> Sandwich: Hang Over Buster
> Restaurant: Lake Zaor Drive-In
> City: Stevenson (Monroe)
This hearty sandwich is subtitled "Double, Double, Double & a Topper" on the menu. That means two eggs, four slices of bacon, two slices of cheese, and a hash-brown patty, all stacked on a hard roll.
Delaware
> Sandwich: The Cali
> Restaurant: Drip Café
> City: Newark (two area locations)
The elaborate Cali breakfast sandwich at the two Wilmington area units of this coffee shop and café is serious business: It's composed of a fried egg, mozzarella, avocado, and arugula on sourdough toast spread with basil aïoli. Bacon or smoked salmon (or — why not? — both) may be added for an extra charge, and potato hash or fresh fruit come on the side.
Florida
> Sandwich: Breakfast Sandwich
> Restaurant: Blue Collar
> City: Miami
Strictly speaking, this is a brunch sandwich, since Blue Collar isn't open for breakfast. (Brunch is served from 11 a.m. to 3:30 p.m. on weekends.) But it not only bears the name, it fills the bill. Two over-easy eggs, bacon, cheddar, a latke (potato pancake), and garlic aïoli are the ingredients.
Georgia
> Sandwich: Folk Southern Fried
> Restaurant: Folk Art
> City: Atlanta
Promising "artful eats for simple folks," Folk Art offers breakfast sandwiches on English muffins, asiago cheese bagels, or "jumbo griddled biscuits." The Fold Southern Fried is a combination of fried chicken, fried eggs, and sausage gravy on one of those biscuits.
Hawaii
> Sandwich: Egg Handwich
> Restaurant: Koko Head Café
> City: Honolulu
Koko Head describes itself as a "brunch all day" restaurant, serving the meal daily from 7 a.m. to 2:30 p.m. The Egg Handwich, listed on the menu under the heading "Hand Food," combines two scrambled eggs, sharp New York cheddar, bacon, local greens, and maple Tabasco sauce, all on a sweet bun.
Idaho
> Sandwich: Crag Sandwich
> Restaurant: Stanley Baking Co. & Café
> City: Stanley
This rustic establishment in the Sawtooth Mountains serves a variety of hearty ready-made breakfast dishes, but its signature breakfast sandwich is this customizable creation. It begins with egg on a ciabatta roll, which customers may then enhance with bacon, sausage patty, ham, chorizo, grass-fed beef sausage, or veggie sausage. Next comes a choice of Swiss, cheddar, provolone, or brie. For an additional charge, tomatoes, caramelized onions, avocado, arugula, and/or roasted red peppers may be added.
Illinois
> Sandwich: Chorizo-Egg Torta
> Restaurant: Xoco
> City: Chicago
Acclaimed Chicago-based Mexican food guru Rick Bayless's casual Xoco café offers several breakfast sandwiches, but this is the one that tends to get the acclaim. It's scrambled eggs, pork chorizo, poblano chile rajas, cheese, and avocado on a flatbread-style roll.
Indiana
> Sandwich: Pulled Chicken Hot Brown with Egg
> Restaurant: Love Handle
> City: Indianapolis
This highly original sandwich shop incorporates such ingredients as fried smelt, trout belly, sweetbreads, and duck and turkey eggs in its daily menus. Its prize breakfast sandwich, though, is a riff on Louisville, Kentucky's famed Hot Brown Sandwich. (Louisville is only about 100 miles south of Indianapolis.) The original Hot Brown is an open-face concoction of sliced turkey, bacon, and mornay sauce. Love Handle substitutes pulled chicken for the turkey and puts it all inside a biscuit.
Iowa
> Sandwich: Hummus Melt
> Restaurant: University Library Café
> City: Des Moines
This neighborhood bar near Drake University serves breakfast on weekends only. One of its specialties is this unusual breakfast sandwich of hummus, fried eggs, and melted havarti cheese on Texas toast.
Kansas
> Sandwich: Fried Bologna & Egg Sandwich
> Restaurant: Doo-Dah Diner
> City: Wichita (two locations)
Featuring "cooked from scratch breakfast & lunch," this casual Wichita establishment is known for this sandwich — a thick slice of fried bologna with a fried egg on toasted wheat berry bread. (The diner's downtown location is closed for remodeling until this summer, but its Webb Road outpost is open.)
Kentucky
> Sandwich: Poached Free-Range Egg on Levain with Serrano Ham, Spinach & Parmesan
> Restaurant: Blue Dog Bakery & Café
> City: Louisville
Available between 9 a.m. and 2 p.m. Tuesday through Saturday, this hearty sandwich on sourdough bread — whose name is its recipe — gets an upgrade from the usual breakfast meat choices with serrano ham from Spain.
Louisiana
> Sandwich: Green Breakfast Sandwich
> Restaurant: Satsuma
> City: New Orleans (two locations)
Satsuma has a philosophy of using local and organic ingredients without preservatives or additives, and serving food that is as health-conscious as possible. This sandwich is an example, combining an egg with baby arugula, tomato, mashed avocado, and Swiss cheese on toast, a bagel, or a croissant.
Maine
> Sandwich: The Deluxe Sandwich
> Restaurant: The Palace Diner
> City: Biddeford
This 15-stool diner, opened in 1927 in a community just southwest of Portland, is said to be the oldest dining-car diner in Maine. Its signature breakfast sandwich is "deluxe" because the egg is baked rather than fried, so that it resembles a small frittata, then combined with applewood-smoked bacon, cheddar, and jalapeños, and served on a sandwich-size English muffin.
Maryland
> Sandwich: Southern Slammer Sandwich
> Restaurant: Miss Shirley's Cafe
> City: Baltimore (three area locations)
This widely acclaimed morning treat (it was named best breakfast sandwich in America by Restaurant Hospitality Magazine, among other accolades) is an assemblage of fried green tomato, applewood-smoked bacon, mashed avocado, white cheddar, and a fried egg on pumpernickel. Stoneground grits with diced bacon or shredded potato and onion hash browns come on the side.
Massachusetts
> Sandwich: The Fancy
> Restaurant: Mike & Patty's
> City: Boston
This breakfast-all-day restaurant bills itself as "Home of The Fancy," so that's obviously the star here. It's a sandwich composed of two fried eggs, bacon, cheddar, avocado, red onion, and house-made mayo on toasted multigrain bread.
Michigan
> Sandwich: Renee's Kitchen Magic
> Restaurant: Zingerman's Delicatessen
> City: Ann Arbor
Zingerman's, founded in 1982, is an Ann Arbor institution, and is consistently ranked as one of America's best delis. Renee's Kitchen Magic, which leads off its breakfast sandwich menu, is made with applewood-smoked bacon, two eggs, and Vermont cheddar on a toasted sesame bagel.
Minnesota
> Sandwich: Pastrami & Egg "P & E"
> Restaurant: Icehouse MPLS
> City: Minneapolis
This restaurant and music venue doesn't serve breakfast, but offers several breakfast sandwiches on its weekend brunch menu. The winner here is this combination of pastrami, egg, roasted chiles, havarti cheese, and lemon aïeli on a house-made bun.
Mississippi
> Sandwich: "Cathead" Chicken Biscuit
> Restaurant: Big Bad Breakfast
> City: Oxford (10 locations in three states)
James Beard Award-winning chef John Currence is best known for his acclaimed City Grocery in Oxford, but he has a number of other enterprises, including this small chain of breakfast places. (Besides the Mississippi original, there are three in Alabama and one in Florida.) This sandwich is a house-made black pepper-buttermilk biscuit (a cathead is a big fluffy biscuit in Southern parlance) with crispy fried chicken, cheddar, and sausage gravy.
Missouri
> Sandwich: The Veggie
> Restaurant: The Mud House
> City: St. Louis
A change of pace from the usual breakfast-meat morning sandwich, the Veggie consists of egg, goat cheese, cucumber, and beet chutney on ciabatta bread. Just to make sure it's as healthy as can be, it comes with a side of dressed greens. On the other hand, it's also possible to add bacon, ham, or (plant-based) Range-Free "chorizo."
Montana
> Sandwich: The Tom Cat
> Restaurant: Cateye Café
> City: Bozeman
In case bacon, sausage, or ham aren't meaty enough for you, this breakfast sandwich is based around a third-of-a-pound Angus beef burger, with a fried egg, Gouda cheese, and tomato jam, all piled inside a giant English muffin.
Nebraska
> Sandwich: Whole Egg Sandwich
> Restaurant: Culprit Café
> City: Omaha (two locations)
This Omaha café and bakery bakes its breads in-house, including the brioche on which this frittata sandwich with grilled ham or bacon and fontina cheese is arrayed.
Nevada
> Sandwich: The Fat Elvis
> Restaurant: MTO Café
> City: Las Vegas (two area locations)
Behind the perhaps unkindly name of this gargantuan breakfast sandwich is a combination of ingredients beloved by the late musical legend — peanut butter, bananas, and bacon — along with Nutella and strawberries, all of it stuffed between two pieces of griddled French toast.
New Hampshire
> Sandwich: McMaddie's
> Restaurant: Maddie's Bagel & Eatery
> City: Salem
A fried egg, melted cheddar, grilled Black Forest ham, and bacon combine between two slabs of grilled Texas toast for a "breakfast on bread" at this family-owned place in a town just east of Nashua.
New Jersey
> Sandwich: Pork Roll with Egg and Cheese
> Restaurant: Frank's Deli
> City: Asbury Park
Pork roll is a New Jersey specialty (in the state's northern reaches, it's known as Taylor ham), a cured, smoked processed pork product that's somewhere between Canadian bacon and Spam. It shows up often in breakfast sandwiches in the Garden State, as at Frank's, where it's combined with egg and cheese on a (bread) roll.
New Mexico
> Sandwich: El Diablo
> Restaurant: The Farmacy
> City: Albuquerque
This Albuquerque breakfast and lunch place offers several variations on the breakfast sandwich, but a favorite is the El Diablo — a fried egg with cheddar, caramelized onions, and spicy house-made Diablo sauce on ciabatta bread.
New York
> Sandwich: Egg & Cheese with Bacon
> Restaurant: Ess-a-Bagel
> City: New York City
New York City might well be considered the capital of the breakfast sandwich, so any designation of a single purveyor as "best" will be controversial — but this Midtown bagel shop, whose bagels are often called the city's finest, also regularly makes the top of various lists for its morning sandwich combinations. Of the many available, this one, served on one of 14 bagel varieties, is the classic.
North Carolina
> Sandwich: Chicken Breast Biscuit with Egg & Cheese
> Restaurant: Sunrise Biscuit Kitchen
> City: Chapel Hill (two area locations)
An oversize homemade biscuit is the basis for this classic Southern breakfast sandwich, but Sunrise — a drive-through and counter-service operation — will substitute a bun or whole wheat bread upon request.
North Dakota
> Sandwich: Bacon, Egg and Two-Year Cheddar Bagel
> Restaurant: BernBaum's
> City: Fargo
This classic breakfast sandwich is enhanced with carrot horseradish and sweet pickles at BernBaum's, which has been hailed as the state's best Jewish deli.
Ohio
> Sandwich: Goetta, Egg, and Cheese
> Restaurant: Eckerlin Meats
> City: Cincinnati
Eckerlin isn't a restaurant, it's a butcher shop, located in Cincinnati's historic Findlay Market. It serves this sandwich — combining egg and cheese with the city's emblematic goetta, a subtly spiced pork and oatmeal sausage — straight from the butcher counter.
Oklahoma
> Sandwich: Bacon Egg Cheddar
> Restaurant: Waffle Champion
> City: Oklahoma City
The ingredients for this breakfast sandwich might be standard, but the "bread" isn't: It's a waffle, either the "not too sweet" buttermilk batter variety or a Belgian-style yeast-dough Liège waffle with caramelized sugar. (As an alternative, the fixings can also be served over waffle fries.)
Oregon
> Sandwich: The Reggie Deluxe
> Restaurant: Pine State Biscuits
> City: Portland (five locations)
Fried chicken, bacon, cheese, and an egg come together on a gravy-topped biscuit for the Reggie Deluxe. A Veggie version is also available, made with a vegan sausage patty, tofu bacon and cheese, and shiitake mushroom gravy.
Pennsylvania
> Sandwich: Cheese Steak & Eggs
> Restaurant: John's Roast Pork
> City: Philadelphia
Philadelphia's iconic sandwich is of course the cheesesteak, and the version at John's — made with a long, crusty sesame roll and a choice of American or mild or sharp provolone — has been rated the best in town by some critics. Not surprisingly, the breakfast version, which adds eggs to the basic recipe, is a favorite, too.
Rhode Island
> Sandwich: Three
> Restaurant: Ten Sandwiches
> City: Westerly
Items on the menu here go by numbers. The breakfast sandwich called simply Three is made with soupy (a dry-cured, well-spiced sausage that is a Westerly specialty), prosciutto, a farm egg, fresh mozzarella, fresh basil, and red onion on ciabatta bread.
South Carolina
> Sandwich: Sausage, Egg and Pimento Cheese
> Restaurant: Callie's Hot Little Biscuit
> City: Charleston (three locations in two states)
The egg can be fried or scrambled and the pimento cheese can be regular or "fiery" in this sandwich made on (what else?) a biscuit from noted local biscuit baker Carrie Morey. (Callie was her mother.)
South Dakota
> Sandwich: AM Croissant Sandwich
> Restaurant: Phillips Avenue Diner
> City: Sioux Falls
Two over-hard eggs, bacon, spinach, tomato, and sriracha ranch dressing are the ingredients of this breakfast sandwich (with fruit on the side) that's actually served all day long.
Tennessee
> Sandwich: The Princess
> Restaurant: Biscuit Love
> City: Nashville (three area locations)
A customer favorite and a sandwich that appears regularly on best breakfast sandwich lists, the Princess is a buttermilk biscuit stuffed with Nashville-style spicy boneless hot chicken thigh and pickles and dressed with mustard and honey.
Texas
> Sandwich: Challah French Toast Sandwich
> Restaurant: Coffee House Café
> City: Dallas
According to the menu, the Dallas Morning News called this sandwich "decadent!" Obviously based on French toast made from challah, it contains bacon, an over-medium egg, and cheddar.
Utah
> Sandwich: Hot Cake Sandwich
> Restaurant: Penny Ann's Café
> City: Salt Lake City (three area locations)
Two eggs and three strips of bacon are sandwiched between three "heavenly hot cakes", garnished with butter and syrup. This is not a sandwich to eat with your hands.
Vermont
> Sandwich: Farm Egg & Cheddar Sandwich on English Muffin
> Restaurant: J.J. Hapgood General Store & Eatery
> City: Peru
The egg and cheddar sandwich at this renovated general store and restaurant northeast of Manchester, near Bromley Mountain Ski Resort, may also be ordered, for an extra charge, on a house-made buttermilk biscuit and/or with Vermont bacon, sausage, tomato, and/or spinach.
Virginia
> Sandwich: Got Your Goat
> Restaurant: The Fancy Biscuit
> City: Richmond
This Southern-style biscuit emporium offers a B.Y.O.B. (Build Your Own Biscuit) menu with a choice of some 23 ingredients at various prices. The list of their own signature knife-and-fork biscuits, though, leads off with this one, a combination of fried chicken, goat cheese, pepper jelly, and balsamic reduction.
Washington
> Sandwich: Fried Egg Sandwich with Crab
> Restaurant: Seatown Market Diner
> City: Seattle
Seattle's James Beard Award-winning celebrity chef Tom Douglas runs this seafood-focused restaurant in the city's famed Pike Place Market. The breakfast menu, served daily until 3 p.m., includes a fried egg sandwich on a Dahlia Bakery English muffin, enhanced with avocado and jack cheese. Optional additions include bacon, smoked salmon, or — the definitive local variation — crab.
West Virginia
> Sandwich: John's Hangover Sandwich
> Restaurant: The Bright Morning Inn Restaurant
> City: Davis
This hearty sandwich may or may not cure hangovers, but it should certainly assuage hunger. The ingredients are eggs, sausage, onions, green peppers, and pepper jack cheese, combined on a bagel, a toasted English muffin, or a country biscuit.
Wisconsin
> Sandwich: The Hodag
> Restaurant: Koppa's Fulbeli Deli
> City: Milwaukee
The Hodag is a mythological fanged creature who supposedly lives in Wisconsin's North Woods. It is also a breakfast sandwich at Koppa's — egg, sausage, cheese, and your choice of spread on an English muffin. The deli also sells sandwiches named for other cryptozoological beasts, including the Yeti and the Jackalope.
Wyoming
> Sandwich: Egg Sandwich
> Restaurant: Persephone Bakery
> City: Jackson
Something of an upgrade from the usual egg sandwich, this one is made with lightly scrambled organic eggs, gruyère cheese, ham or bacon, and Dijon aïoli on a croissant.
Sponsored: Attention Savvy Investors: Speak to 3 Financial Experts – FREE
Ever wanted an extra set of eyes on an investment you're considering? Now you can speak with up to 3 financial experts in your area for FREE. By simply clicking here you can begin to match with financial professionals who can help guide you through the financial decisions you're making. And the best part? The first conversation with them is free.
Click here to match with up to 3 financial pros who would be excited to help you make financial decisions.