These 19 Executives Pay Themselves More Than $150 Million a Year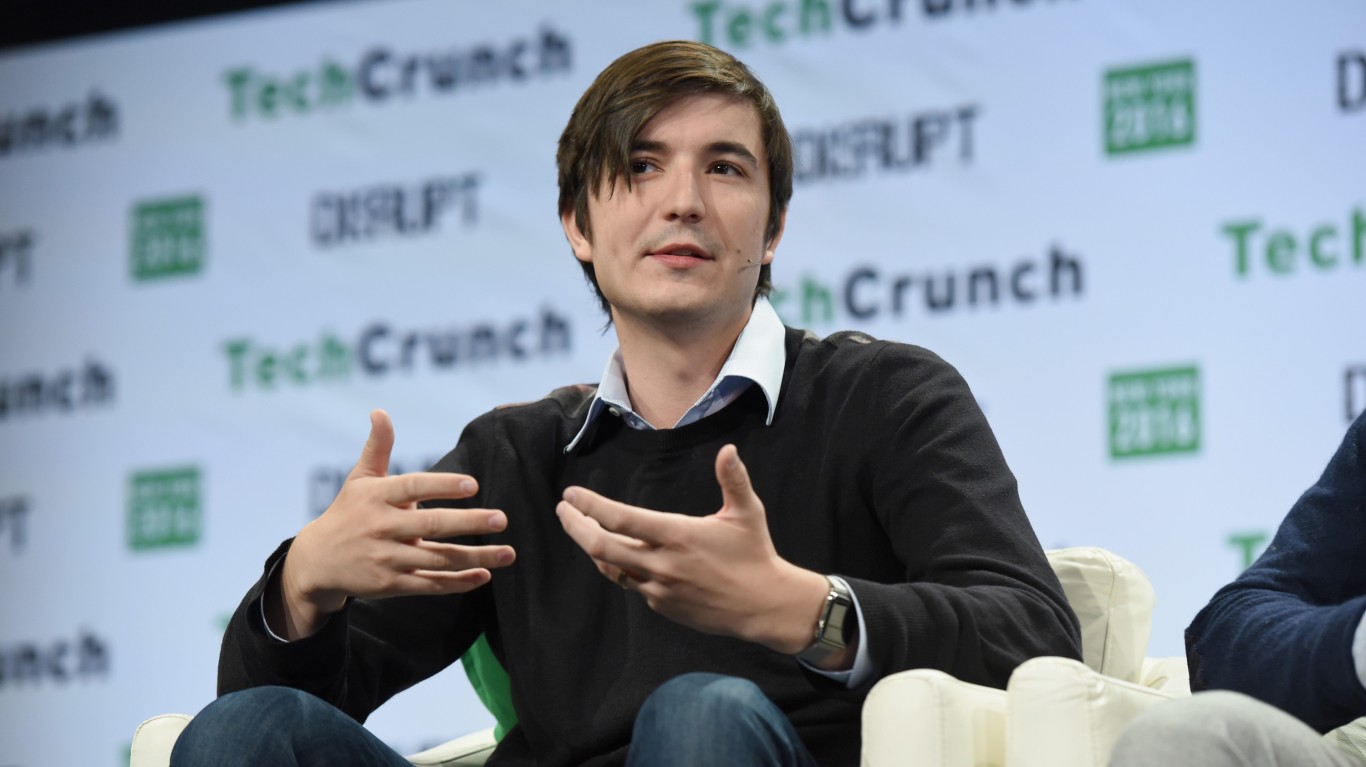 Company CEOs have always earned incomes much higher than the average salaries of their employees. It makes sense, after all, that ship captains who have distinguished themselves and climbed the ranks are rewarded more than the middling, easily replaced deckhand. But compensation paid to company bosses has skyrocketed over the decades. (See if a Navy captain gets paid as much as a CEO. Here is how much members of the U.S. military are paid at every pay grade.)
A study released last year by the Economic Policy Institute examined realized annual income, a measure that includes stock options found that CEOs at the top 350 publicly traded companies were paid $27.8 million on average in 2021, or 399 times more than a typical worker – up from 366-to-1 in 2020 and way up from 59-to-1 in 1989.
To find the highest paid CEOs, 24/7 Wall St. reviewed the American Federation of Labor and Congress of Industrial Organizations (AFL-CIO) list of Highest-Paid CEOs in the Russell 3000 index. Only CEOs with annual compensation of more than $150 million are listed. Company description and 12-months trailing revenue came from Yahoo! Finance.
These 19 executives earned from $155.7 million for Travis VanderZanden of e-scooter and e-bike rental company Bird Global to an eye-popping $835 million, paid to Jeff Green, the head of digital advertising giant The Trade Desk.
This list includes leaders of well-known corporations, like Amazon.com's boss Andrew Jassy, who took home $212.7 million in 2021 — equivalent to $102,260 per working hour at 40 hours per week — or Warner Bros. Discovery's chief David Zaslav, whose annual compensation was about a quarter of a billion dollars.
There appears to be no distinct correlation between CEO salaries and company revenue, an all-important metric in the eyes of shareholders and analysts. 
For example, Amazon CEO Jassy's compensation ranks 11th on the list, even though Amazon reported more than a half trillion dollars in revenue in 2021, considerably more than the companies of CEOs with higher compensation than Jassy. David Baszucki of video game company Roblox and the chief executives of electric car companies Rivian and Lucid earned significantly higher incomes in 2021 but their companies reported far lower revenues at $2.2 billion, $1.7 billion, and 608 million, respectively. (Find out if any of these companies are among the youngest companies in the Fortune 500.)
The list includes other puzzling entries. For example, Michael Levitt of Core Scientific took home more than $160 million in 2021, just months before the Bitcoin miner filed for Chapter 11 bankruptcy protection in December 2022. Another head scratcher is the nearly $180 million take home pay for Scott Mercer of electric vehicle charging network Volta, which was acquired by Shell USA for a lower amount – approximately $169 million – and was subsequently delisted at the end of March.
In case you are wondering, the median weekly salary of a U.S. worker was $1,100 in the first quarter of the year. That is $57,200 per year, or about $27.80 per working hour at full time for the entire year. The lowest-paid CEO on the list made nearly $75,000 per one working hour – more than an employee's annual income.
Here are the highest paid American CEOs.
19. Travis VanderZanden, Bird Global, Inc.
> Compensation, 2021: $155.7 million
> Pay per working hour (40 hrs a week): $74,875
> Company revenue: $239.1 million
> Business: App-based e-scooter and e-bike rental company
18. R.J. Pittman, Matterport, Inc.
> Compensation, 2021: $157.9 million
> Pay per working hour (40 hrs a week): $75,924
> Company revenue: $136.1 million
> Business: 3D camera and virtual reality platform provider
17. Michael Levitt, Core Scientific, Inc.
> Compensation, 2021: $160.7 million
> Pay per working hour (40 hrs a week): $77,258
> Company revenue: $276.4 million
> Business: Block chain and digital asset company that filed for Chapter 11 bankruptcy in December
16. William McDermott, ServiceNow, Inc.
> Compensation, 2021: $165.8 million
> Pay per working hour (40 hrs a week): $79,713
> Company revenue: $7,245.0 million
> Business: Enterprise cloud-computing services provider
15. Barry McCarthy, Peloton Interactive, Inc.
> Compensation, 2022: $168.1 million
> Pay per working hour (40 hrs a week): $80,805
> Company revenue: $3,052.3 million
> Business: Interactive stationary bike and treadmill company
14. Patrick Gelsinger, Intel Corporation
> Compensation, 2021: $178.6 million
> Pay per working hour (40 hrs a week): $85,861
> Company revenue: $63,054.0 million
> Business: One of the world's largest semiconductor chip manufacturers
13. Scott Mercer, Volta, Inc.
> Compensation, 2021: $179.4 million
> Pay per working hour (40 hrs a week): $86,261
> Company revenue: N/A
> Business: A leading U.S. provider of public EV charging networks, acquired by Shell USA and delisted in March
12. G. Mikan, Bright Health Group, Inc.
> Compensation, 2021: $180.8 million
> Pay per working hour (40 hrs a week): $86,930
> Company revenue: $2,412.0 million
> Business: Health insurer and health care provider
11. Andrew Jassy, Amazon.com, Inc.
> Compensation, 2021: $212.7 million
> Pay per working hour (40 hrs a week): $102,260
> Company revenue: $513,983.0 million
> Business: World's largest e-commerce platform and cloud-computing company
10. David Steinberg, Zeta Global Holdings Corp.
> Compensation, 2021: $216.5 million
> Pay per working hour (40 hrs a week): $104,065
> Company revenue: $591.0 million
> Business: Data-driven marketing technology company
9. Jason Gardner, Marqeta, Inc.
> Compensation, 2021: $224.4 million
> Pay per working hour (40 hrs a week): $107,879
> Company revenue: $748.2 million
> Business: Card issuer and payment processing company
8. David Baszucki, Roblox Corp.
> Compensation, 2021: $232.8 million
> Pay per working hour (40 hrs a week): $111,917
> Company revenue: $2,225.1 million
> Business: Online entertainment platform and video game developer
7. David Zaslav, Warner Bros. Discovery, Inc.
> Compensation, 2021: $246.6 million
> Pay per working hour (40 hrs a week): $118,545
> Company revenue: $33,817.0 million
> Business: Media and entertainment company. Merged with WarnerMedia in April 2022. Ticker was subsequently changed from DISCA to WBD
6. Peter Kern, Expedia Group, Inc.
> Compensation, 2021: $296.2 million
> Pay per working hour (40 hrs a week): $142,427
> Company revenue: $11,667.0 million
> Business: Online travel company operating under the brands Expedia, Hotels.com, Vrbo, Orbitz, Travelocity, and more
5. Jason Kelly, Ginkgo Bioworks Holdings, Inc.
> Compensation, 2021: $380.7 million
> Pay per working hour (40 hrs a week): $183,049
> Company revenue: $477.7 million
> Business: Biotech company centered around cell programming that enables production of therapeutics, food ingredients, and chemicals derived from petroleum
4. Robert Scaringe, Rivian Automotive, Inc.
> Compensation, 2021: $422.1 million
> Pay per working hour (40 hrs a week): $202,952
> Company revenue: $1,658.0 million
> Business: Electric-vehicle manufacturer associated with Amazon.com
3. Peter Rawlinson, Lucid Group, Inc.
> Compensation, 2021: $565.6 million
> Pay per working hour (40 hrs a week): $271,919
> Company revenue: $608.2 million
> Business: Maker of electric vehicles, EV powertrains, and battery systems
2. Vladimir Tenev, Robinhood Markets, Inc.
> Compensation, 2021: $796.1 million
> Pay per working hour (40 hrs a week): $382,752
> Company revenue: $1,358.0 million
> Business: Financial services platform that allows users to invest in stocks, ETFs, options, gold, and cryptocurrencies
1. Jeff Green, The Trade Desk, Inc.
> Compensation, 2021: $835.0 million
> Pay per working hour (40 hrs a week): $401,423
> Company revenue: $1,577.8 million
> Business: Digital advertising platform provider