Restaurant Chains With the Happiest Customers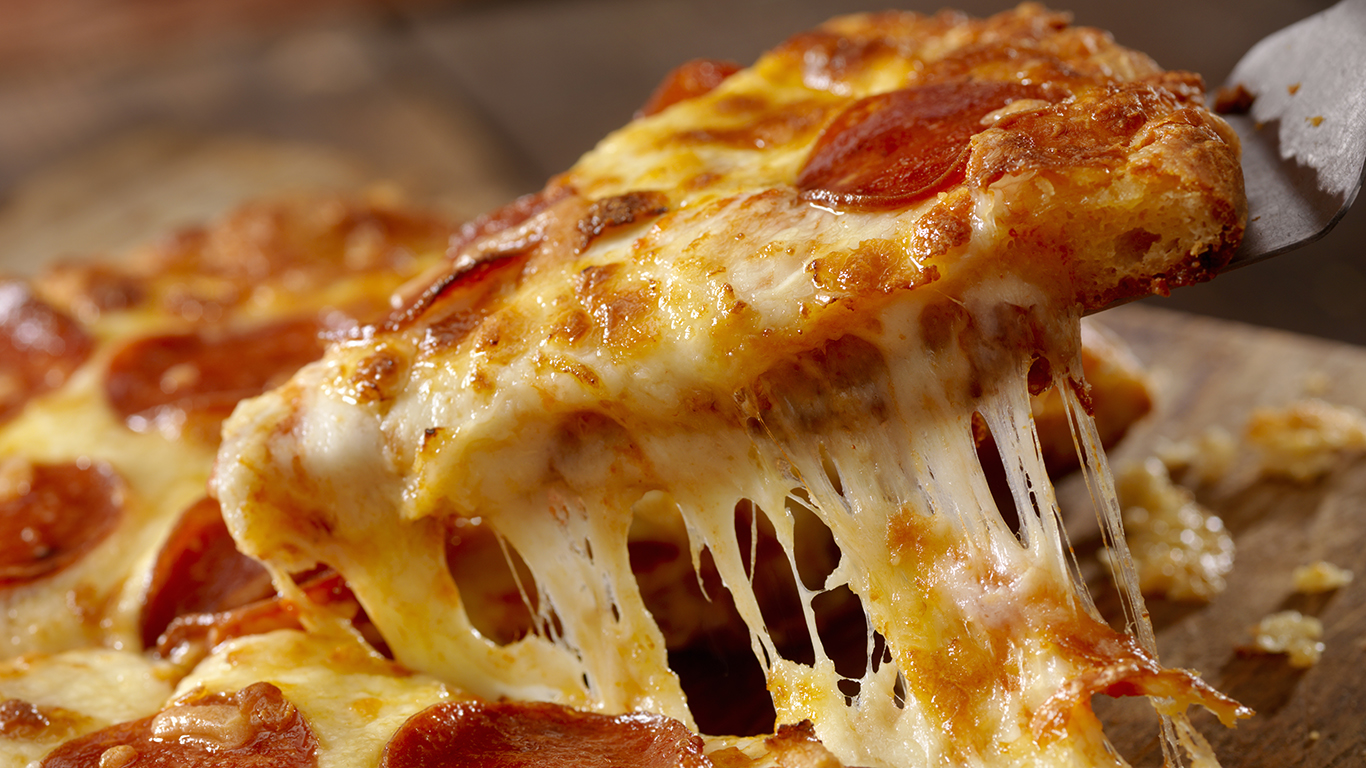 Restaurant chains of all kinds — from coffee and doughnut shops to upscale steakhouses — value customer loyalty. Regular customers provide a steady revenue stream and are said to generally outspend newer patrons, according to Upserve Restaurant Insider, a trade publication. Upserve also estimates that a 5% increase in customer loyalty can produce as much as a 100% increase in annual profits.
Earlier this year, Newsweek, partnering with the global research firm Statista, published a study ranking different types of retail chains by their customer service. The top retailers are those with the happiest, most consistently satisfied customer base. The study covered some 141 categories, 10 of which grouped under food service, ranging from doughnut chops and coffeehouse chains to fast-casual and upscale restaurants.
Click here for the restaurant chains with the happiest customers.
The businesses Newsweek and Statista studied were scored on a 10-point scale, with half the score determined by the chain's Net Promoter Score, a measure of customer willingness to recommend a chain to others, and half determined by a combination of five other criteria: quality of communication (friendliness or politeness of contact, face-to-face and otherwise), technical competence (staff ability to answer questions), range of services (the extent to which the customer's expectations were fulfilled), customer focus (how personal concerns were dealt with), and accessibility (the availability of customer service).
Some famous brands scored highly. Cracker Barrel aced the casual dining rankings; Starbucks was the clear winner among coffeehouse chains; Krispy Kreme won the doughnut wars; and Chick-fil-A, a regular winner in such rankings, got the highest score of any restaurant chain on the list.
Lesser-known companies like Corner Bakery in the bagel and sandwich category, Sirloin Stockade in the buffet restaurant grouping, and Duck Donuts in the doughnut division all made respectable third-place showings.
Many of these chains have customer rewards programs, and some have introduced new employee training measures in an effort to improve the interface with patrons. Others have been responsive to changing customer tastes, or they introduced initiatives permitting greater customization by diners. Whatever they're doing to keep their customers happy, it seems to be working.

Bruegger's
> Category: Bagel and sandwich chains
> Score: 8.16/10
In response to customer demands for more customized menu items that would fit their lifestyle and dietary needs, Bruegger's introduced a new menu, which offers possibilities for "healthy" substitutions. This attentiveness to client needs and wants seems to be working, as this chain ranked highest in its category.
Einstein Bros. Bagels
> Category: Bagel and sandwich chains
> Score: 8.01/10
Einstein's support of No Kid Hungry, Kids to Camp, Mile High United Way's School Readiness, Youth Success, and Adult Self-Sufficiency initiative, among other such programs has helped cement the chain's identity as a family-friendly company.
Corner Bakery Cafe
> Category: Bagel and sandwich chains
> Score: 7.99/10
Launched in Chicago in 1991 by the city's Lettuce Entertain You Enterprises, and famous for its emphasis on good service, Corner Bakery Cafe, now owned by the Roark Capital Group, has stressed responsiveness to customer menu suggestions.
Pizza Ranch
> Category: Buffet restaurants
> Score: 7.67/10
A survey last year by customer experience management company Market Force Information named this Midwestern chain as America's favorite purveyor of pizza. Though the name implies a pizza chain, the Newsweek study lists Pizza Ranch in the buffet category because it offers its pizza, as well as chicken dishes, salads, side dishes, and desserts, in self-service style.
Souplantation
> Category: Buffet restaurants
> Score: 7.57/10
Garden Fresh, which owns Souplantation and its sister chain Sweet Tomatoes, filed for bankruptcy in 2017, closing about 20 locations. It was taken over the same year by two private investment firms. Souplantation's score on the Newsweek list suggests that it has strong customer loyalty, but in an apparent effort to improve loyalty still further, it recently launched an online guest satisfaction survey.
Sirloin Stockade
> Category: Buffet restaurants
> Score: 7.53/10
Founded in Oklahoma City in 1966 and now operating more than 80 restaurants in nine U.S. states and Mexico, this chain offers an all-you-can-eat buffet of steak and a wide range of other hot entrees, as well as vegetables, salads, soups, and desserts. Despite its relatively high ranking on the Newsweek list, customer reviews are mixed.
Cracker Barrel
> Category: Casual dining restaurant chains
> Score: 9.01/10
Coming off a slump in sales volume last year, blamed at least in part on declining customer satisfaction, Cracker Barrel reevaluated the way its servers interacted with diners as part of its strategy to rebound.
Texas Roadhouse
> Category: Casual dining restaurant chains
> Score: 8.90/10
A measure of the loyalty this Indiana-based chain inspires is the fact that, according to the Wichita Eagle, a couple named Ron and Diana Watson have eaten at the restaurant's West Wichita location six nights a week since it opened in 2004.
Olive Garden
> Category: Casual dining restaurant chains
> Score: 8.52/10
This seemingly ubiquitous Italian-inspired chain — there are more than 850 locations in North America alone — not only makes up dishes no one in Italy has ever heard of, but also mock-Italian words. The most prominent of these is "Hospitaliano" — which Olive Garden says describes "our passion for delighting guests." One of the program's initiatives to keep customers satisfied is the integration of tabletop tablets to speed up the ordering process.
Starbucks
> Category: Coffeehouse chains
> Score: 8.29/10
This unstoppable coffee and breakfast chain credits its Starbucks Rewards program for cementing customer loyalty. Some 16.3 million people are active in the program — a million of them added in the last quarter alone. This year, the chain plans to add nitro coffee to its menu, remodel about a third of its U.S. locations, and begin delivery through Uber Eats.
Peet's Coffee
> Category: Coffeehouse chains
> Score: 8.05/10
This pioneering coffee shop chain — founded in Berkeley, California, in 1966, five years before the first Starbucks opened — introduced last year new guest experience software for its Peetnik Rewards program. Software company Paytronix Systems, Inc. gave the chain its Loyaltee Award for Best Loyalty Restaurant Launch of the year.
Gloria Jean's Coffees
> Category: Coffeehouse chains
> Score: 7.89/10
This international coffee house chain, which opened its first shop near Chicago in 1979, has expanded to some 900 locations worldwide — only 58 of them in the U.S. Company president Sam Ferreira told trade publication Restaurant News earlier this year that "there is nothing more important than a genuine personal interaction to make a lasting impression [on customers]".
Krispy Kreme
> Category: Doughnut chains
> Score: 8.37/10
This 82-year old doughnut chain, a cult favorite, tracks customer satisfaction with Krispy Kreme Listens, an ongoing online survey. Its holiday promotions, like pastel-frosted heart-shaped doughnuts with Valentine's Day messages, are a consistent hit with customers.
Dunkin' Donuts
> Category: Doughnut chains
> Score: 7.98/10
Dunkin' Donuts announced last year plans for a $100 million revamp, focusing on new technology, refreshed design, and menu innovation — including the introduction of upgraded espresso. Though the chain is dropping "Donuts" from its name, it still sells some 3 billion doughnuts a year.
Duck Donuts
> Category: Doughnut chains
> Score: 7.80/10
Founded in the town of Duck, in North Carolina's Outer Banks, in 2006, this chain offers made-to-order customized doughnuts — customers actually watch their doughnuts being made from scratch. Duck now has stores open or in development in 23 states, and it recently signed a deal to expand to Chile.
Firehouse Subs
> Category: Fast-casual restaurant chains
> Score: 8.75/10
This chain, founded in 1994 by a couple of firefighters, now boasts more than 1,100 locations nationwide. Firehouse Subs received the highest customer service score among brands in the fast-casual segment, which QSR Magazine describes as and "insanely competitive" category. Company CEO Don Fox told QSR last year that the chain was reinforcing its already strong position with a new national ad campaign focused on digital and video, updated to-go systems, and a new delivery initiative.
Five Guys
> Category: Fast-casual restaurant chains
> Score: 8.61/10
Last year's Market Force consumer study of customer favorites in five QSR categories awarded Five Guys third place overall among burger chains. In three individual rankings for speed of service, overall cleanliness, and food quality, it place second — losing out in all three cases to In-N-Out).
Panera Bread
> Category: Fast-casual restaurant chains
> Score: 8.37/10
Panera's most recent customer survey got almost 500,000 responses. Customer complaints about long lines led to the introduction of the chain's Rapid Pick-Up service, which allows diners to order online, choose a pick-up time, and (as the Panera website puts it) "just grab your meal and go." The 2018 Market Force consumer study also gave Panera top marks for loyalty card awareness, finding that 78% of respondents knew that the chain had such a program.
Chick-fil-A
> Category: Fast-food restaurant chains
> Score: 9.11/10
The American Consumer Satisfaction Index for 2018 gave this popular chicken chain a score of 87 out of 100 — No. 1 in limited-service restaurant category. "Everyone wants to be the next Chick-fil-A," according to QSR Magazine.
Arby's
> Category: Fast-food restaurant chains
> Score: 8.21/10
In late 2017, Arby's instituted an new training program aimed at inspiring employees, and thus improving the guest experience. Part of the program included learning the B.L.A.S.T. model, aimed at earning back customer loyalty after unsatisfactory experiences. The acronym stands for Believe, Listen, Apologize, Solve, Thank.
Sonic Drive-In
> Category: Fast-food restaurant chains
> Score: 8.21/10
With the help of Benenson Strategy Group, a research consultancy, Sonic has been working on brand loyalty since 2012. Benenson developed a "Brand Loyalty Funnel" to categorize customers, in ascending order of importance, as aware, quality aware, trial, repeat, regular, engaged, loyal, and advocate — and Sonic has recorded a 33% growth in the most important of those since the program began.
Haagen-Dazs
> Category: Ice cream and frozen yogurt stores
> Score: 8.36/10
Recent consumer research reveals that consumers consider this chain's ice cream to be a prestige product, but that in-store customer experience failed to match the product's status. The company responded by hiring leadership consultancy firm Achieve Forum to identify factors affecting customer loyalty and to develop a training program to help employees improve guest experience. Haagen Dazs set a goal of confirming 30% of its customers as loyal, at stores that had implemented the program, but actually confirmed some 43%.
Cold Stone Creamery
> Category: Ice cream and frozen yogurt stores
> Score: 8.30/10
This Arizona-based design-your-own-ice-cream chain (customers choose a base ice cream and can have many add-in options mixed in) helps keep customers loyal through its satisfaction-guaranteed policy: If guests aren't happy with their custom-enhanced ice cream, an employee will make them a new one. Large servings and the fact that ice cream and waffle cones are made in-house probably add to customer satisfaction.
Dippin' Dots
> Category: Ice cream and frozen yogurt stores
> Score: 8.11/10
Dippin' Dots — tiny beads of flash-frozen ice cream — were invented in 1988 by microbiologist Curt Jones. They're sold at amusement parks and fairs, in convenience stores and pharmacies, and in freestanding franchise units — some of them co-branded with the same company's Doc Popcorn brand. Dippin' Dots has worked with logistical services company SEKO to streamline distribution and track customer satisfaction.
Papa Murphy's
> Category: Pizza chains
> Score: 8.63/10
This 1,400-location pizza chain now offers third-party delivery from more than a quarter of its stores. It also has launched a customer-friendly mobile app and is in the process of developing a loyalty program. In the 2018 Consumer Picks survey published by Nation's Restaurant News, Papa Murphy's won third place for value, with 75% of respondents rating it "best in class" or "above average."
Hungry Howie's
> Category: Pizza chains
> Score: 8.55/10
This 45-year-old pizza purveyor maintains a database of about 4 million customers — and responds to guests' comments or complaints within 24 hours. The company knows when customers stop ordering regularly and then suggests an escalating series of promotional offers to win back their business.
Marco's
> Category: Pizza chains
> Score: 8.21/10
The fast-growing Marco's chain now has more than 900 stores in 35 states and four countries. In 2017, it ranked first in the pizza category in Market Force's survey of customer favorites. Last year, it dropped to third place in the overall pizza ranking, as well as third in staff friendliness, food quality, overall cleanliness, and curb appeal.
Morton's The Steakhouse
> Category: Upscale chain restaurants
> Score: 9.02/10
This fine dining chain in 2016 upgraded staff training procedures, introduced new menu items (including some lower-priced choices), and upgraded beverage options. The same year, it was the top-scoring fine dining chain in the Nation's Restaurant News Consumer Picks survey. Its score of 9.02/10 in the Newsweek study is the second highest in any category measured, after fast-food chain Chick-fil-A, which scored 9.11/10.
The Capital Grille
> Category: Upscale chain restaurants
> Score: 8.86/10
This upscale steakhouse chain took 23rd place out of 50 in the Nation's Restaurant News Consumer Picks survey. Whether or not its participation in the rewards program run by its parent company helped customer loyalty remains to be seen, but the chain announced that as of March 1 of this year it was no longer taking part in the program.
Ruth's Chris Steak House
> Category: Upscale chain restaurants
> Score: 8.67/10
The Nation's Restaurant News 2018 Consumer Picks survey ranked Ruth's Chris sixth in brand loyalty based on respondents who reported that they visited restaurants specifically to experience the brand, not just because they were convenient — and was the only fine dining establishment in the top 20.
Sponsored: Tips for Investing
A financial advisor can help you understand the advantages and disadvantages of investment properties. Finding a qualified financial advisor doesn't have to be hard. SmartAsset's free tool matches you with up to three financial advisors who serve your area, and you can interview your advisor matches at no cost to decide which one is right for you. If you're ready to find an advisor who can help you achieve your financial goals, get started now.
Investing in real estate can diversify your portfolio. But expanding your horizons may add additional costs. If you're an investor looking to minimize expenses, consider checking out online brokerages. They often offer low investment fees, helping you maximize your profit.