Natural Gas Inventory Rises Slightly, Price Dips Sharply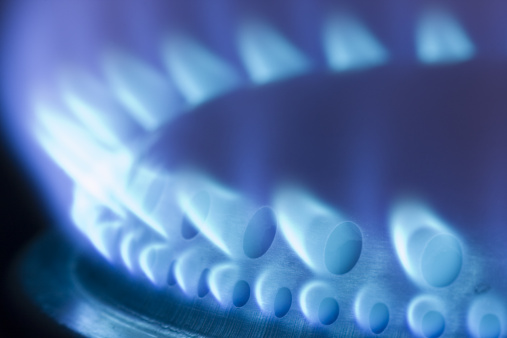 The U.S. Energy Information Administration (EIA) today reported the U.S. natural gas stocks rose by a total of 4 billion cubic feet, slightly more than the 9 to 13 billion cubic feet withdrawal that analysts were expecting. Natural gas futures prices were about 2% lower in advance of the EIA's report at around $3.73 per thousand cubic feet, and fell further to around $3.65 immediately following the EIA report.
The EIA reported that U.S. working stocks of natural gas totaled 3.88 trillion cubic feet, about 190 billion cubic feet higher than the five-year average of 3.68 trillion cubic feet. Working gas in storage totaled 3.85 trillion cubic feet for the same period a year ago.
Milder weather kept withdrawals in check last week. Working gas in storage remains above the high end of the 5-year average.
Here's how stocks of the largest U.S. natural gas producers are reacting to today's report:
Exxon Mobil Corp. (NYSE: XOM), the country's largest producer of natural gas, is up about 0.2% at $88.24 in a 52-week range of $77.13 to $93.67.
Chesapeake Energy Corp. (NYSE: CHK) is up about 1% at $17.62 in a 52-week range of $13.32 to $26.16.
EOG Resources Inc. (NYSE: EOG) is up about 1% at $117.57 in a 52-week range of $82.48 to $124.49.
The US Natural Gas Fund (NYSEMKT: UNG) is down about 3.5% at $20.95 in a 52-week range of $14.25 to $32.48. The Market Vectors Oil Services ETF (NYSEMKT: OIH) is up about 0.9% at $38.52 in a 52-week range of $36.01 to $45.14. The first fund tracks spot prices; the second includes major drillers and services companies.
Paul Ausick
Sponsored: Tips for Investing
A financial advisor can help you understand the advantages and disadvantages of investment properties. Finding a qualified financial advisor doesn't have to be hard. SmartAsset's free tool matches you with up to three financial advisors who serve your area, and you can interview your advisor matches at no cost to decide which one is right for you. If you're ready to find an advisor who can help you achieve your financial goals, get started now.
Investing in real estate can diversify your portfolio. But expanding your horizons may add additional costs. If you're an investor looking to minimize expenses, consider checking out online brokerages. They often offer low investment fees, helping you maximize your profit.