5 Sin Stocks to Buy That Should Hold Up in a Bear Market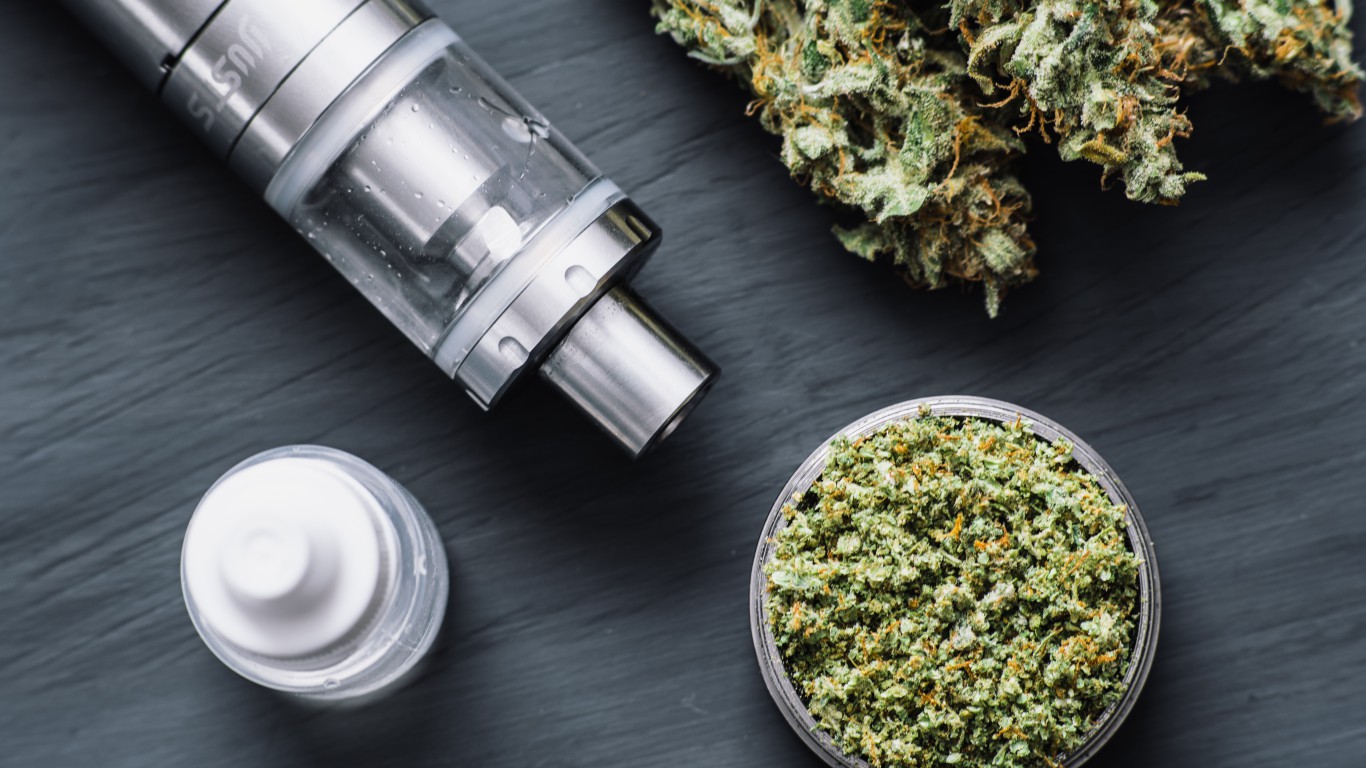 One category of Wall Street that some portfolio managers really don't want to discuss in their portfolios is the so-called sin stocks. These are companies that sell tobacco and alcohol products, run gambling casinos, sex-related industries, weapons manufacturers and now even marijuana producers. While at the margin they don't all seem sinful, some money management companies refuse to own any of them.
We screened our 24/7 Wall St. research database for companies that fall into this rather dubious category and found five stocks that look like outstanding values. They are all rated Buy at major firms on Wall Street and should hold up well even in a protracted bear market.
Altria
This maker of tobacco products offers value investors a great entry point now. Altria Group Inc. (NYSE: MO) is the parent company of Philip Morris USA (cigarettes), UST (smokeless), John Middleton (cigars), Ste. Michelle Wine Estates and Philip Morris Capital. PMUSA enjoys a 51% share of the U.S. cigarette market, led by its top cigarette brand Marlboro.
Altria also owns over 10% of Anheuser-Busch InBev, the world's largest brewer. In March 2008 it spun off its international cigarette business to shareholders. In December 2018, it acquired 35% of JUUL Labs. Fourth-quarter numbers were solid, and the Merrill Lynch analysts said this:
Altria reported fourth quarter 2018 earnings per share of $0.95, in line versus Merrill Lynch consensus estimates. Smoke-able net sales beat our forecast by $9 million due to stronger price/mix. Altria's smoke-able shipments were in line. Management provided color on US industry trends, a mid-term category outlook, and insights on its recent investments. We believe that management has made proactive steps to secure long term growth with its evolving platform.
Altria investors are paid a huge 5.66% dividend. The Merrill Lynch price target for the shares is $66, and the Wall Street consensus estimate was last seen at $57.22. The stock closed Monday's trading at $56.55.
Aurora Cannabis
While some investors may be against cannabis companies, the potential upside is huge, and Wall Street is starting to notice. Aurora Cannabis Inc. (NYSE: ACB) produces and distributes medical cannabis products, and it has made a string of acquisitions to grow the scale of its overall business.
This company is vertically integrated and horizontally diversified across various segments of the cannabis value chain, from facility engineering and design to cannabis breeding, genetics research, production, derivatives, high value-add product development, home cultivation, wholesale and retail distribution.
Aurora Cannabis products consist of dried cannabis and cannabis oil, CanniMed vegan capsules and hemp products, and it also sells vaporizers, consumable vaporizer accessories and herb mills for using herbal cannabis products. It also operates CanvasRX, a network of cannabis counseling and outreach centers, and it provides cannabis analytical product testing services.
Jefferies has a $9.15 target price, but Cowen's price objective is up at $14. The stock closed trading most recently at $9.25 per share.
Caesars Entertainment
This well-known old-school gaming company is offering solid upside. Caesars Entertainment Corp. (NASDAQ: CZR) provides casino-entertainment and hospitality services, and its resorts operate primarily under the Harrah's, Caesars and Horseshoe brand names.
Caesars facilities include gaming offerings, food and beverage outlets, hotel and convention space, and non-gaming entertainment options. Caesars Entertainment is one of the largest gaming companies in the world and currently owns or operates 49 casino properties in 13 states and in four other countries.
Activist investor Carl Icahn is said to be building a massive position in the company, which could be very positive for Caesars investors.
The $11 SunTrust Robinson Humphrey price target is in line with the posted consensus target of $11.16. The shares closed Monday's trading at $8.56 apiece.
Diageo
This is one of the largest producers of alcoholic beverages in the world. Diageo PLC (NYSE: DEO) produces, markets and sells alcoholic beverages worldwide, including scotch whiskey, gin, vodka, rum, beer, Irish cream liqueurs, wine, Raki, tequila, Canadian and American whiskey, Cachaça and brandy, as well as adult beverages and ready to drink products. The company's premium brands include Johnnie Walker, Smirnoff, Captain Morgan, Baileys, Tanqueray, and Guinness.
Its reserve brands include Johnnie Walker Blue Label, Johnnie Walker Green Label, Johnnie Walker Gold Label 18 year old, Johnnie Walker Gold Label Reserve, Johnnie Walker Platinum Label 18 year old, John Walker & Sons Collection, Johnnie Walker The Gold Route, Johnnie Walker The Royal Route, and other Johnnie Walker super premium brands, as well as The Singleton, Cardhu, Talisker, Lagavulin and other malt brands.
Shareholders of Diageo are paid a 2.12% dividend. Merrill Lynch has set a $176 price target on the shares. The posted consensus target is $156.62, but the shares closed above that level on Monday at $162.93.
Lockheed Martin
This is one of the top aerospace and defense stocks to buy, and many on Wall Street are expecting a very solid continuation of U.S. and foreign defense spending. Lockheed Martin Corp. (NYSE: LMT) researches, designs, develops, manufactures, integrates, operates and sustains advanced technology systems, products and services. It also provides a wide range of defense electronics products and IT services.
Being the Pentagon's prime contractor, Lockheed Martin offers a diverse portfolio of global aerospace, defense, security and advanced technologies. Its leveraged presence in the Army, Air Force, Navy and IT programs guarantees a steady inflow of follow-on orders, not only from the U.S. government but also from many foreign allies of the nation.
Lockheed Martin investors are paid a 3.0% dividend. The Merrill Lynch analysts have a price objective of $390. The consensus target price is $378.83, well above the most recent close at $294.12 a share.
Needless to say, nobody should invest in something they are personally against. However, if these industries don't bother you, they may have solid portfolio potential, and typically, even if the economy gets rocky, they are able to hold their own.
Sponsored: Want to Retire Early? Here's a Great First Step
Want retirement to come a few years earlier than you'd planned? Or are you ready to retire now, but want an extra set of eyes on your finances?
Now you can speak with up to 3 financial experts in your area for FREE. By simply clicking here you can begin to match with financial professionals who can help you build your plan to retire early. And the best part? The first conversation with them is free.
Click here to match with up to 3 financial pros who would be excited to help you make financial decisions.