States With the Most Snipers During the Civil War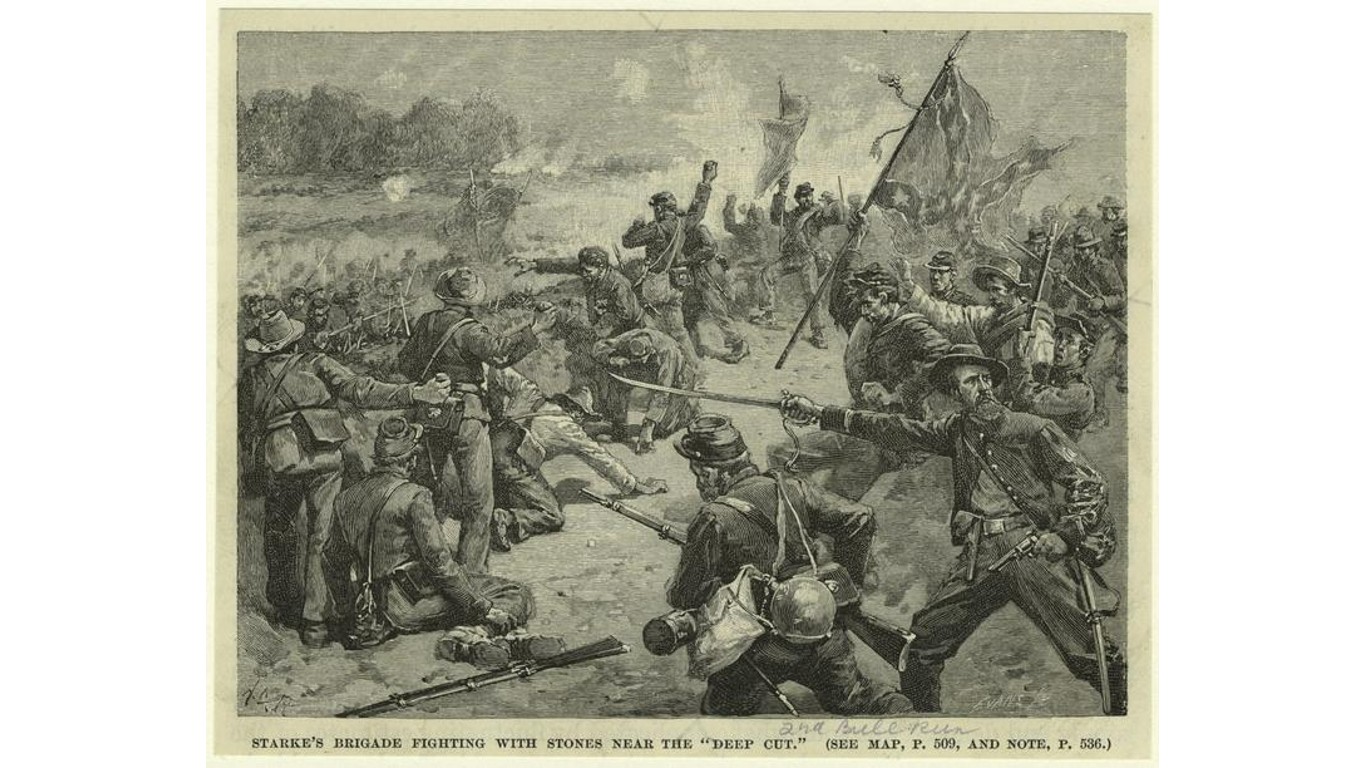 In most key aspects of the American Civil War – from money and manpower to guns and supplies – the Confederacy was outmatched by federal forces. Sharpshooter units were one notable exception, however. According to government records, the Confederacy enlisted more than 11,500 sharpshooters, compared to fewer than 9,000 in the Union ranks.
Like modern-day snipers, Civil War sharpshooters typically concealed themselves in their surrounding terrain and engaged high-value targets, such as officers or artillerymen, at long range. Though they made up a small portion of both Union and Confederate forces, sharpshooters had a disproportionate impact, both tactically and psychologically, during the war and made meaningful contributions to a number of key battles, including Gettysburg. 
Only top-marksmen – typically those capable of putting 10 consecutive shots in a 10-inch circle at 200 yards – were accepted into the ranks of sharpshooter units. They were often experienced riflemen from rural backgrounds, which may help explain why more of them were recruited in the agrarian South than in the more industrialized Northern states. 
Using data from The Civil War Soldiers and Sailors Database, compiled by the National Park Service, 24/7 Tempo identified the states with the most sharpshooters in the Civil War. Supplemental data on the number of Union sharpshooter units in each state is from A Compendium of the War of the Rebellion by Civil War statistician Frederick H. Dyer, first published in 1908.
Click here to see the states with the most snipers during the Civil War
The role sharpshooters played in the Civil War was highly-specialized, and so too was their equipment. On the Union side, sharpshooters generally wore green uniforms to better conceal their positions in the forest and on the battlefield. (Here is a look at what the U.S. Army's uniform looked like in every war since 1775.)
While many sharpshooters on both sides of the conflict used their personal rifles, with which they were most familiar, the Confederate and Union armies also issued special-purpose sharpshooter rifles. Many Union sharpshooters carried Sharps rifles that fired a .52 caliber Minie Ball accurate out to 600 yards. These rifles – named for their designer, Christian Sharps, not for the troops who carried them – weighed 12 pounds and were 47 inches long.
The Confederates, meanwhile, made their own versions of Sharps rifles, but their quality was inferior. As a result, the 49-inch English Whitworth .45 caliber rifle – accurate within 12 inches at 800 yards – was their preferred weapon. (These are 22 guns that helped fight the Civil War.)
16. North Carolina
> Total sharpshooters: 370
> Sharpshooter troop allegiance: 100% Confederate
> Union sharpshooter units formed in North Carolina: None
> North Carolina's official side in the Civil War: Confederate
15. Arkansas
> Total sharpshooters: 385
> Sharpshooter troop allegiance: 100% Confederate
> Union sharpshooter units formed in Arkansas: None
> Arkansas's official side in the Civil War: Confederate
14. Alabama
> Total sharpshooters: 432
> Sharpshooter troop allegiance: 100% Confederate
> Union sharpshooter units formed in Alabama: None
> Alabama's official side in the Civil War: Confederate
13. Texas
> Total sharpshooters: 468
> Sharpshooter troop allegiance: 100% Confederate
> Union sharpshooter units formed in Texas: None
> Texas's official side in the Civil War: Confederate
12. Tennessee
> Total sharpshooters: 485
> Sharpshooter troop allegiance: 100% Confederate > Union sharpshooter units formed in Tennessee: None
> Tennessee's official side in the Civil War: Confederate
11. Massachusetts
> Total sharpshooters: 492
> Sharpshooter troop allegiance: 100% Union
> Union sharpshooter units formed in Massachusetts: 2 companies
> Massachusetts's official side in the Civil War: Union
10. New York
> Total sharpshooters: 504
> Sharpshooter troop allegiance: 100% Union
> Union sharpshooter units formed in New York: 1 battalion, 4 companies
> New York's official side in the Civil War: Union
9. Louisiana
> Total sharpshooters: 565
> Sharpshooter troop allegiance: 100% Confederate
> Union sharpshooter units formed in Louisiana: None
> Louisiana's official side in the Civil War: Confederate
8. Maine
> Total sharpshooters: 704
> Sharpshooter troop allegiance: 100% Union
> Union sharpshooter units formed in Maine: 1 battalion, 1 company
> Maine's official side in the Civil War: Union
7. Ohio
> Total sharpshooters: 777
> Sharpshooter troop allegiance: 100% Union
> Union sharpshooter units formed in Ohio: 10 companies
> Ohio's official side in the Civil War: Union
6. Missouri
> Total sharpshooters: 1,074
> Sharpshooter troop allegiance: 99.4% Confederate (1,068 sharpshooters); 0.6% Union (6 sharpshooters)
> Union sharpshooter units formed in Missouri: 1 regiment, 1 battalion > Missouri's official side in the Civil War: Union
5. Virginia
> Total sharpshooters: 1,099
> Sharpshooter troop allegiance: 100% Confederate
> Union sharpshooter units formed in Virginia: None
> Virginia's official side in the Civil War: Confederate
4. Mississippi
> Total sharpshooters: 1,303
> Sharpshooter troop allegiance: 100% Confederate
> Union sharpshooter units formed in Mississippi: None
> Mississippi's official side in the Civil War: Confederate
3. Michigan
> Total sharpshooters: 2,475
> Sharpshooter troop allegiance: 100% Union
> Union sharpshooter units formed in Michigan: 1 regiment, 8 companies
> Michigan's official side in the Civil War: Union
2. Georgia
> Total sharpshooters: 2,578
> Sharpshooter troop allegiance: 100% Confederate
> Union sharpshooter units formed in Georgia: None
> Georgia's official side in the Civil War: Confederate
1. South Carolina
> Total sharpshooters: 2,696
> Sharpshooter troop allegiance: 100% Confederate
> Union sharpshooter units formed in South Carolina: None
> South Carolina's official side in the Civil War: Confederate