Broadridge Financial Solutions...
NYSE: BR
$149.46
-$1.48 (-1.0%)
Closing price January 27, 2023
Friday's top analyst upgrades and downgrades included Activision Blizzard, Bilibili, Carrier Global, Cimarex Energy, Deutsche Bank, Morgan Stanley, Palantir Technologies and Rackspace Technology.
1 year ago
Last Updated: 1 year ago
Returning capital to investors shows that a company is doing well and has the earnings and cash flow strength to increase the payouts. Five top companies are expected to hike their dividends this...
1 year ago
Last Updated: 1 year ago
The top analyst upgrades, downgrades and initiations seen on Thursday morning include Bank of America, First Solar, KKR, On Deck Capital, Red Hat and Shake Shack.
6 years ago
Last Updated: 3 years ago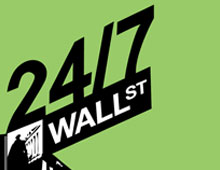 Reuters:   Political battles are likely to make this a tough year for the Fed. Reuters:   The head of Toyota (TM) warned of two more tough years. Reuters:   Lawmakers accused Fed of a cover-up...
13 years ago
Last Updated: 2 years ago