Beers Americans No Longer Drink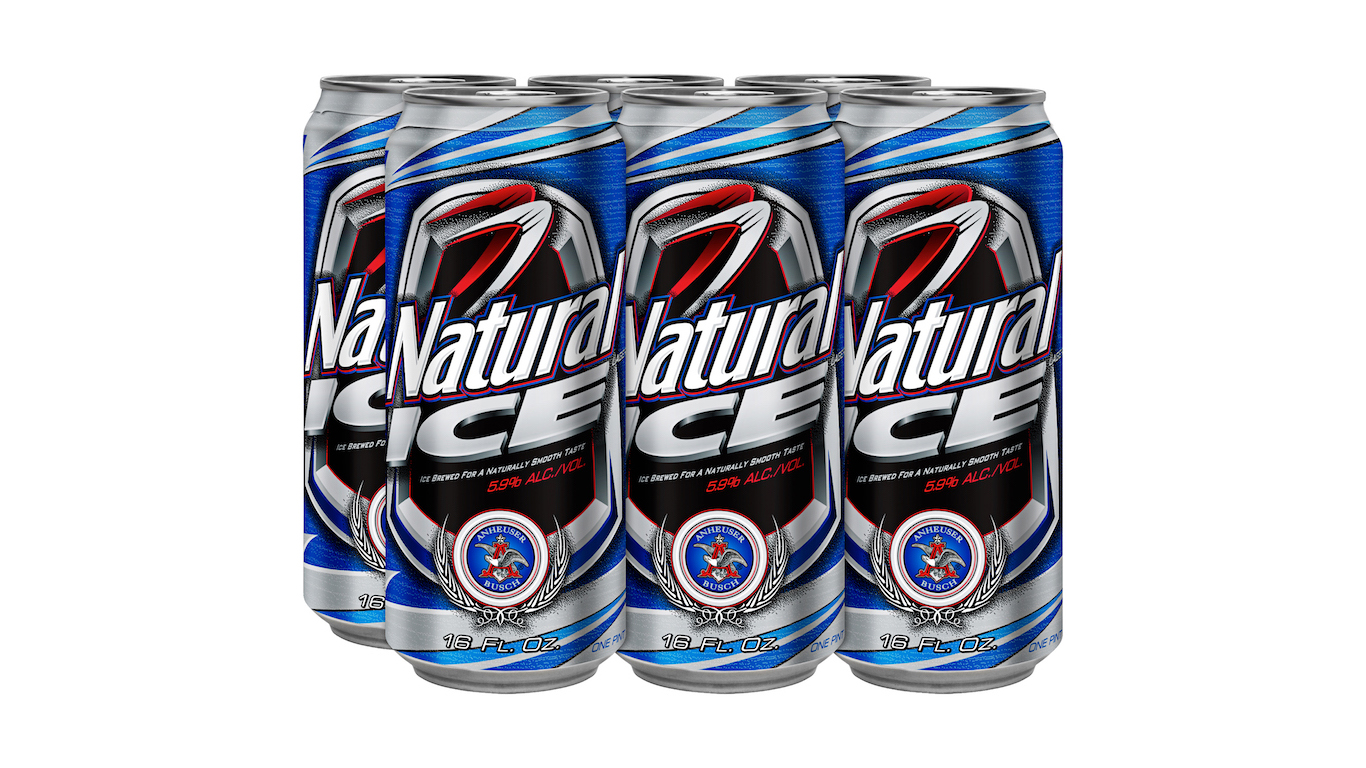 10. Natural Ice
> Sales change (2010-2015): -17.3%
> Barrels shipped in 2015: 2.8 million
> Parent company: Anheuser-Busch InBev
Natural Ice, often referred to as Natty Ice, was introduced by Anheuser Busch in 1995 as a higher alcohol content alternative to its precursor, Natural Light. Natural Ice contains 5.9% alcohol by volume, while Natural Light contains only 4.2% ABV.
Anheuser-Busch InBev shipped 575,000 fewer barrels of Natural Ice in 2015 than it did five years prior. The 17.3% decline in shipments is the 10th steepest among major beer brands. Like Natural Ice, Natural Light is also falling out of favor with American beer drinkers but remains far more popular. Last year, U.S. consumers drank about 6.8 million barrels of Natural Light compared to only 2.8 million barrels of Ice.
9. Budweiser
> Sales change (2010-2015): -19.6%
> Barrels shipped in 2015: 15.0 million
> Parent company: Anheuser-Busch InBev
Once the iconic American beer, Budweiser's image was likely tarnished in the eyes of many in 2008, when the beer maker, Anheuser-Busch, merged with Belgian brewer InBev. This year, in an apparent attempt to capitalize on the beer's American roots, labels on cans and bottles nationwide were changed to read "America." The new marketing began in mid-May and continued through the U.S. presidential election. While Budweiser sales are down 19.6% from 2010 to 2015, the marketing campaign's effect on total sales remains to be seen.
Despite recent declines in demand, Budweiser remains a popular choice among beer drinkers. Last year, Anheuser-Busch InBev shipped 15 million barrels of the iconic brew to locations in the U.S., more than nearly any other brand in the country and the most of any non-light beer.
8. Busch
> Sales change (2010-2015): -20.5%
> Barrels shipped in 2015: 4.9 million
> Parent company: Anheuser-Busch InBev
Busch is one of many Anheuser-Busch InBev beer brands rapidly losing sales. Americans drank only 4.9 million barrels of Busch last year, 20.5% less than in 2010.
Busch Beer, as it is known today, was first introduced in 1955 as Busch Bavarian Beer. Although the brand still uses a snow-covered German mountainside as part of its logo, it is only available for sale in the United States.
Sponsored: Tips for Investing
A financial advisor can help you understand the advantages and disadvantages of investment properties. Finding a qualified financial advisor doesn't have to be hard. SmartAsset's free tool matches you with up to three financial advisors who serve your area, and you can interview your advisor matches at no cost to decide which one is right for you. If you're ready to find an advisor who can help you achieve your financial goals, get started now.
Investing in real estate can diversify your portfolio. But expanding your horizons may add additional costs. If you're an investor looking to minimize expenses, consider checking out online brokerages. They often offer low investment fees, helping you maximize your profit.