The Best Place to Buy Wine in Every State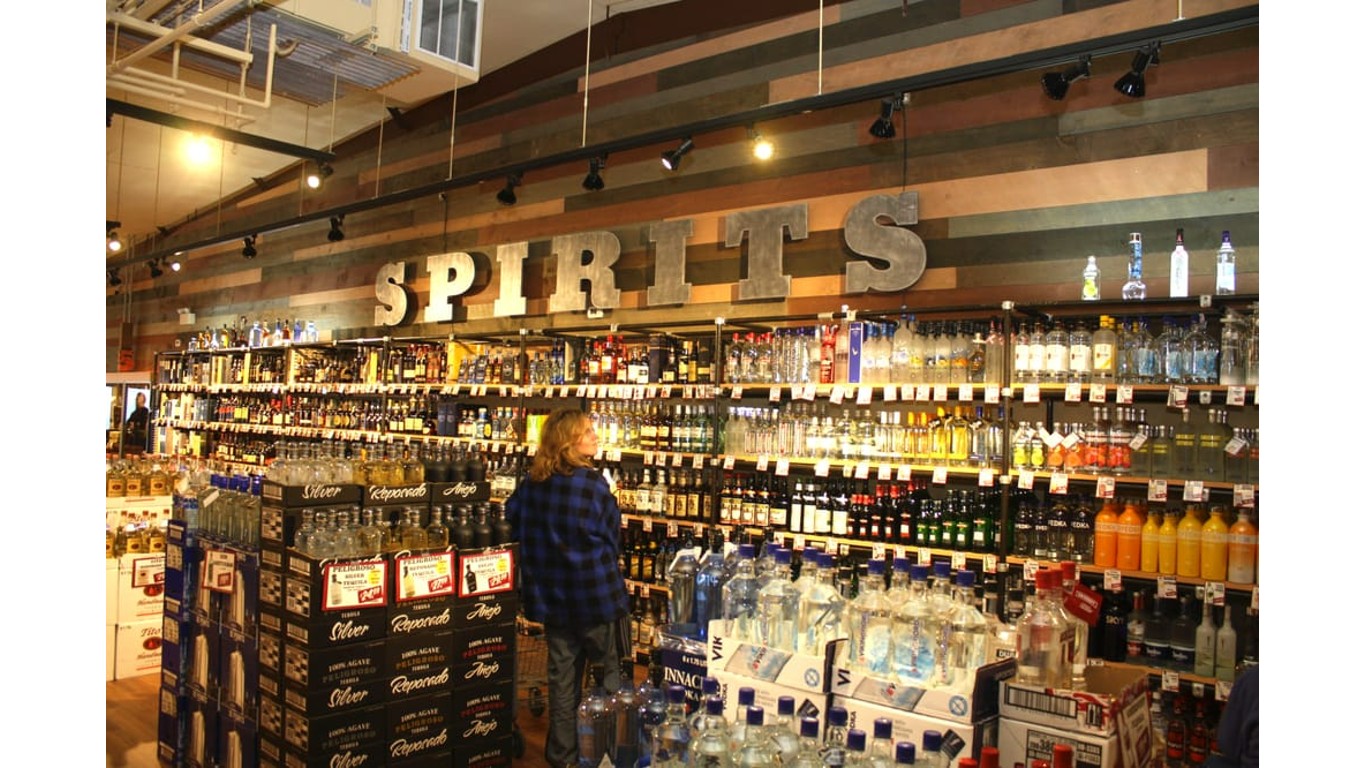 Many wine drinkers have a handful of favorite go-to bottles that they keep in stock – big-name labels that are easy to find at most retailers or that can be ordered by the case online. 
But even the most pleasing vintage can grow boring with repetition. This is when a trip to the local wine shop is in order. Rather than big-box chain retailers that carry a predictable stock, the best wine shops typically carry a unique selection of exciting or unknown labels. They are the perfect places to explore new wines and get recommendations from the experts. (Just for starters, here are 20 black-owned wineries you should know.)
To determine the best wine shop in every state, 24/7 Tempo exercised editorial discretion after reviewing listings from a variety of sources including Wine Enthusiast, Punch, Food & Wine, Imbibe, Gayot, and International Wine Review, as well as numerous local and regional sites and reviews by Yelp users. 
Most are independently owned, while a few are small chains and one – the shop in Utah – is state-owned. No matter the business model, a common thread that these outlets share is excellent customer service. Sometimes run by sommeliers, and always staffed by knowledgeable wine enthusiasts, the best wine shops in America are known for their friendly salesperson-advisors who will take the time to find out which wines you prefer and recommend new bottles that you are bound to enjoy – and sometimes source rarities for you. 
Click here to see the best place to buy wine in every state
Some feature a vast selection of Old World wines, while others offer a global variety; many specialize in wines from small family producers or biodynamic and organic vineyards. Most offer wine tastings, monthly clubs, and special events, and nearly all provide online ordering for pickup, local delivery or mailing. A few even serve as wine bars, where you can relax with a glass and a cheese plate. (Here are the best wine bars in America.)
Alabama: The Vintage Wine Shoppe
> Location: Birmingham
The Vintage is a gorgeous shop containing over 1,800 quality wines in all price ranges, including many under $15 and some rare gems in the climate-controlled cellar, as well as wine-related gifts and gourmet foods. The weekly tastings are educational, and the staff are treasure troves of knowledge.
Alaska: AK Wine Grotto
> Location: Anchorage
This family-owned wine and gift shop is packed with unique souvenirs and local merchandise, as well as a huge array of wines – most between $10 and $25. Customers love the wine club, which affords them 15% off all purchases plus a curated selection of new wines every month.
Arizona: Hidden Track Bottle Shop
> Location: Phoenix
With two Phoenix locations, Hidden Track Bottle Shop offers rare gems, unusual varietals, and small label bottles at a great value. There are plenty of natural options as well as Arizona wines, craft beers, and weekly tasting events.
Arkansas: Colonial Wines & Spirits
> Location: Little Rock
Frequent tastings are a major draw at this veteran-owned liquor store, whether they're whiskey, wine, or craft beer. The massive warehouse features the state's most comprehensive collection of spirits, an equally impressive wine selection, and a beer tasting bar and growler-filling station.
California: Kermit Lynch Wine Merchant
> Location: Berkeley
Kermit Lynch is an importer and distributor of fine French and Italian wines that are handpicked to exemplify the flavors of their native region. Customers can rely on Lynch's expertise, and the wide range of styles and prices will please casual wine drinkers and oenophiles alike.
Colorado: Boulder Wine Merchant
> Location: Boulder
Co-owned and run by master sommelier Brett Zimmerman, Boulder Wine Merchant offers an expertly chosen assortment of wines at a range of prices, as well as craft beers, spirits, and artisanal foods. Every wine is hand-picked and each month brings a new selection of featured wines on sale.
Connecticut: Stew Leonard's Wines & Spirits
> Location: Norwalk, Danbury, and Newington
From Connecticut's favorite niche grocer, Stew Leonard's Wine & Spirits stores offer a massive selection of beer, liquor, and wine, with half-case discounts on wine and other deeply discounted specials. Both budget wines (including some $3.99 bottles) and higher-end choices are available, with many tried and true labels to choose from.
Delaware: Kreston Wine & Spirits
> Location: Wilmington and Middletown
With two Delaware locations, Kreston Wine & Spirits is a family-owned purveyor that carries a warehouse-sized selection of beer, liquor, and wine at competitive prices. Most well-known labels are in stock, and some lesser-known wines are also available. The selection of bottles under $20 is extensive.
Florida: Golden Hour
> Location: Orlando
A bright and charming natural wine shop and bar, Golden Hour is a place to enjoy a few glasses and learn about some fun new wines from the extremely approachable proprietor. Let the staff's knowledge of their rare and interesting bottles guide your selection, and you will be a customer for life.
Georgia: 3 Parks Wine Shop
> Location: Atlanta
A haven for everything wine-related, 3 Parks Wine Shop offers not only a curated selection of natural wines from small producers to fit any budget but also in-store tasting events, themed monthly subscription clubs, a mobile wine bar to cater private events, and weekend wine-tasting flights.
Hawaii: Wailea Wine
> Location: Kihei (Maui)
A fine wine and liquor store that also sells specialty foods, craft beers, drinking accessories, and cigars, Wailea Wine is a destination for quality gourmet shopping. In addition to stocking rare bottles, the shop can special-order wines they don't keep in stock, and offers seasonal promotions and discounts.
Idaho: City Center Wines
> Location: Boise
A place to discover wines from lesser-known regions, City Center Wines carries a curated selection of small labels from artisanal and family-owned wineries across the globe. The prices and selection are great, and there is even an offering of unique beers. Visitors love the friendly proprietor and the wine of the month club.
Illinois: Red and White
> Location: Chicago
A hip shop that specializes in thoughtfully sourced small-label wines, Red and White carries bottles that range from around $15 to $80 or so from most major wine-producing regions. They offer private group tastings as well as weekly tastings that are free for wine club members, and a conjoined bistro allows customers to enjoy a bottle on the spot.
Indiana: Vine & Table
> Location: Carmel
A destination for beer, wine, gourmet cheese, liquor, and gift baskets, Vine & Table has an incredible selection plus a tasting bar and cigars. The large space is well-organized, and the staff are professional and knowledgeable.
Iowa: Wall to Wall Wine and Spirits
> Location: West Des Moines
This ultra-modern liquor store owned by the Hy-Vee supermarket chain offers a vast selection of beer, wine, liquor, and cigars. The 3,000 label wine section carries many bottles in the $10 range as well as higher-end vintages in the temperature-controlled walk-in wine cellar.
Kansas: Nespor's Wine & Spirits
> Location: Manhattan
In business for over 50 years, Nespor's boasts over 5,000 square feet of shelves offering premium beer, wine, and spirits. The owner is a certified sommelier, and the extensive selection of hand-picked wines features unique and hard-to-find brands and vintages.
Kentucky: The Wine Rack
> Location: Louisville
This charming shop in Crescent Hill offers weekly deals on new wines, a monthly wine club with seven different membership options to choose from, and a well-curated selection of beverages. The proprietor is well versed at recommending wines to go with any meal, and the prices are outstanding for the quality of the products.
Louisiana: Keife & Co.
> Location: New Orleans
This service-oriented specialty food purveyor carries wines from small family-owned producers with many natural, organic, and biodynamic options. The staff keep a log of your purchases to remind you of which wines you've bought and enjoyed. They also offer gift baskets, wine glass rental, and custom cheese and meat boards.
Maine: Maine and Loire
> Location: Portland
Inspired by the small unpretentious French wine producers of the Loire Valley, this shop and bar features natural wines that are easy to enjoy. With a focus on healthy land stewardship, the proprietors choose wines made on a sustainable scale by passionate people. Take advantage of the tastings and classes, and do stop into the bar on Friday or Saturday.
Maryland: Bin 604 Wine & Spirits
> Location: Baltimore
Tucked away on the second floor above a Whole Foods Market, this cozy hidden gem is worth a visit. The staff is adept at helping you navigate the seasonally rotating stock of quality wines, from easy dinner accompaniments to rare vintages, and they offer tastings and in-depth classes that explore various wine regions and varietals.
Massachusetts: Urban Grape
> Location: Boston
Owned by a dynamic husband and wife duo, the Urban Grape aims to transform the way we taste wine. Wines are organized by their body and mouthfeel, rather than varietal or origin, giving both novice and seasoned wine drinkers a new way to consider their palate and appropriate food pairings. The staff provides stellar service – akin to that in a luxury hotel – and there are frequent free tastings on site.
Michigan: Village Wine Shop
> Location: Grosse Pointe Park
This 70-plus-year-old establishment in a historic building carries a well-priced selection of beer, spirits, cigars, and over 2,000 different wines. The shelves are well-organized, and the owner and staff are courteous and make fitting suggestions no matter what you're in the mood for.
Minnesota: 1010 Washington Wine & Spirits
> Location: Minneapolis
Kind and helpful employees are the norm at this downtown Minneapolis wine and liquor store. They carry a wide selection of beer, wine, and spirits from all over the world, as well as a notable representation of local craft brews, and offer frequent tasting events.
Mississippi: Corkscrew Fine Wine & Spirits
> Location: Jackson
A large wine and liquor outlet with constant sales, a discount area, and a huge wine selection, Corkscrew is known for their attentive service. Employees are happy to make recommendations, guide you through rare products, and will even help carry your purchases to the car if you've bought a case.
Missouri: Cellar Rat Wine Merchants
> Location: Kansas City
The staff at Cellar Rat take pride in their carefully curated selection, only selling wines that they've tasted and enjoyed. They can cater to any price point, from a $5 bottle to a $500 bottle, and offer popular $100 mix-and-match wine cases. Customers rave about the wine club and tasting events.
Montana: Missoula Wine Merchants
> Location: Missoula
This specialty wine and gift shop offers a broad range of well-known wines and unfamiliar labels. Their selection reflects a focus on quality and value, with wines at many price ranges, and many options under $20. The staff love to recommend bottles to pair with dinner, and the shop also carries a selection of cheeses, charcuterie, and gifts.
Nebraska: Bin 105
> Location: Lincoln
Fostered by a passion for interesting wines, Bin105 carries a hand-picked selection of global wines including an assemblage from independent wineries in California, Oregon, and Washington. The owner and staff love turning customers on to new finds, as well as recommending a bottle that fits the occasion. The in-shop wine bar and tastings are welcome additions.
Nevada: Khoury's Fine Wine & Spirits
> Location: Las Vegas
A laid-back beverage retailer with an in-store tasting bar, Khoury's offers an array of constantly rotating draughts and wines by the glass, to enjoy in the lounge or on the patio. There's even a food truck on site. The shop carries eclectic wines, liquors, and microbrews, and the staff are always ready to chat about your choices.
New Hampshire: WineNot Boutique
> Location: Nashua
This cheery little wine and gift shop has a dedicated customer base. Offering well-priced, unique wines, as well as cheese, gourmet foods, and gift baskets, WineNot seals the deal with free weekly wine tastings and special tasting events featuring bottles from small family producers. Here, there are ample opportunities to discover a new favorite.
New Jersey: CoolVines
> Location: Hoboken, Jersey City, and Newark
CoolVines has three New Jersey locations, each with a different layout and selection, but all offering a wide range of small label wines, liquor, and craft beers, as well as tastings, music, and events. The hip flagship location includes a coffee shop and grocery section of cheeses and snacks to accompany your wine purchase.
New Mexico: Kokoman Fine Wines & Liquor
> Location: Santa Fe
This warehouse-style liquor depot is known for its quality beverages at competitive prices. There are over 4,500 wines in stock, and if you're looking for something they don't have, they can special-order it. They host free tastings every Saturday and have a climate controlled wine cellar full of higher-end bottles.
New York: Astor Wines & Spirits
> Location: New York City
This renowned NoHo purveyor has been in business since 1946 and recently became an employee-owned company. One of Manhattan's premiere destinations for rare world spirits and wines, Astor offers detailed flavor profiles and rotating staff picks that make browsing the expansive shop an exciting and educational experience.
North Carolina: The Raleigh Wine Shop
> Location: Raleigh
A purveyor that offers carefully selected artisanal wines from around the world, the Raleigh Wine Shop takes pride in its distinctive assortment. The shop doubles as a wine bar (with wine cocktails) and private event space, and also offers classes and a wine club with three membership options.
North Dakota: Bernie's Liquors and Wines
> Location: Fargo and West Fargo
With two Fargo locations and a constantly diversifying inventory, Bernie's is the go-to liquor store in the area. It's family-owned with a professional and friendly staff who go above and beyond to serve. Expect a full selection of domestic beers, premium spirits, and an eclectic array of wines.
Ohio: Shaker Wines
> Location: Shaker Heights
Founded in 1937, Shaker Wines aims to bring quality wines and lesser-known varietals to their customers at value prices. They offer frequent tastings of new arrivals and recommendations for food pairings, as well as a connoisseur club, which delivers a premium and critically acclaimed bottle every month.
Oklahoma: Beau's Wine Bin
> Location: Oklahoma City
This family-owned wine shop has the friendliest staff around, and customers return for the great service and knowledgeable help. Beau's offers weekly wine sales and promotions and carries wines from every major region, as well as a small selection of beer and liquor.
Oregon: Blackbird Wineshop
> Location: Portland
This boutique wine shop doubles as a casual cheese and wine bar, offering loaded cheese and snack trays, fondue, and charcuterie plus wines by the glass and wine samples. The shop highlights wines from small producers, and there are plenty to choose from in every price range.
Pennsylvania: The Bottle Shop
> Location: Philadelphia
This quirky shop and bar has a large selection of cold beers along with taps, a strong wine selection, and a few different seating areas. The Bottle Shop is the perfect place to pick up a nice bottle of wine on route to one of the many BYOB restaurants in the area.
Rhode Island: The Wine Store
> Location: Westerly
Find popular and rare wines alike on the shelves at this well-stocked Westerly beverage depot. From top shelf liquors to domestic beers, they have a huge stock of items at every price point and can special order wines that they don't carry.
South Carolina: Graft Wine Shop
> Location: Charleston
Owned by two best friends who happen to be sommeliers, this shop and wine bar is a cultural hub of great music and community. Graft offers a fantastic atmosphere for lounging and enjoying a few snacks with a bottle, and also carries a well-chosen selection of remarkably affordable quality wines.
South Dakota: Gist Wine Shop
> Location: Sioux Falls
A boutique shop that focuses on natural wines from small producers, Gist also carries regional ciders, craft beers, artisanal cheeses, and other gourmet grocery items. Sip on a new wine from their rotating selection of glass pours while exploring the shelves that are curated by owner and sommelier Mel Guse.
Tennessee: Woodland Wine Merchant
> Location: Nashville
With a focus on sustainable and natural producers, Woodland Wine Merchant carries a carefully curated selection of quality affordable wines from around the world as well as beer and spirits. To best highlight rare wines from small producers, Woodland presents a small and constantly rotating stock with detailed written descriptions of each variety.
Texas: The Austin Wine Merchant
> Location: Austin
For over 30 years, the Austin Wine Merchant has provided a diverse selection of expertly selected wines at competitive prices, with a particularly large selection from Burgundy and Italy, as well as a solid representation from all major regions. The staff is happy to make recommendations within a particular budget and will even help carry cases to your vehicle.
Utah: DABS Utah State Liquor Store #41
> Location: Salt Lake city
Known for having the most expansive wine selection in Salt Lake City, this beverage depot has some very high-end options as well as affordable and budget wines. The employees are exceedingly helpful and can recommend vintages and food pairings to go with your wine.
Vermont: Dedalus Wine Shop
> Location: Burlington
Dedalus combines a specialty market and wine shop with an indulgent wine bar featuring affordable by-the-glass pours as well as wines by the bottle and locally sourced fare. Explore their superior offerings through free tastings, monthly events, and multiple wine club subscriptions.
Virginia: Tastings of Charlottesville
> Location: Charlottesville
Since 1990, this wine bar, shop, and restaurant has offered the best of Old World wines paired with local farm-to-table fare. Stop in for a bottle or stick around for dinner and enjoy a flight of wines alongside a cheese plate and a classic seafood or steak entrée.
Washington: McCarthy & Schiering
> Location: Seattle
This specialty wine shop has two Seattle locations that offer fine estate wines from all major regions, with a particularly generous selection from the Pacific Northwest. The staff can source bottles for customers who collect rare vintages, while affordable offerings abound. Free Saturday tastings give customers a chance to hone in on the flavors of a particular region.
West Virginia: Robert's Antiques
> Location: Lewisburg
Surrounded by vintage Persian rugs, sumptuous wooden furniture, and fine china, the wines in Robert's Antiques are just as unique as the antiques. The carefully honed selection of 700 labels from Spain, France, Italy, California, and more doesn't contain a dud. There are even a few West Virginia wines available.
Wisconsin: Square Wine Company
> Location: Madison
A welcoming space for those who want to learn, Square Wine Company is more than just a wine shop. They offer weekly tastings that help customers and staff alike keep abreast of what's in stock. They also have a small bar for guests to enjoy a glass or bottle, and focus primarily on artisan wines by small family vineyards.
Wyoming: Spirits & Spice
> Location: Jackson Hole
A one-stop gourmet gift shop, spirits and spice carries a range of whiskeys and cognacs, vinegars and oils, custom spice blends, and of course wines. Many items are housed in wooden barrels and can be dispensed into reusable (and very elegant) glass bottles. The unique selection of wines is organized by taste and price.
Sponsored: Attention Savvy Investors: Speak to 3 Financial Experts – FREE
Ever wanted an extra set of eyes on an investment you're considering? Now you can speak with up to 3 financial experts in your area for FREE. By simply clicking here you can begin to match with financial professionals who can help guide you through the financial decisions you're making. And the best part? The first conversation with them is free.
Click here to match with up to 3 financial pros who would be excited to help you make financial decisions.