Before the Bell: Tesla's Record Deliveries, OPEC+ Cuts Production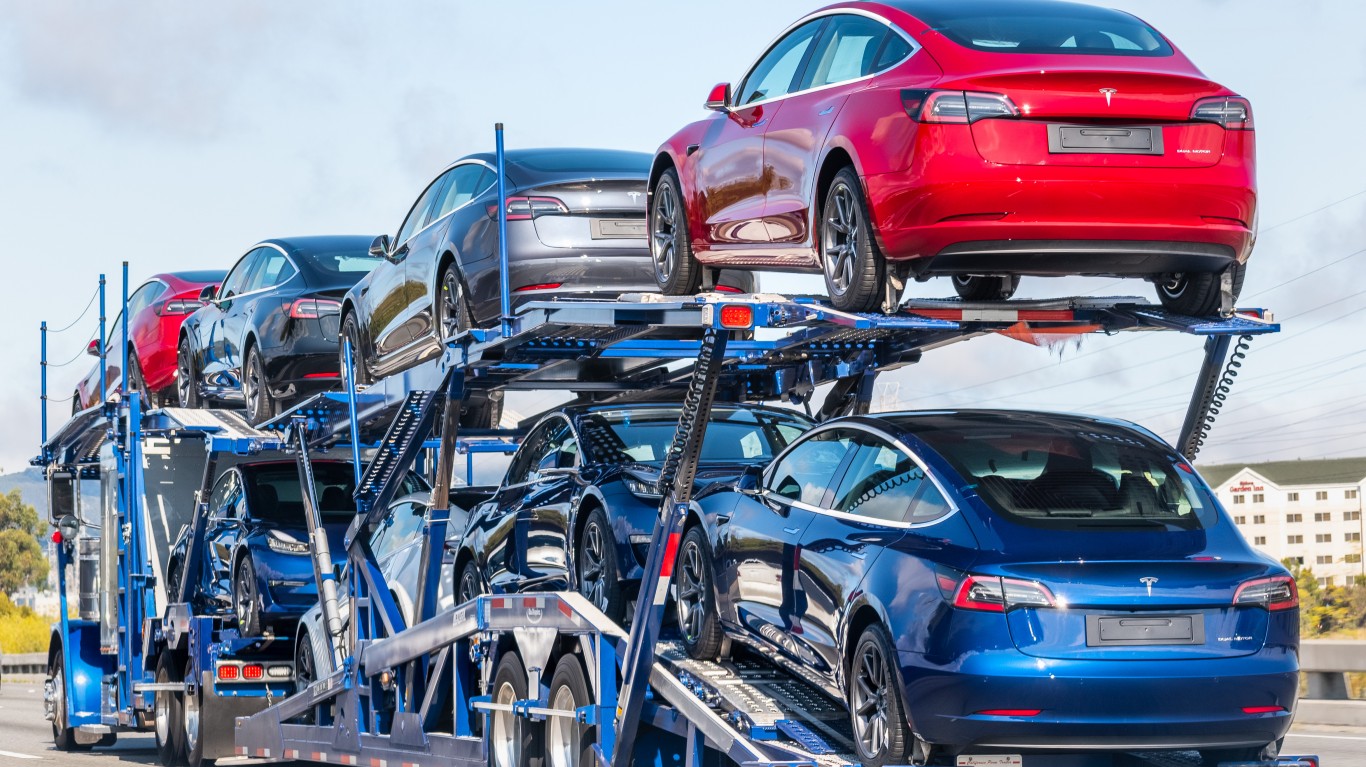 Premarket action on Monday had the three major U.S. indexes trading mixed. The Dow Jones industrials were up 0.35%, but the S&P 500 was down 0.09% and the Nasdaq 0.67% lower.
All 11 market sectors closed higher on Friday. Consumer cyclicals (2.62%) and real estate (2.18%) posted the day's best gains. Utilities (0.76%) and consumer staples (0.83%) posted the smallest gains. The Dow closed up 1.26%, the S&P 500 up 1.44% and the Nasdaq up 1.74% on Friday.
Two-year Treasuries slipped by four basis points on Friday to end at 4.06%, and 10-year notes dropped seven basis points to close at 3.48%. In Monday's premarket, two-year notes were trading at around 4.09% and 10-year notes at about 3.52%.
Friday's trading volume was well above the five-day average. New York Stock Exchange winners outpaced losers by 2,506 to 506, while Nasdaq advancers led decliners by about 7 to 3.
The first week of April will be a busy one for economic data. In addition to the weekly reports, we will get ISM manufacturing data after markets open Monday and ISM's non-manufacturing report on Wednesday. The monthly report on nonfarm payrolls is due Friday, and it is expected to show a sharp drop in new jobs and a tick upward in the U.S. unemployment rate.
Friday's winner among S&P 500 stocks was Align Technology Inc. (NASDAQ: ALGN), a manufacturer of clear dental tooth aligners. Shares rose 7.15% on an upgrade from Mixed to Positive from OTR Global and a UBS price target increase from $225 to $420. UBS maintained its Buy rating on the stock.
Micron Technology Inc. (NASDAQ: MU) dropped 4.36% Friday to lead the S&P 500 index's losers. In a move that has been characterized as retaliation for the U.S. tightening of restrictions on Chinese tech companies (e.g., TikTok and Huawei), China's cyberspace administration said it would review imports of Micron's products in order to preserve its national security, secure its information infrastructure and lower risks caused by faulty products.
Monday's premarket movers included Tesla Inc. (NASDAQ: TSLA), trading down about 1.6%. The electric vehicle (EV) maker reported first-quarter production and deliveries on Sunday that beat Wall Street estimates by one measure and missed another. The company produced 440,808 vehicles in the quarter and delivered 422,875 to customers. FactSet's consensus called for deliveries of around 430,000 vehicles, while Bloomberg's estimate was 421,000. Whichever you prefer, the company still set a new all-time high for deliveries in a quarter, beating the record of 405,278 set in the previous quarter.
Tesla stock added more than 6% on Friday, and the first-quarter numbers should have given the stock a boost Monday morning. It did not happen because the U.S. Treasury Department released final guidance Friday on which U.S.-made EVs will qualify for the full $7,500 tax credit to consumers. To qualify for the full credit, vehicles will have to source materials like lithium,  nickel, and other materials from North America. Eligibility for the full amount of the credit also fades out as a buyer's income increases. The list of eligible models is due out April 18, and not many of the currently available EVs are expected to qualify for the full $7,500 tax credit.
In an unexpected move Sunday, OPEC+ announced a cut of nearly 1.2 million barrels of oil a day. Crude prices jumped by 8% after the announcement and were trading up by about 6% early Monday morning at just over $80 a barrel for West Texas Intermediate (WTI) and at more than $84 a barrel for Brent.
Oil company stocks traded solidly higher Monday morning, with Marathon Oil Corp. (NYSE: MRO) up more than 6%, APA Corp. (NYSE: APA) up 5.7%, and Occidental Petroleum Corp. (NYSE: OXY) up 5.3%. Oilfield services firms Halliburton Co. (NYSE: HAL) and Schlumberger Ltd. (NYSE: SLB) were up 6.4% and 5.2%, respectively.
The production cut took the market by surprise and is seen as a pre-emptive move in the event the global economy slows down, causing a drop in demand for energy.