The Most Popular Characters in 'Sesame Street's' History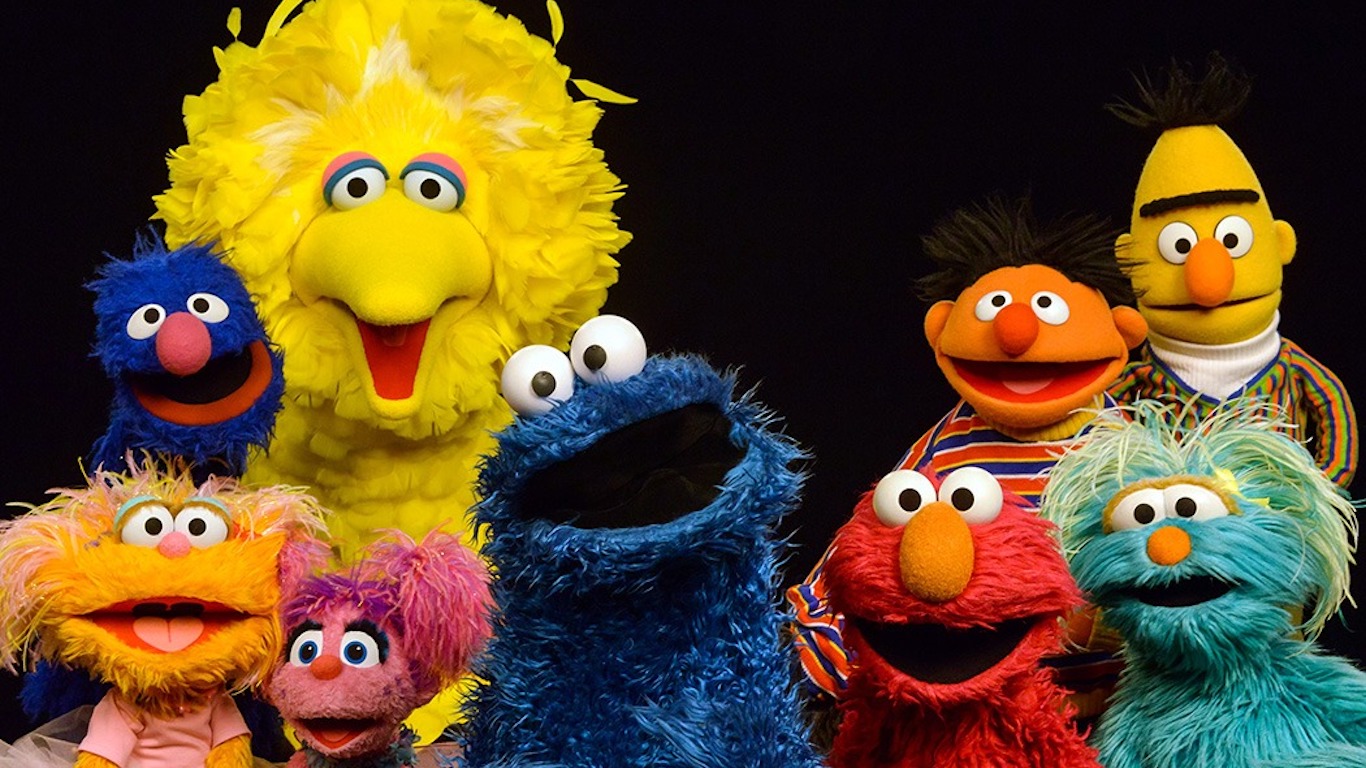 "Sesame Street" made its debut in 1969, and children's programming has never been the same. The show revolutionized TV by answering the question whether the medium can educate children. In studies about the impact of the show researchers found that toddlers, especially those living in disadvantaged communities, can learn from the show as much as from preschool.
The series has been watched in 150 countries and translated into 70 languages. Aside from content, what has made "Sesame Street" such a global success is its Muppets. As is usually the case with most things kids like, there seem to be some universal favorites when it comes to "Sesame Street" characters. 24/7 Tempo reviewed the 12 most popular Muppets in the show's history.
Many of the muppets that were introduced on the show half a century ago are still stars on the show today. Over the years, some characters were added to reflect changing times as well as to identify with an increasingly more diverse audience.
The groundbreaking series has had more than 150 million viewers and won 193 Emmy awards. More than a million children are playing with a "Sesame Street" toy characters, and 80% of parents are watching it with their kids. It's probably safe to say that the show is one of the most influential in TV history.
Almost since the earliest days of television there has been been programming specifically aimed at children, both to entertain and educate — and these are the 50 most loves kids' shows of all time.
Click here to see Sesame Street's most popular characters
To identify the most popular characters from "Sesame Street", 24/7 Tempo reviewed several online polls and surveys where adults were asked to mark their favorite character from the show. Characters were then assigned index scores based on the percentage of total votes they received on each list to give us our final rank. Characters that were missing scores from more than two lists were excluded from consideration.
The 3-year-old monster was introduced in season 25 in 1993 She was meant to fight stereotypes. Her role was to balance the cast of the show, which consisted almost only of men and has a Zoemobile, as opposed to doll, which might be expected for a girl. Ironically, however, it wasn't until Zoe started wearing a tutu, tights, and ballet slippers that female viewers started liking her more, according to the show's producers.
Rosita, whose full name is Rosita la Monstrua de las Cuevas, meaning "The Monster of the Caves," is "Sesame Street's" first regular bilingual character who made her debut in 1991 and later joined the cast full-time. Rosita speaks English and Spanish, which she teaches to her friends. Her "Spanish word of the day" mini segment aired in 2001. Her other specialties are playing the guitar, history, and geography.
Abby Cadabby is the favorite of the newer characters introduced in the show. She made her debut in 2006. The 3-year-old pink fairy is the first leading female character in "Sesame Street's" history, 37 years after the show first aired. She was introduced for several reasons, one of which was to be a positive and strong role model for girls. Her name derives from the magic word "abracadabra." She can pop in and out of thin air, float, and turn various objects into pumpkins. She is interested in gardening and grows magical plants.
This half of the Bert and Ernie duo is not as popular as his best friend and roommate. One reason may be Bert's more serious personality. He is the introvert of the two — likes to read "Boring Stories" and to study pigeons. Bert is the studious, detail-oriented, and organized character on the show — characteristics that many people may not find fun.
Mr. Snuffleupagus' full name is Aloysius Snuffleupagus. He is best known as Snuffy. He was introduced in 1971 during the premiere of "Sesame Street's" third season. For over a decade, the existence of Snuffy's character was questionable to the adult residents on the street as they have not actually seen him. In 1985, the producers "confirmed" his existence in an episode by introducing him to everyone. A major reason for the change was a growing number of child abuse cases. Parents became concerned that kids may feel discouraged to speak to them (about potential abuse) if they feared their parents wouldn't believe them — just like adults on "Sesame Street" never believed that Snuffy was real despite the claims of star characters.
The "cute, furry little monster," as Grover refers to himself, is famous for going on fun imaginary adventures, a trait he and many kids probably share. Another of Grover's distinguishable characteristics is the fact that he speaks without contractions. The muppet made his debut on the show in 1970. He is often sentimental and sad. His insecure and melancholy character has made him very popular perhaps because many people can identify with wanting to be loved and accepted by everyone.
It's hard to think of Ernie without Bert, but they are two separate characters on the show — and it looks like more people like Ernie. Aside from the friends' sexual orientation, which has recently become a hot topic — they don't have one, according to "Sesame Street" — Ernie is known for being a naive trouble-maker who loves bubble baths and to play various games. Ernie has been the star of the show since its first episode in 1969.
Playing Big Bird is a tough job. The puppet is 8 feet 2 inches tall, which means that the puppeteer operating him has to have his arms up the entire time in order to control the bird's head. Big Bird, who is always very curious and likes to be included in all activities, is one of the most recognizable characters in the show's history. His friendly and wondering-about-the-world persona has helped pave the way for diversity. The same person, Caroll Spinney, played Big Bird since the show's first episode in 1969 until his retirement in 2018.
Count von Count, or the Count, as most people refer to him, is a vampire and possibly a distant relative of the famous Count Dracula, with a mysterious history — but he is very friendly. He is obsessed with numbers, but his absolute favorite one is the very seemingly random 34,969, which is really 187 squared. And the reason for 187? It's the total number of points one can accumulate laying Scrabble. But 187 is also a police code for murder. So the reasons for his favorite number are still a mystery. The Count has been with the crew since 1972, when he was counting blocks with Bert and Ernie.
Believe it or not, but Elmo — who is always very energetic, positive, and wants to be part of everything — was not only not a member of the "Sesame Street" squad since the very beginning. He he first appeared in 1980, during season 11, as a minor background character and thus had many people perform him. The furry red high-pitched muppet has grown in popularity so much that he even has his own segments – "Elmo's World" and "Elmo the Musical." Soon, the tiny monster, who is just 3½ years old, will have his own late-night talk show and chat with celebrities.
The character was inspired by a mean waiter from a restaurant called Oscar's Tavern in New York, according to the ""Sesame Street" Unpaved" book. The furry green monster, who is always grouchy, lives in a trash can on "Sesame Street." Regardless, the other puppets on the street consider him a friend. This way, Oscar the Grouch's character is a symbol of tolerance and understanding of others. The Grouch is famous for being happy when he is miserable and for hating to be alone just because then he doesn't have anyone to annoy.
The beloved muppet first appeared in an episode in 1969. As his name may suggest, Cookie Monster loves cookies, which kids easily identify with and may explain his popularity. His life is all about cookies. When he doesn't have a treat, especially chocolate chip cookies, he is looking to get one. His signature song is "C Is for Cookie." He has an alter ego named Alistair Cookie. Cookie Monster's appetite for cookies has been toned down as a way to address the childhood obesity epidemic in the country.
Sponsored: Tips for Investing
A financial advisor can help you understand the advantages and disadvantages of investment properties. Finding a qualified financial advisor doesn't have to be hard. SmartAsset's free tool matches you with up to three financial advisors who serve your area, and you can interview your advisor matches at no cost to decide which one is right for you. If you're ready to find an advisor who can help you achieve your financial goals, get started now.
Investing in real estate can diversify your portfolio. But expanding your horizons may add additional costs. If you're an investor looking to minimize expenses, consider checking out online brokerages. They often offer low investment fees, helping you maximize your profit.