By Herb Greenberg, Empire Financial Research
Well, that didn't take long…
It has been a mere two months since chatbot ChatGPT came out of nowhere to be everywhere… and the stock promoters are up to their old tricks.
The "Dash for Trash," as it has been called, is off to the races – this time with artificial intelligence ("AI") as the new hook.
That's not to say the other garbage hasn't been flying as well…
The poster child for that might be Carvana (CVNA), which has doubled in the span of a few weeks… even though its end market is getting blasted and its business model is running on fumes. (I keep wondering, what'll ever happen to those silly "vending machines" that Carvana built around the country for car deliveries… Will they be repurposed into multistory trampoline parks? But I digress…)
But it's the AI ties that snared my attention…
Take SoundHound AI (SOUN), for example. It's a member of the 2022 class of broken special purpose acquisition companies ("SPACs"). After wallowing at around $1 per share earlier this month, SoundHound's stock has roughly doubled on news about its voice-activated AI software after announcing additional financing, "strong preliminary 2022 results," and a deal for a "customer engagement platform" to use its software.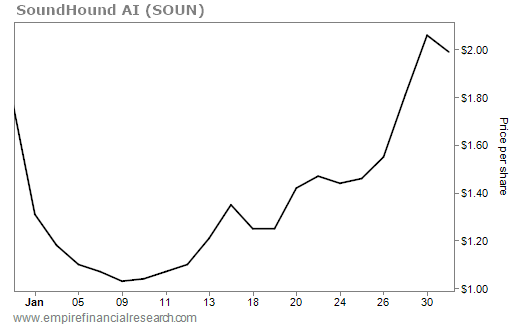 And remember BuzzFeed (BZFD), another busted SPAC? Its stock also doubled to around $2 per share after the company announced it will be using ChatGPT to create quizzes and other content.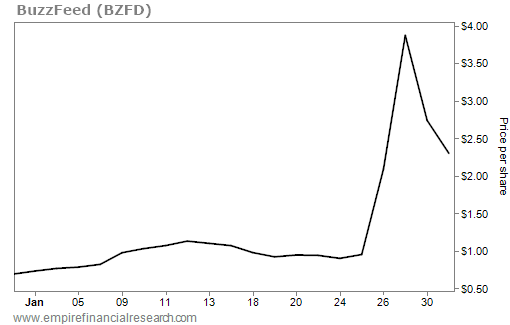 That's not to say either of these companies won't go on to achieve greatness, because winners will certainly emerge among the broken SPACS…
But it's a stretch, and such big rises on such meager AI news is a clue to beware of the hype – more of which is surely to come.
As far back as November, well before anybody had heard of ChatGPT, Forbes said just that…
AI will be one of the next boom bubble busts and it's starting to kick off now.
And just a few weeks ago, with ChatGPT front and center, TechCrunch wrote a story headlined, "Whoops! Is generative AI already becoming a bubble?"
The obvious comparison, the story noted, is cryptocurrencies…
Miller described the situation as similar to what happened with [non-fungible tokens] and blockchain. The tech's allure prompted investors – looking to make sure they didn't miss the trend – to pour money into numerous companies regardless of having any real use cases.

He isn't the only one to make that connection either. Several other investors said the tech's growth has reminded them too much of crypto: Everyone is piling on faster than they should be.

Tyler Griffin, a managing partner at Restive Ventures, drew parallels with how blockchain was treated when the hype was building. "It has echoes of the early days of crypto: Genuine excitement about a new, fascinating technology, coupled with outrageous predictions of transformative applications that betray a lack of understanding by (often non-technical) people about what's really going on," he said.
It's also very reminiscent of the dot-com bubble. The TechCrunch story quoted one venture capitalist who added…
It can be both true that enormous companies will eventually be built in the space and that aggregate returns on capital for the industry will prove dreadful.
There is no question that AI, which has been evolving for years, will be huge… and so will the hype and frenzy surrounding it.
Buyers beware.