24 of the Most Embarrassing Records in Sports History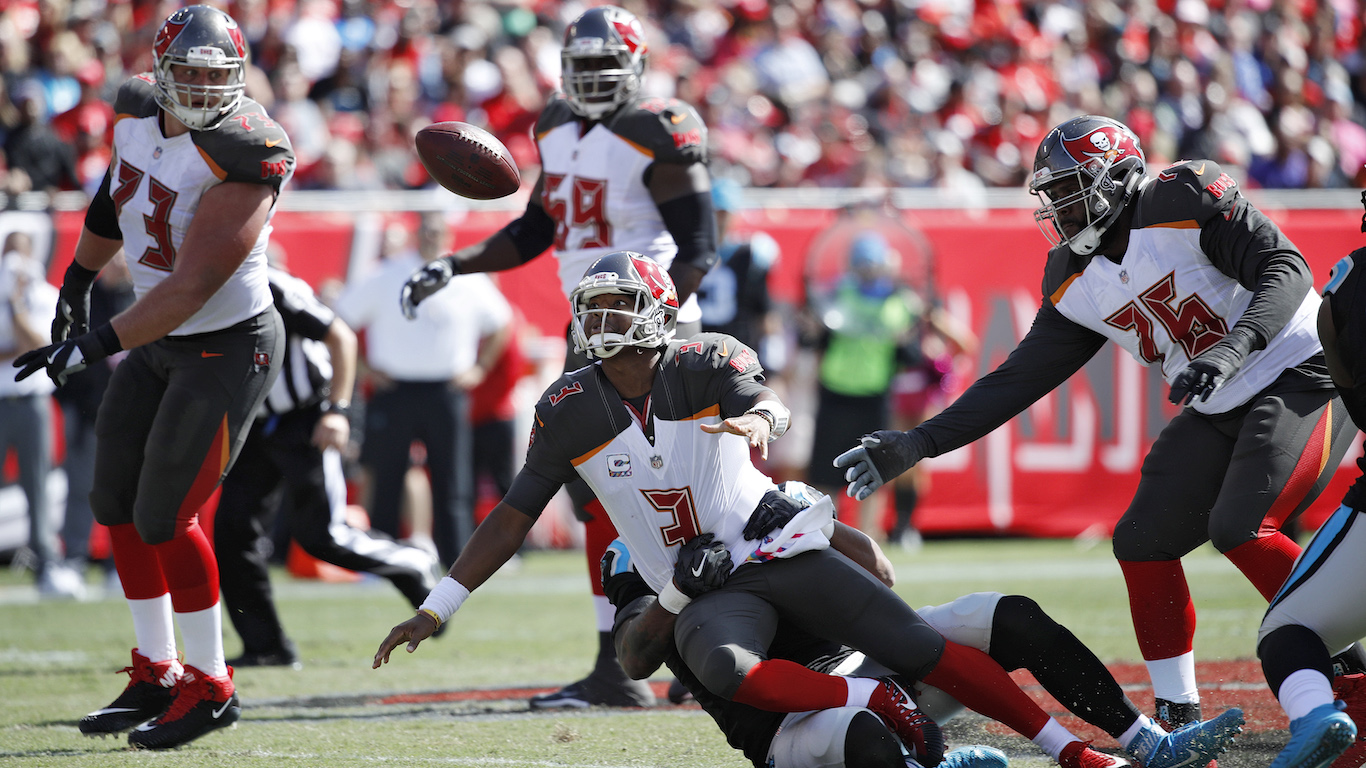 Every sports fan knows about the most impressive records in history: Wilt Chamberlain's 100-point game, Barry Bonds' 762 home runs, or the 1972 Miami Dolphins winning all 17 of their games to become the NFL's only undefeated Super Bowl champions. But there are other records, too, that are memorable for all the wrong reasons.
Record holders had particularly bad games or seasons — continually turning the ball over, making errors, or allowing their opponents to score with ease. Though the players on this list certainly performed poorly, it is not all their fault. In many cases, the athletes played for losing teams that struggled with a lack of talent. These are the worst teams in the history of every sport.
24/7 Tempo used the Sports Reference family of sites to review historical performances from past NHL, NBA, NFL, and MLB players and teams to determine the most embarrassing records in sports history. Early competitor leagues to the four major U.S. sports leagues were not considered.
Click here to see the most embarrassing records in sports history
1. Most strikeouts in one season
> Record: 223 strikeouts
> Record holder: Mark Reynolds
> Team: Arizona Diamondbacks
> Year: 2009
Mark Reynolds struck out 223 times during the 2009 season, shattering his own record of 204 punchouts from the previous season. Despite all the swings and misses, Reynolds still had a good season, batting .260 with 44 home runs.
2. Most minutes without a point, rebound, or assist in one game
> Record: 34 minutes
> Record holder: Derek Fisher
> Team: Los Angeles Lakers
> Year: 2009
Los Angeles Laker Derek Fisher was known as a do-it-all point guard in his 18-season career. But in a 2009 game against the Houston Rockets, he didn't really do anything. Fisher was on the court for just over 34 minutes and did not record a single point, rebound, or assist — the longest time any NBA player has spent on the court without contributing in any of those categories. He missed all five of his shots, but the Lakers managed to win the game in overtime. Despite this embarrassing record, Fisher was a key contributor to the Lakers title that season.
3. Most times sacked in one season
> Record: 76 sacks
> Record holder: David Carr
> Team: Houston Texans
> Year: 2002
David Carr, the first player selected by the newly formed Houston Texans organization, received a rude welcome to the NFL in 2002. His inexperienced offensive line allowed the rookie QB to be sacked a record 76 times. Despite the constant hits, Carr never missed a game that season. He would go on to lead the NFL in sacks taken in 2004 and 2005 as well.
4. Most goals allowed in one game
> Record: 15 goals
> Record holder: Doug Soetaert
> Team: Winnipeg Jets
> Year: 1981
No modern NHL goalie has ever had a worse day than Doug Soetaert. The Winnipeg Jets netminder allowed 15 goals in a loss to the Minnesota North Stars, shattering the previous record of 11. Soetaert actually allowed no goals through the game's first 15 minutes, before letting in two first-period goals. He allowed eight goals in the second and five in the third. Though the team's coach and defenders accepted their part of the blame, Soetaert reportedly left the arena without saying a word following the game.
5. Most doubles plays grounded into in one game
> Record: 4 double plays
> Record holder: Joe Torre
> Team: New York Mets
> Year: 1975
Before becoming a Hall of Fame manager, Joe Torre was a terrific player in the 1960s and 1970s. In a 1975 game against the Houston Astros, Torre made history by becoming the first and only player to ground into four double plays in a single game (two other players hit into four double plays in one game in the 1930s, but those players appear to have flied into at least one each, so at least some of the blame for those goes to the baserunners). Making it even more unlikely, those were Torre's only four at-bats of the game.
6. Most shots attempted with no makes in one game
> Record: 17 shots
> Record holder: Tim Hardaway
> Team: Golden State Warriors
> Year: 1991
There are bad shooting nights, and then there are nights like the one Tim Hardaway had against the Minnesota Timberwolves in 1991. Hardaway was usually a good shooter, but the five-time All-Star bricked all 17 of the shots he took for the Golden State Warriors, only two of which were from three-point range. Despite his abysmal performance, Hardaway still helped the Warriors earn a win in overtime, hitting both free throws he took and dishing out 13 assists.
7. Most incompletions in one game
> Record: 36 incompletions
> Record holder: Joe Namath
> Team: New York Jets
> Year: 1967
In 1967, Joe Namath threw more passes than any other AFL quarterback. When his Jets played the Denver Broncos that year, they trailed 26-0 at halftime, so Namath needed to air it out to get his team back in the game. His passes, however, were off the mark more often than not. Namath went 24-60 with three touchdowns and four interceptions. His 36 incompletions are the most for any single passer in any NFL or AFL game, though three other QBs have thrown 35 incompletions.
8. Worst goal differential in one season
> Record: -82 goal differential
> Record holder: Bill Mikkelson
> Team: Washington Capitals
> Year: 1974-1975
The Washington Capitals' first season, 1974-1975, was a struggle. The team had a record of 8-67-5 and surrendered 265 more goals than they scored. No player epitomized the team's struggles like defenseman Bill Mikkelson. That season, when he was on the ice, the team had a goal differential of -82, by far the lowest of any player in NHL history. To this day, no other player has had a differential worse than -70.
9. Most earned runs given up in one game
> Record: 16 runs
> Record holder: Howard Ehmke
> Team: Boston Red Sox
> Year: 1923
Usually, when pitchers give up more than a few runs, their manager will replace them. In a 1923 Yankees-Red Sox game, however, Boston pitcher Howard Ehmke was left on the mound to give up 16 earned runs — a record for an MLB game. Ehmke gave up four runs in the first inning, but settled in and his team only trailed 6-3 by the end of the fifth inning. In the sixth, Ehmke fell apart, giving up 11 runs before finally being replaced. His Red Sox wound up losing 24-4, and Ehmke gave up 16 earned runs and one unearned run.
10. Worst free throw pct. in one season
> Record: 30.4% free throw shooting
> Record holder: Ian Mahinmi
> Team: Indiana Pacers
> Year: 2014-2015
It is normal for NBA centers to struggle with their free throw shooting, but no player has ever struggled like Ian Mahinmi did in the 2014-2015 season. The Pacers center hit just 30.4% of his foul shots, the lowest percentage among players who took at least 100 free throws in a single season. That season was a total outlier for Mahinmi, who is a career 61% free throw shooter.
11. Largest margin of defeat in an MLB game
> Record: 27 runs
> Record holder: Baltimore Orioles
> Year: 2007
The most lopsided game in American pro sports history was in 2007, when the Texas Rangers blasted the Baltimore Orioles 30-3. Texas was actually losing 3-0 after the third inning before scoring five in the fourth inning, nine in the sixth, 10 in the eighth, and six in the ninth. Each Rangers batter got on base at least twice and scored at least once. Even worse for Baltimore, the game was the first of a double-header. The Orioles would go on to lose game two, 9-7.
12. Most shorthanded goals surrendered in one game
> Record: 4 goals
> Record holder: Vancouver Canucks
> Year: 1995
The Vancouver Canucks somehow found a way to turn an extra player into a disadvantage in a 1995 game against the Winnipeg Jets. The Jets became the first and only team to score four short-handed goals in one game. The Jets were called for eight penalties, and the Canucks could only muster one power play goal that day.
13. Most turnovers in one season
> Record: 40 turnovers
> Record holder: Daunte Culpepper
> Team: Minnesota Vikings
> Year: 2002
Daunte Culpepper was a terrific QB, making three Pro Bowls in his career, but he was also turnover prone. In 2002, he led the NFL in both interceptions and fumbles, with 23 each. He managed to recover six of the fumbles, but that still left him with a modern NFL record of 40 turnovers in one season. Culpepper is still the only player to have 20 interceptions and 20 fumbles in the same season.
14. Most times caught stealing in one game
> Record: 4 times caught stealing
> Record holder: Robby Thompson
> Team: San Francisco Giants
> Year: 1986
Rookie Robby Thompson had a game to forget in 1986, when he was caught stealing second base an MLB record four times. In Thompson's defense, his manager said the first three times were supposed to be hit and runs (when the base runner takes off as the batter tries to put the ball in play). The fourth time, Thompson was picked off first before breaking for second base. Despite his struggles on the basepaths, Thompson had two RBIs that game, and the Giants prevailed 7-6 in 12 innings against the Cincinnati Reds.
15. Most turnovers in one game
> Record: 14 turnovers
> Record holder: Jason Kidd
> Team: Phoenix Suns
> Year: 2000
Even Hall of Fame players like Jason Kidd are not immune to bad games. When Kidd's Phoenix Suns took on the New York Knicks in 2000, he turned the ball over 14 times, a modern NBA record. Kidd's turnovers may have been the difference in that game, as the Suns lost 90-85. The game was certainly an aberration for Kidd, who averaged 3.7 turnovers a game that season, while leading the NBA with 9.8 assists per game. In 1978, Atlanta Hawks small forward John Drew also reportedly had a 14 turnover game, but box scores were not kept as meticulously in that era as they are today.
16. Most consecutive games with a fumble
> Record: 6 games
> Record holder: Jon Kitna
> Team: Cincinnati Bengals
> Year: 2002-2003
Quarterback Jon Kitna is the only player in NFL history to fumble in six straight games, a feat he managed in the last five games of the 2002 season and the 2003 opener. During those six games, Kitna also tossed eight interceptions and was sacked 16 times. His Cincinnati Bengals only managed to win one of those games. Kitna nearly tied his own record, fumbling in five straight games in the 2006 season.
17. Most balks in one game
> Record: 4 balks
> Record holder: Bob Shaw
> Team: Milwaukee Braves
> Year: 1963
Balks are exceedingly rare mental lapses for a pitcher. Or at least they should be. For over 50 years, former Milwaukee Braves pitcher Bob Shaw has held the MLB record for most balks in one game with five. Making the event even more surprising, he balked five times in less than five innings on the mound. Clearly off his game that day, Shaw allowed five hits and walked six batters in a 7-5 loss to the Chicago Cubs. Shaw did not let the bad outing ruin his season, though — he finished the year with a 2.66 ERA.
18. Largest margin of defeat in an NHL game
> Record: 15 goals
> Record holder: New York Rangers
> Year: 1944
The 1943-1944 New York Rangers were one of the worst teams in NHL history. They were dead last in the NHL, with a record of 6-39-5. The Red Wings were one of the NHL's better teams that year, and they crushed the lowly Rangers in their January meeting 15-0. The Red Wings showed no mercy, scoring eight third-period goals. The game could have been an even bigger blowout, but the final Detroit shot beat New York's goalie just a second after the game ended.
19. Most free throws taken with no makes in one game
> Record: 20 attempts
> Record holder: Giff Roux
> Team: St. Louis Bombers
> Year: 1948
The record for most free throws attempted without a make was set in the second year of the BAA (the NBA's predecessor league) and is unlikely to ever be broken. In a game between the St. Louis Bombers and New York Knicks, center Griff Roux went an astonishing 0-20 from the free throw line. The closest any player has gotten to that mark was Shaquille O'Neal going 0-11 from the free throw line in 2000.
20. Most rushes with no yards in one game
> Record: 14 rushes
> Record holder: Benny Malone
> Team: Miami Dolphins
> Year: 1974
Benny Malone had one of the worst days for a running back in NFL history when he wound up with -3 yards after running the ball 14 times in a game against the New England Patriots. The Miami Dolphins rookie was normally an effective ball carrier, averaging 4.1 yards per attempt in 1974, but the Pats defense was stout against the run. The Dolphins ended up abandoning the run that game after falling behind 24-0, but they pulled off a huge comeback to win 34-27. Two other running backs, Dexter Bussey and Clem Daniels, also rushed 14 times without picking up a yard, but they finished with 0 and -1 yards, respectively, in their games, so Malone's day was slightly worse.
21. Most home runs given up in one season
> Record: 50 home runs
> Record holder: Bert Blyleven
> Team: Minnesota Twins
> Year: 1986
Prior to 1986, Hall of Fame pitcher Bert Blyleven had never given up more than 24 home runs in a single season. Then, suddenly, opposing batters were taking him deep with regularity. In 1986, he gave up a modern MLB record 50 home runs. Even as home runs have become more frequent, Blyleven's record still stands more than three decades later. Despite the home runs, Blyleven had a solid year. He posted a 17-14 record and an ERA of 4.01, slightly lower than the average AL ERA of 4.18 that season.
22. Largest margin of defeat in an NBA game
> Record: 68 points
> Record holder: Miami Heat
> Year: 1991
The 1991-1992 Miami Heat were not a very good team, ending the year with a 38-44 record. Yet they probably didn't think they would end up on the wrong end of the biggest blowout in NBA history.. In a December 1991 game against the Cleveland Cavaliers, Miami came out flat — giving up 34 points in the first quarter and 39 points in the second.
After going into halftime down 20, the Heat essentially surrendered early in the second half. Miami coach Kevin Loughery pulled his five starters in the third quarter after the Cavs outscored the Heat by 19 in the quarter. The Cavs kept piling on, outscoring the Heat by 29 in the fourth for a final score of 148-80 — the biggest blowout in NBA history. Miami turned the ball over 23 times and hit just 35.5% of their shots, while Cleveland shot 57.3% from the field and 54.5% from three-point range.
23. Most shots with no goals in one season
> Record: 154 shots
> Record holder: Gilles Marotte
> Team: Chicago Blackhawks
> Year: 1967-1968
Hockey legend Wayne Gretzky once said, "You miss 100% of the shots you don't take." In the 1967-1968 season, Chicago Blackhawks defenseman Gilles Marotte missed 100% of the shots he did take — all 154 of them. As a defender, Marotte's primary objective wasn't scoring, but no player has gotten close to taking that many shots without scoring in a single season. Still, Marotte had a solid season, notching 21 assists and posting a goal differential of +4.
24. Most interceptions returned for touchdowns in one season
> Record: 7 pick sixes
> Record holder: Jameis Winston
> Team: Tampa Bay Buccaneers
> Year: 2019
Jameis Winston's 2019 season was one of the weirdest and wildest in NFL history. The Tampa Bay Buccaneers QB led the NFL in passing yards, with over 5,000, and interceptions, with 30. Going into the final week of the season, Winston had already tied the record for most interceptions returned for touchdowns in a season with six. In that last game of the season, the Bucs were tied with the Falcons 22-22 at the end of regulation. On the first play of overtime, Winston threw the ball to safety Deion Jones, who took it the other way for a game-winning touchdown, giving Winston the infamous record.
Sponsored: Tips for Investing
A financial advisor can help you understand the advantages and disadvantages of investment properties. Finding a qualified financial advisor doesn't have to be hard. SmartAsset's free tool matches you with up to three financial advisors who serve your area, and you can interview your advisor matches at no cost to decide which one is right for you. If you're ready to find an advisor who can help you achieve your financial goals, get started now.
Investing in real estate can diversify your portfolio. But expanding your horizons may add additional costs. If you're an investor looking to minimize expenses, consider checking out online brokerages. They often offer low investment fees, helping you maximize your profit.