15 Savings Accounts Offering Ultra-Dividend Yields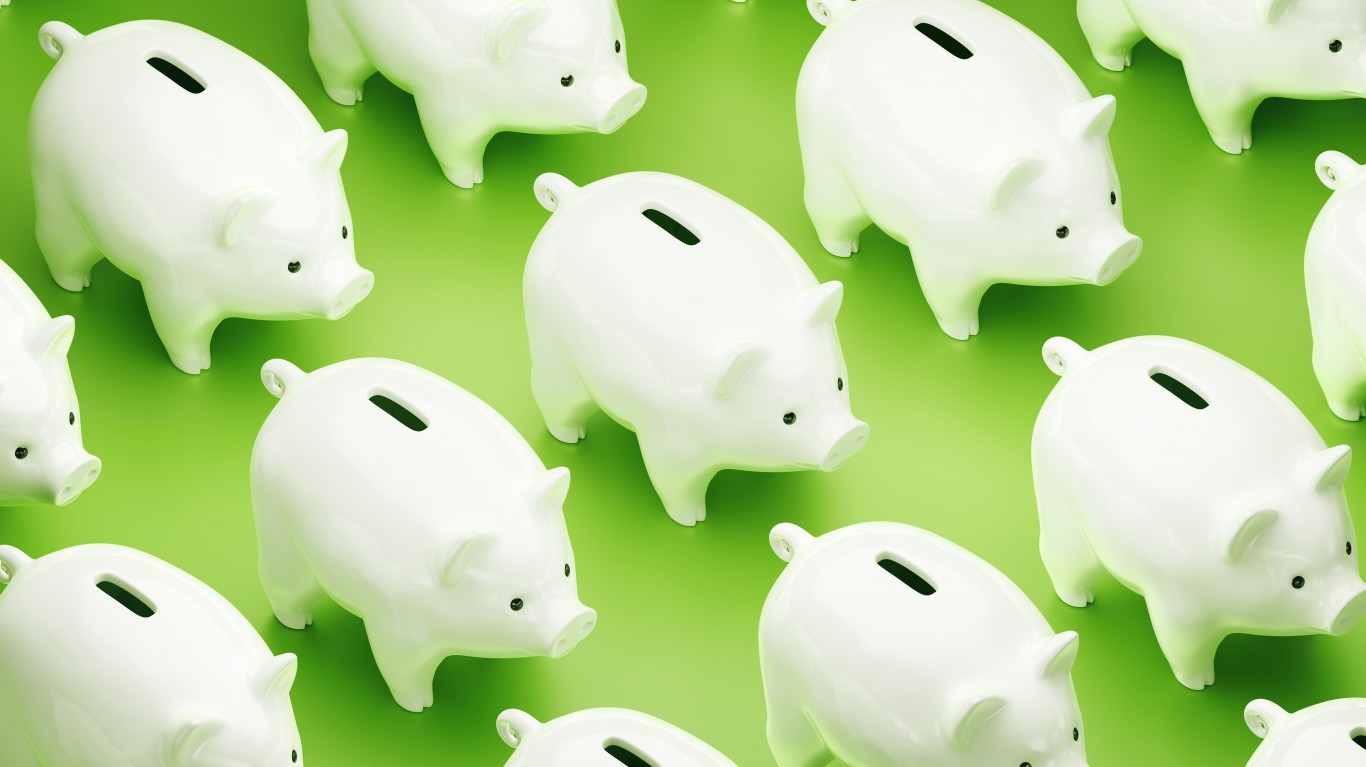 Typical, low-yield savings accounts are slowly dying off. As consumers become more educated about their options, and better competitors enter the banking and investment markets, traditional banks either have to adapt or lose customers. Enter the high-yield savings accounts. These fairly new additions to the banking world are a preferable option to traditional savings accounts that earn a fraction of a percent in interest. But with all the available options, which ones are the best?
Digital-first generations are less likely than their older peers to set up accounts and forget about them. They prefer not to visit brick-and-mortar banks, will do more research before investing their money, and are more likely to migrate from bank to bank. There are more than just interest rates to consider. That's why we're here to help. Here are our picks for 15 savings accounts that offer ultra-dividend yields.
Background on High-Yield Savings Accounts
Why don't all banks offer high-yield savings accounts? Why do some savings accounts have such low-interest rates and lose to inflation? The reason is banks have little incentive to change. Banks use the money deposited into their accounts to fund their own investments and financial ventures. They lend it out to others and pay a fraction of the return to you as a 'thank you' for letting them use it. The lower the rate they pay you, the more of the money they get to keep. In addition to fees, charges, and holding the money during transfer times to earn the interest for themselves, banks are able to pay for their physical locations, employees, and more.
However, with the advent of online banking, digital-only banks don't have the same costs as larger banks. They have fewer employees. They don't have rents or leases to pay. So, they began to offer savings accounts with higher returns. These innovators persuaded many customers to leave their traditional banks and deposit their savings in accounts with higher yields. Traditional banks were forced to compete in the new market of high-yield accounts, of course. However, they are still heavily incentivized to maintain their low-yield accounts because they make more money on those. For one reason or another, some people are comfortable keeping their money in low-yield accounts, and banks will never argue with them.
In the end, we picked only 15 accounts that currently pay over 5% interest on their savings accounts.
#15 M1
Annual percentage yield: 5.0%
M1 was founded in 2018 and focuses on housing, renewable energy, and tax credit development lending. It has two physical locations and offers personal and business banking. The catch with this high-yield account is that you have to purchase an M1 Plus membership with the bank to qualify. M1 costs $10 per month or $95 per year. M1 isn't actually a bank, so its accounts are actually held by B2 Bank.
#14 Salem Five Direct

Annual percentage yield: 5.01%
Salem Five Direct is a division of Salem Five Bank (NYSE: SFF) which was founded way back in 1855. You need only $10 to open an account and there are no minimum balances or monthly fees. However, you can't make more than six transfers from this account in a month, and you can't have an existing account with Salem Five in order to qualify for the high-yield savings.
#13 CIBC
Annual percentage yield: 5.01%
You can open a high-yield savings account with CIBC Bank (NYSE: CM) with just $1,000. After that, there are no monthly fees or requirements. However, you won't be able to make any transfers outside of the bank for the first 30 days, and you won't have ATM access with this account. CIBC is a larger bank that serves very wealthy clients and business and commercial interests.
#12 CIT Bank

Annual percentage yield: 5.05%
Unlike a majority of online banks, CIT (NYSE: CIT) offers most of what ordinary bankers require, including savings, checking, CDs, and money market accounts. There are no monthly fees and only requires $100 to open an account. However, you will need to maintain at least $5,000 in your account to qualify for the highest rate.
#11 Upgrade

Annual percentage yield: 5.07%
Upgrade's Premier Savings accounts offer their highest interest rates only on accounts that have at least $1,000 in their accounts. If you have less than that, you will earn no interest at all. Worst of all, there is no option for mobile check deposits for savings accounts.
#10 Bask Bank

Annual percentage yield: 5.10%
Bask is another digital offering from traditional banks, this time from Texas Capital Bank (NYSE: TCBI). It was launched in 2022 with its Mileage Savings Account which allows account holders to earn miles with American Airlines. There is no minimum balance requirement and no monthly fees.
#9 BMO Alto

Annual percentage yield: 5.10%
An offering by traditional bank BMO (NYSE: BMO), the BMO Alto online savings account is an online-only account to compete with new competitors. It offers a rate of 5.10% APY and like many other digital options, they have fewer fees and unlimited transfers and withdrawals.
#8 Everbank

Annual percentage yield: 5.15%
EverBank (NYSE: EVER) is a new and slick banking option. It does offer a very high-interest rate on its savings account, but that rate is only an introductory rate that lasts for the first year. After the introductory period, the rate will drop to a lower one. This also applies only to their online savings account.
#7 FNBO Direct

Annual percentage yield: 5.15%
FNBO Direct is a digital offering from First National Bank of Omaha (NYSE: FNB) to remain competitive in the new banking industry. Though, customers have to use the online access or phone app, since they can't use First National Bank of Omaha's branch locations. It requires only $1 to open an account but does not allow international money transfers.  
#6 Bread Savings
Annual percentage yield: 5.15%
Bread Savings, an offering by Bread Financial (NYSE: BFH), requires $100 to open an account but charges no monthly fees. Like most banks, paper statements and wire transfers will cost you extra, however. They are a tech-focused company that has taken extra steps to protect the information of its customers. They do not offer live customer support chat options.
#5 UFB Direct

Annual percentage yield: 5.25%
UFB Direct's high-yield savings account is unique in that it offers ATM access, which many online banks don't offer. There are no service fees or minimum balance requirements with the savings account. However, UFB's savings account is a tiered account, meaning that each tier has its own set interest rate. Currently, these rates are all the same, but they could change at any moment and for any reason. You are not guaranteed to make the same rate at every tier for any amount. (This is true for any bank, of course).
#4 Milli

Annual percentage yield: 5.25%
Milli is a new digital-only option focused primarily on mobile banking. They have no fees for banking and offer innovative banking tools like automated savings rules and Jars that help you compartmentalize and plan your savings for big purchases.
#3 TAB Bank
Annual percentage yield: 5.27%
TAB started in 1998 as Transportation Alliance Bank. They started by offering banking services to truckers and other transportation professionals. TAB Bank offers a very flexible savings option. They require no minimum opening balance and no monthly fees. There are fees for some other uncommon occurrences like $5 for paper statements, $30 for wire transfers, and $30 for a returned deposit.
#2 BrioDirect
Annual percentage yield: 5.35%
BrioDirect is a digital banking option owned by Webster Bank (NYSE: WBS). The high-yield savings account offered by BrioDirect requires an initial balance of $5,000 to open, and you must maintain at least $25 in the account to qualify for the high-interest rate.
#1 Popular Direct

Annual percentage yield: 5.4%
Popular Direct, a subsidiary of Popular Inc. (NYSE: BPOP) was founded in 2016. They are known for being simple, straightforward, and transparent with their fees and process. Popular Direct's High-Rise Savings account has a $100 minimum account balance to open and a $25 fee for closing your account within 180 days of opening. There is a $5 fee for any transfer or withdrawal over the six allowed per month.