Goldman Sachs Very Bullish on Cloud Software: 6 Red-Hot Stocks to Buy Now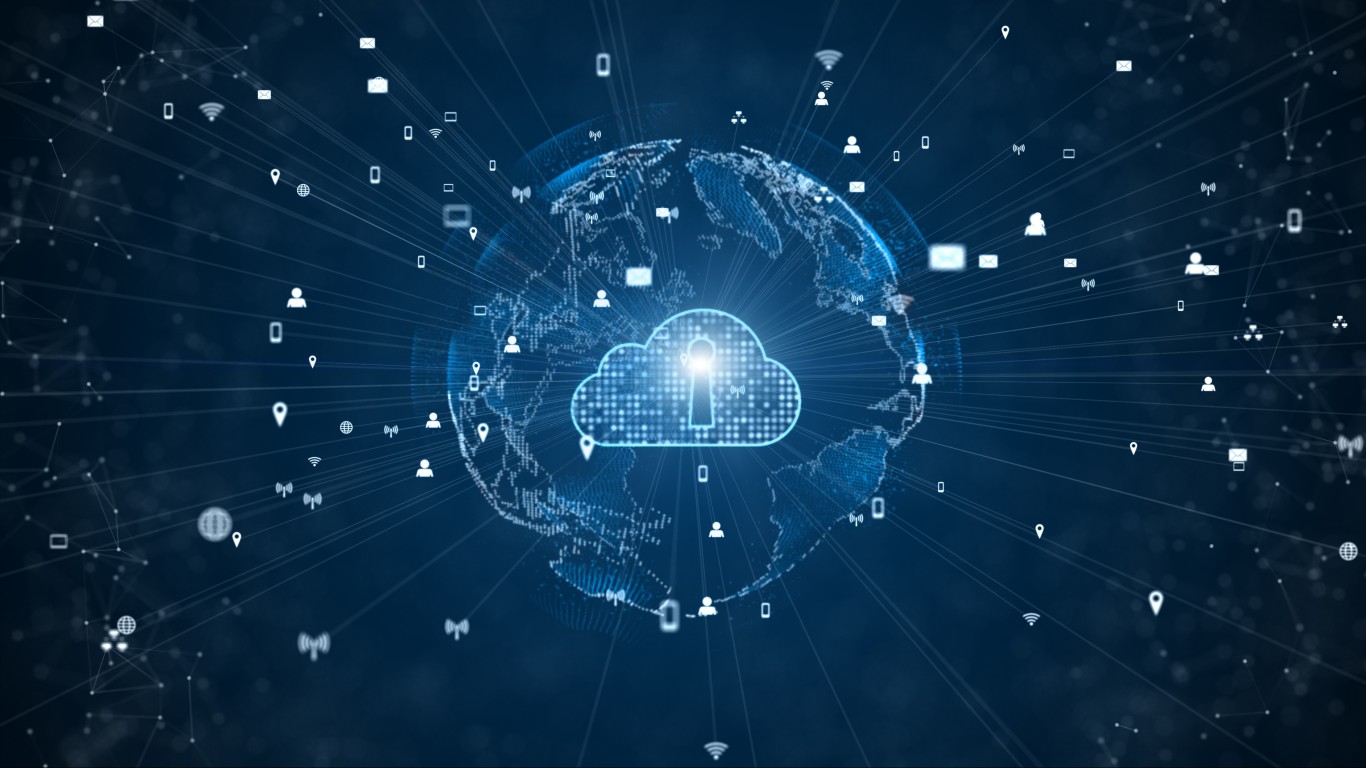 Without a doubt, one of the biggest technology stories over the last 10 years has been the migration to the cloud for computing, storage and a host of additional applications. Given the powerful growth, and the continued need for the software that is made by the top companies in the industry, aggressive growth investors need to consider a position in some of the top stocks.
In a new report, Goldman Sachs initiates coverage on 12 of the top stocks in this part of the sector. The firm notes in the coverage that there remains a staggering $1 trillion in total addressable market size. Clearly, there remains a massive level of upside.
Of the 12 stocks initiated, six are rated Buy at Goldman Sachs. It is important to remember that no single analyst report should be used as a sole basis for any buying or selling decision.
Adobe Systems
Shares of this high-profile old-school software company have really backed up in price and are offering investors a very solid entry point. Adobe Systems Inc. (NASDAQ: ADBE) operates in three segments: Digital Media, Digital Marketing and Print and Publishing. The Digital Media segment provides tools and solutions that enable individuals, small and medium businesses, and enterprises to create, publish, promote and monetize their digital content.

Top Wall Street analysts see the company benefiting from artificial intelligence, predictive analytics, automation bots, speech recognition and natural language processing and image recognition. Flagship products include Creative Suite, Photoshop, Acrobat, Premiere, Dreamweaver, Illustrator, InDesign and LiveCycle. PDF and flash technologies from the company have become industry standards and act as a platform for other Adobe products.
The Goldman Sachs price target is posted at $580, while the Wall Street consensus is set just lower at $565.87. The last trade on Monday came in at $473.44.
Microsoft
This is a more conservative way for investors to participate in the massive cloud growth and utilization. Microsoft Inc. (NASDAQ: MSFT) manufactures, licenses, and supports a wide range of software products. The company has transformed its business model from a component driven model (PC, server) to one driven by the need for cloud capacity.
Many Wall Street analysts agree that Microsoft has become a clear number two in the public or hyper-scale cloud infrastructure market with Azure, which is the company's cloud computing platform offerings, and which continues growing at triple-digit levels. Some have flagged Azure as the biggest rival to Amazon's AWS service.
Some analysts maintain that Microsoft is discounting Azure for large enterprises, such that Azure may be cheaper than AWS for larger users. The cloud was big in 2020 earnings reports, and it will remain a growing part of the software giant's earnings profile. The company is scheduled to report fourth-quarter numbers today after the close.
Microsoft stock investors receive a 0.98% dividend. The Goldman Sachs price target for the shares is $285, and the Wall Street consensus target is $243.33. The stock closed on Monday at $229.53 per share.

Salesforce.com
This company blew away Wall Street recently with a gigantic $27.7 billion purchase of Slack Technologies. Salesforce.com Inc. (NYSE: CRM) provides enterprise cloud computing solutions, with a focus on customer relationship management to various businesses and industries worldwide.
Salesforce's enterprise cloud computing applications and platform services include Sales Cloud, which enables companies to store data, monitor leads and progress, forecast opportunities, gain insights through relationship intelligence and collaborate around sales on desktop and mobile devices.
The company also provides Service Cloud, which enables companies to deliver personalized customer service and support, as well as connect their service agents with customers on various devices, and Marketing Cloud, which enables companies to plan, personalize and optimize customer interactions.
Last year Salesforce completed the acquisition of Tableau Software, bringing together the world's number one customer relationship management company with the world's number one analytics platform. Salesforce aims to enhance its digital advertising value proposition (and its other existing product offerings) by expanding its data footprint to become the pioneer supplier of a consumer data platform for the corporate market.
Goldman Sachs has a $315 price objective for the shares, while the consensus target is $274.71. Monday's final print for Salesforce.com stock was $225.92.

ServiceNow
This stock had an incredible 2020 and remains a top pick. ServiceNow Inc. (NYSE: NOW) develops and sells a hosted, subscription-based suite of services designed to automate various IT department functions, such as help desk, operations management and change/release management.
The company also sells a number of applications that automate various self-service related applications outside of the IT department, such as HR onboarding, facilities requests and governance, risk and compliance.
Goldman Sachs is positive on ramping pipeline builds and deal activity in the employee workflow category to support demand for a central platform/portal to manage employee service requests across payroll, benefits, IT support and employee onboarding to support an increasingly distributed workforce during the pandemic.
The massive $670 Goldman Sachs price objective towers above the consensus target price of $570.29. Service Now stock closed at $537.88 on Monday.

Splunk
This stock is one of the top picks in the group across Wall Street. Splunk Inc. (NASDAQ: SPLK) provides a software platform for collecting, storing, indexing, searching and analyzing machine-generated data, such as log files and configuration files, which are prevalent in every type of IT system, device and application.
Splunk technology is potentially applicable and disruptive in several market segments, including IT operations, security and compliance, and business intelligence. These market segments are collectively worth $28 billion today.
Wall Street analysts agree that the company offers the de facto standard for security information and event management. It also offers orchestration solutions for security operations, a fast emerging category of products.
Goldman Sachs has set a $240 price target. The consensus target is $203.51, Splunk stock was last seen on Monday at trading $171.91 a share.

Workday
This company rounds out the top picks at Goldman Sachs in the cloud software space and is another industry leader. Workday Inc. (NASDAQ: WDAY) provides enterprise cloud applications worldwide. Its applications help its customers to manage critical business functions and optimize their financial and human capital resources.
Its Workday Financial Management application provides functions of general ledger, accounting, accounts payable and receivable, cash and asset management, revenue management and grants management, as well as project and resource management, time and expense tracking, project billing, revenue recognition, financial reporting and analytics.
It also provides Workday Human Capital Management application, which includes human resources management, such as workforce lifecycle and organization management, compensation, absence and employee benefits administration. It also includes global talent management, comprising goal and performance management, succession planning and career and development planning, as well as Skills cloud, a machine-learning-powered universal skills language to help source, utilize, develop and retain talent.
The Goldman Sachs price objective for Workday stock is $300. That compares with the lower $255.84 consensus target and Monday's closing price of $234.99 a share.

These are six top cloud computing stocks for investors with plenty of risk tolerance to consider for aggressive growth portfolios. With earnings on the way for many, including one today, and the market fully priced at current levels, it may make sense to scale buy positions, and see how the results come in.
Sponsored: Want to Retire Early? Here's a Great First Step
Want retirement to come a few years earlier than you'd planned? Or are you ready to retire now, but want an extra set of eyes on your finances?
Now you can speak with up to 3 financial experts in your area for FREE. By simply clicking here you can begin to match with financial professionals who can help you build your plan to retire early. And the best part? The first conversation with them is free.
Click here to match with up to 3 financial pros who would be excited to help you make financial decisions.