Heavy Debt, Bearish Analysts Cloud Outlook for AMC Entertainment Stock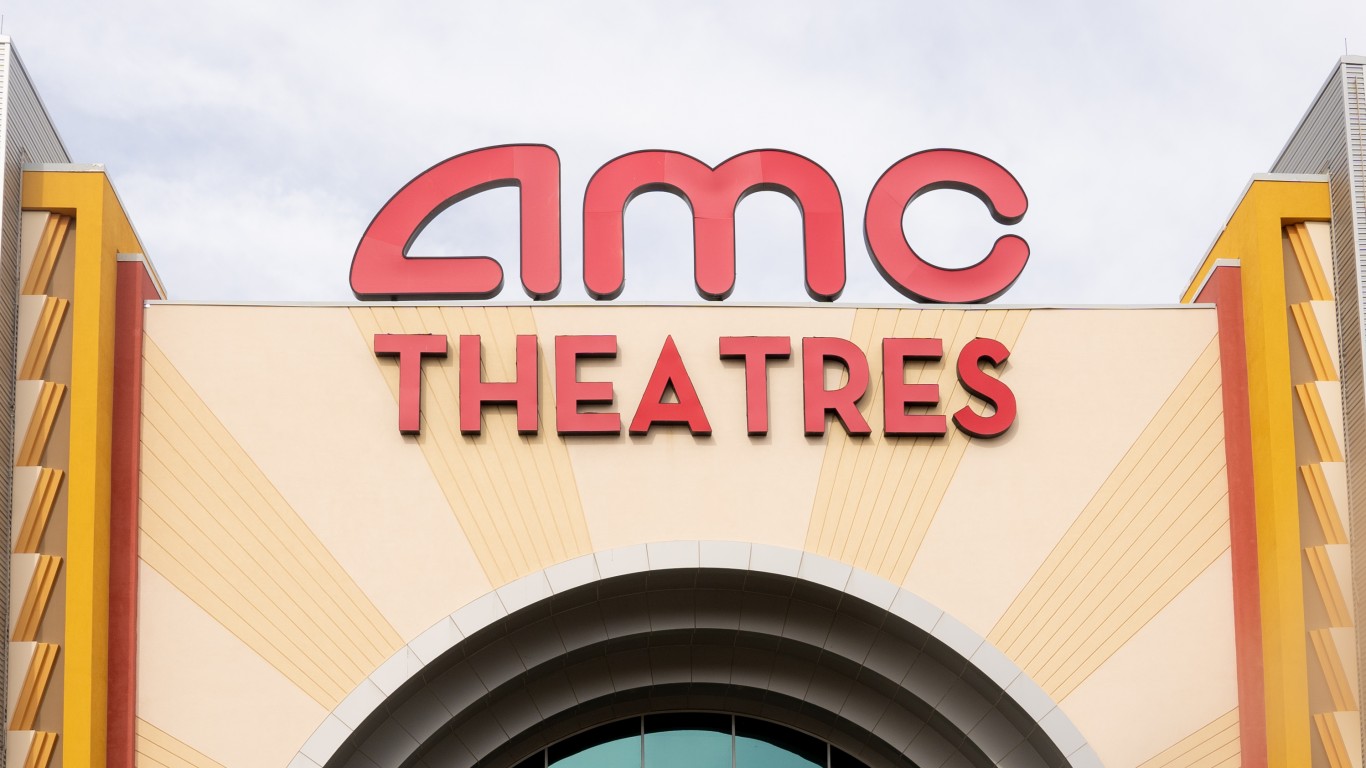 The pessimism around AMC Entertainment (US:AMC) stock is on the rise. Most of the owners of its options seem to be betting against it, analysts at Citi are very pessimistic and U.S. movie theater attendance remains well below 2019 levels. Oh, and AMC has a huge debt load.
Last month, Jefferies told clients that its prime brokerage arm will no longer allow the execution of short sells on AMC, Bloomberg News reported.
That came just days after the company completed a share offering, raising $587.4 million in additional equity capital, taking advantage of retail investor fervor that pushed the shares to a record close of $62.55 apiece.
The cinema operator warned investors that "Our current market prices reflect market and trading dynamics unrelated to our underlying business, or macro or industry fundamentals, and we do not know how long these dynamics will last," according to a statement.
The short borrow rate is close to 978%, according to data compiled by Fintel. Its Gamma Squeeze Score ranks AMC stock at 519 out of 38,213 stocks analyzed. This new experimental metric is the result of a multi-factor quantitative model that identifies companies that have the highest risk of experiencing a gamma squeeze.
With short interest at 122.09 million shares, or 23.6% of the float, the stock sits at 6.1 days to cover.
And that huge debt load? AMC owed $9.66 billion as of the end of the first quarter, and its low current ratio of 0.43 indicates that it may have difficulty paying its debts in the medium term.
Very Bearish Put/Call Ratios
Most of AMC's put/call ratios are extremely negative, as the name's overall put/call ratio is 1.69. The put/call ratios for its options that expire on July 14, July 21, and July 28 are 1.45, 1.61, and 7.28, respectively. The put/call ratios for AMC's options that expire on Aug. 4, Aug. 11, and Aug. 18 are 5.44, 2.24, and 3.88, respectively. It's difficult to imagine put/call comparisons that portend much worse for any stock's outlook than those numbers.
The put/call ratios of the options acquired on July 6, July 7. and July 10 were either 1.60 or 1.69, so the sentiment of options buyers towards AMC stock has not rebounded much recently.
Low Movie Theater Attendance
American movie theater ticket revenue rose nearly 20% in the first half of 2023 versus the same period a year earlier. However, the theaters' ticket revenue remained down 21% from the levels generated in the first half of 2019. And it's worth remembering that, in 2019, movie theaters weren't exactly such a great business, as streaming had already become quite popular and had begun taking a major toll on theaters' top and bottom lines. Indeed, the advent of the term "Netflix and chill," for example, far predates 2019.
But streaming is indeed much more of a widespread phenomenon now than it was in 2019. In fact, streaming is currently so popular and lucrative that some major moviemakers are releasing their films directly to that medium directly, bypassing theaters entirely. That's likely the main reason that, in the first half of 2019, "57 films were released in 2,000 theaters or more," CNBC reported, while the equivalent figure came in at just 45 in the same period of 2023.
Of course, if AMC has many fewer movies to show, it's going to tend to generate significantly less revenue and meaningfully higher losses.
Bearish Note, Screaming 'Sells'
On July 3, Citi suggested that AMC's shares could sink in the next month. Analysts there believe that AMC will defeat a lawsuit initiated by shareholders wanting to prevent the firm from converting its preferred stock to common stock. The conversion, in turn, will put "downward pressure" on AMC's shares, the bank warned.
Citi kept a 'sell' rating and a $1.65 price target on AMC stock. The consensus compiled by Fintel projects a stock price of $2.31 a share, more than 47% below current levels. Tracking of recommendation trends shows consistency over the last 12 months, with five analysts advising clients to 'hold', seven advising them to 'sell', and, since March, three pounding the table with a 'strong sell' on the shares.
This article originally appeared on Fintel
Sponsored: Want to Retire Early? Here's a Great First Step
Want retirement to come a few years earlier than you'd planned? Or are you ready to retire now, but want an extra set of eyes on your finances?
Now you can speak with up to 3 financial experts in your area for FREE. By simply clicking here you can begin to match with financial professionals who can help you build your plan to retire early. And the best part? The first conversation with them is free.
Click here to match with up to 3 financial pros who would be excited to help you make financial decisions.