5 'Strong Buy' Stocks Trading Under $20 With Huge Home Run Potential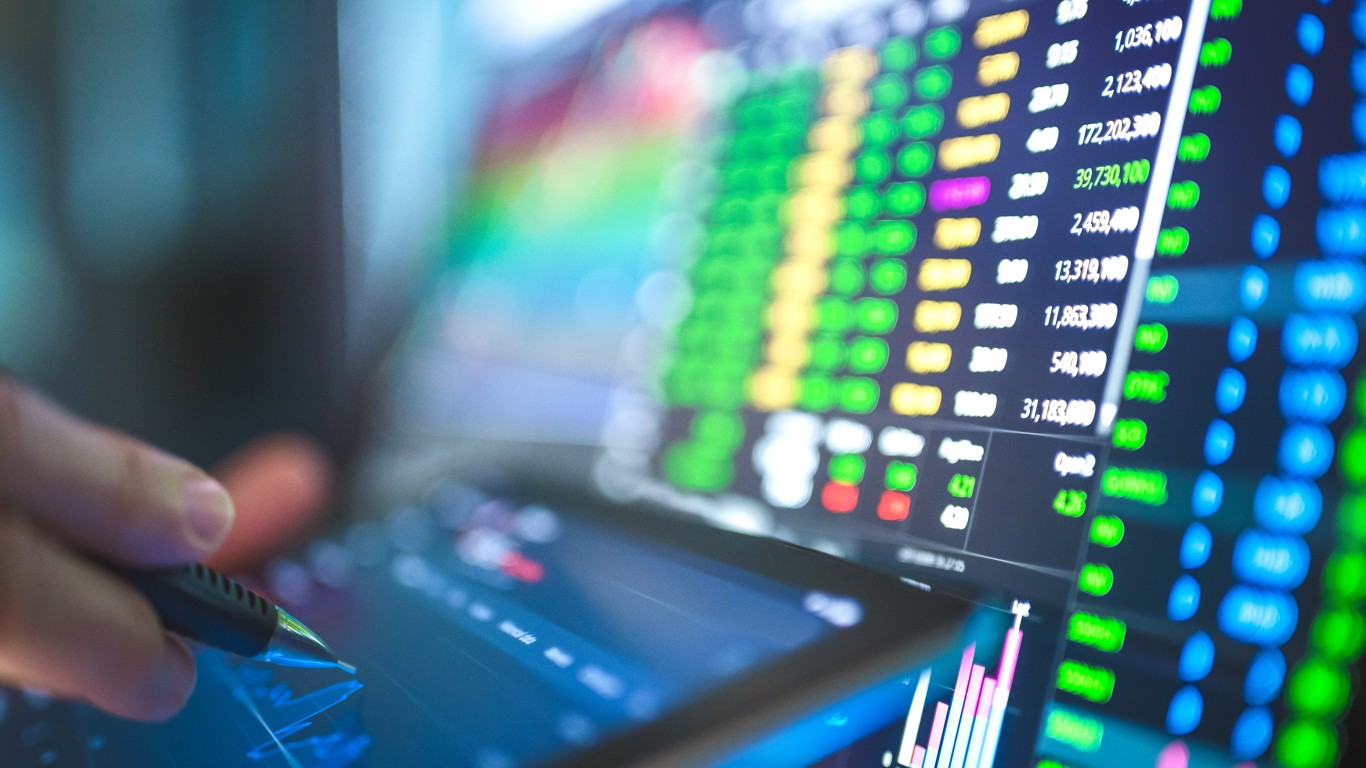 While Most of Wall Street focuses on large and mega-cap stocks, as they provide a degree of safety and liquidity, many investors are limited in the amount of shares they can buy. Many of the biggest public companies, especially the technology giants, trade in the low to mid hundreds up to over $1000 per share. At those steep prices, it's hard to get any decent share count leverage.
Many investors, especially more aggressive traders, look at lower-priced stocks as a way to not only make some good money but to get a higher share count. That can often help the decision-making process, especially when you are on to a winner, as you can always sell half, and keep half.
We screened our 24/7 Wall St. research database looking for companies that could very well offer patient investors some huge returns for the rest of 2023 and beyond. For lower-price stock skeptics, many of the biggest companies in the world including Apple, Amazon, and Netflix all traded in the single digits at one time. In addition, Nvidia, which has exploded higher on AI semiconductor chips traded under the $10 for years.
Here are five well-known stocks trading under $20 that have huge upside potential.
American Eagle Outfitters
This popular retailer pays a decent 2.27% dividend and could be poised for a huge holiday shopping season. American Eagle Outfitters, Inc. (NYSE: AEO) operates as a specialty retailer that provides clothing, accessories, and personal care products under the American Eagle and Aerie brands in the United States and internationally.
The company provides jeans, apparel and accessories, personal care products for women and men; and intimates, apparel, activewear, and swim collections. It also offers menswear products under the Todd Snyder New York brand, and fashion clothing and accessories under the Unsubscribed brand.
American Eagle Outfitters sells its products through retail stores; digital channels, such as www.ae.com, www.aerie.com, www.toddsnyder.com, and www.unsubscribed.com; and applications.
AT&T
The legacy telecommunications company has been going through a long restructuring, lowered the dividend, (which is still an outstanding 7.12%), and has sold off or merged underperforming assets. AT&T, Inc. (NYSE: T) provides telecommunications, media, and technology services worldwide.
The Communications segment offers wireless voice and data communications services; and sells handsets, wireless data cards, wireless computing devices, and carrying cases and hands-free devices through its own company-owned stores, agents, and third-party retail stores.
AT&T also provides data, voice, security, cloud solutions, outsourcing, and managed and professional services, as well as customer premises equipment for multinational corporations, small and mid-sized businesses, governmental, and wholesale customers. This segment offers broadband fiber and legacy telephony voice communication services to residential customers.
AT&T markets its communications services and products under the AT&T, Cricket, AT&T PREPAID, and AT&T Fiber brand names.
The company's Latin America segment provides wireless services in Mexico, and video services in Latin America. This segment markets its services and products under the AT&T and Unefon brand names.
Energy Transfer
The top master limited partnership is a very safe way for investors looking for energy exposure and income and pays a massive 9.51% distribution. Energy Transfer LP (NYSE: ET) owns and operates one of the largest and most diversified portfolios of energy assets in the United States, with a strategic footprint in all of the major domestic production basins.
The company is a publicly traded limited partnership with core operations that include complementary natural gas midstream, intrastate, and interstate transportation and storage assets; crude oil, natural gas liquids (NGL) and refined product transportation and terminalling assets; NGL fractionation; and various acquisition and marketing assets.
After the purchase of Enable Partners in December of 2021, Energy Transfer owns and operates more than 114,000 miles of pipelines and related assets in all of the major U.S. producing regions and markets across 41 states.
Through its ownership of Energy Transfer Operating, L.P., the company also owns:
Lake Charles LNG Company.
The general partner interests, the incentive distribution rights, and 28.5 million common units of Sunoco LP (NYSE: SUN)
The general partner interests and 39.7 million common units of USA Compression Partners, LP (NYSE: USAC
Paramount Global
This is one of the largest entertainment companies in the world and Warren Buffett owns almost 94 million shares. Paramount Global (NASDAQ: PARA) operates as a media and entertainment company worldwide.
The company operates through:
TV Media, Direct-to-Consumer, and Filmed Entertainment segments. Its TV Media segment operates domestic and international broadcast networks, including CBS Television Network, Network 10, Channel 5, Telefe, and Chilevisión; and cable networks comprising Paramount Media Networks.
Nickelodeon, BET Media Group, and CBS Sports.
The company's Direct-to-Consumer segment provides a portfolio of domestic and international pay and free streaming services, including Paramount+, Pluto TV, Showtime Networks' subscription streaming service, BET+, and Noggin.
The company's Filmed Entertainment segment produces and acquires films, series, and short-form content for release; media licensing around the world, including in theaters, on streaming services, on television, digital home entertainment, and DVDs.
Operates portfolio of Paramount Pictures, Paramount Players, Paramount Animation, Nickelodeon Studio, Awesomeness, and Miramax. The company was formerly known as ViacomCBS.
Toast
This stock was a red-hot IPO back in 2021 that got blasted in 2022 and has traded sideways for almost two years. Toast, Inc. (NASDAQ: TOST) operates a cloud-based digital technology platform for the restaurant industry in the United States and Ireland.
The company offers:
Toast POS, a software module that integrates payment processing with point of sale functionality; Toast Invoicing that allows restaurants to send invoices and collect payment.
Toast Mobile Order & Pay, which allows guests to scan a QR code to browse the menu, order, and pay from mobile; Kitchen Display System software that connects the house with the kitchen staff; and Multi-Location Management, a tool to manage operations and configure menus across multiple locations and channels.
Toast Flex, hardware for on-counter orders and pay; Toast Go, an integrated handheld POS device; Toast Tap, a card reader for accepting EMV-contactless payments; Toast Online Ordering & Toast TakeOut, an online ordering and consumer Toast TakeOut application.
First-Party Delivery, a toast delivery service; POS integration for restaurants using third-party delivery services to order intake and eliminate the need for extra third-party tablets; and loyalty, email marketing, and Toast Gift Cards services.
Payroll and team Management solutions for employee performance and satisfaction and employee management tools, such as Sling for Toast that provide streamlined scheduling and team communication.
Toast Pay Card & PayOut, which offers eligible workers instant access to a portion of their tips and wages; and Tips Manager solution that automates the tip-pooling process.
xtraCHEF is a suite of back-office tools, such as accounts payable automation, inventory management, ingredient price tracker, and recipe costing for restaurants; Payment Processing, capital funding, and purchase financing solutions; insights and reporting on real-time sales, menu, and labor data.
Toast Partner Connect, a portal that allows customers to discover, select, and connect their restaurant to partners; and a suite of bi-directional application programming interfaces.
The long sideways move in the stock may be offering investors an incredible entry point and with 7.6% of the float or 30,468,810 shares sold short, any positive earnings or other corporate news that is positive could create a huge short-squeeze which could rocket the shares higher.
Sponsored: Attention Savvy Investors: Speak to 3 Financial Experts – FREE
Ever wanted an extra set of eyes on an investment you're considering? Now you can speak with up to 3 financial experts in your area for FREE. By simply clicking here you can begin to match with financial professionals who can help guide you through the financial decisions you're making. And the best part? The first conversation with them is free.
Click here to match with up to 3 financial pros who would be excited to help you make financial decisions.