Discover Chick-Fil-A's Mission Statement and Their Purpose in the World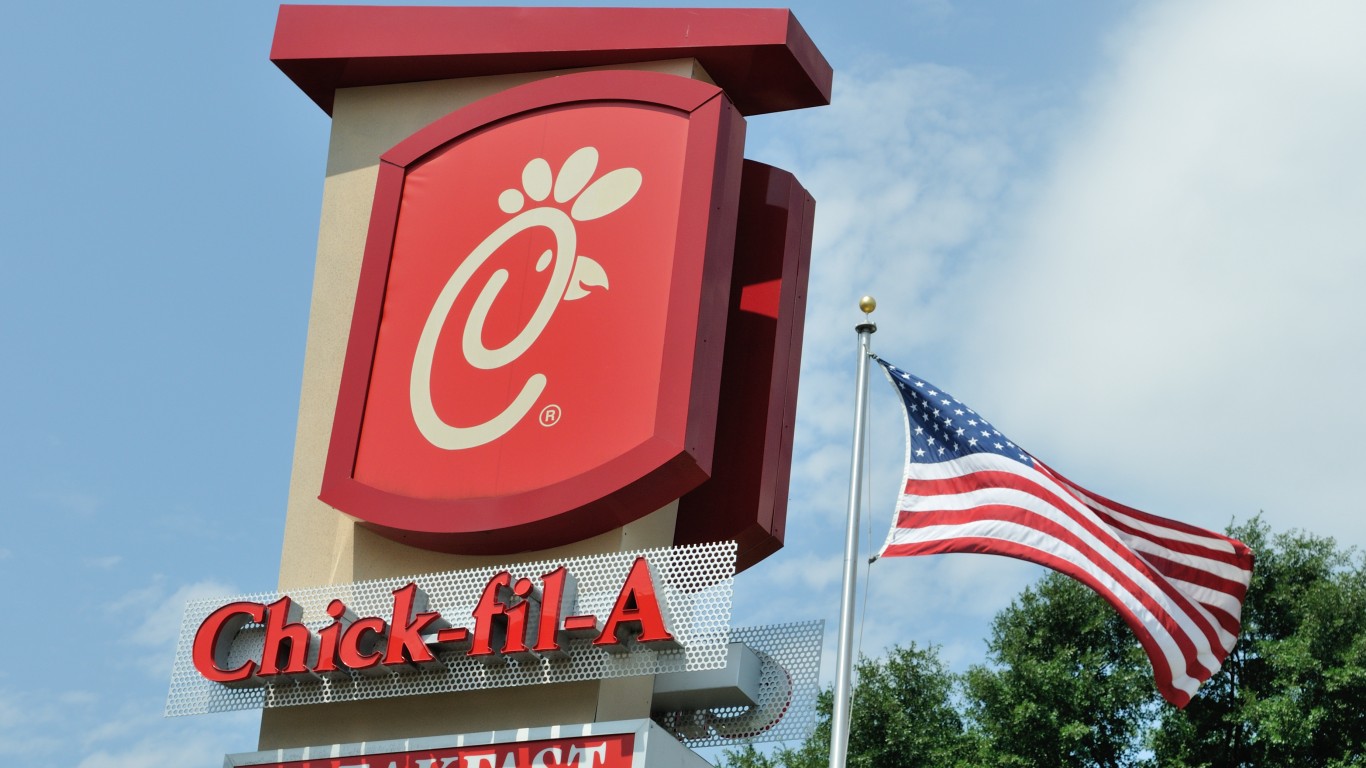 Chick-fil-A is an American favorite. Even though they're closed on Sunday, their stores do more business on average than most do that are open seven days a week. When you dine at Chick-fil-A, you can be ready for customer service like nowhere else. The staff is trained to always respond with "My pleasure" because it truly is their pleasure to help you and serve you. There are countless stories of Chick-fil-A employees doing things like helping you change your tire or assisting you in other areas of life. The company has created a culture of family for those who eat there. What exactly is Chick-fil-A's mission statement and purpose in the world? How have these helped transform them into one of the most successful brands in the United States?
What Is Chick-fil-A's Mission Statement?
Chick-fil-A's mission statement is short and simple, "To be America's best quick-service restaurant at winning and keeping customers." One of the key things Chick-fil-A wants to be known as is quick-service, not fast food. There's a certain connotation that's given to fast-food restaurants that Chick-fil-A doesn't see themselves as. The other main part of their mission statement is winning and keeping their customers. Chick-fil-A knows they need to go the extra mile to set themselves apart, thanks to how many different options there are for food.
Each table has real flowers on it inside the restaurant, making it feel like you're eating at home. The employees will also walk around and offer to refill your drink for you, making it feel like you're at a sit-down restaurant. The way Chick-fil-A trains its employees is truly second to none. A lot of companies have a mission statement but don't implement it into their training and hiring process. Chick-fil-A does, and it's noticeable.
What Is Chick-fil-A's Purpose in the World?
As consumers, we see companies talk about what their purpose in the world is, but not act on it. For better or worse, Chick-fil-A has a clear purpose and they show they're serious about it whenever possible. They believe their purpose in the world is "To glorify God by being a faithful steward of all that is entrusted to us. To have a positive influence on all who come in contact with Chick-fil-A." These values have gotten them in trouble by today's standards, especially regarding the LGBTQ+ community.
While a lot of companies have tried to play the fence, Chick-fil-A has always stood by what they believe the church represents. This has prevented people from wanting to eat there, as they don't want to support a business that holds these views. However, there are tons of people who support them even more because of the views they stand on. No matter what your belief system is, Chick-fil-A has talked about religion and brought it to the attention of the masses, fulfilling its vision statement and purpose. 
How Much Money Does Chick-fil-A Make Per Year?
Thanks to their vision and mission statement, Chick-fil-A sold $18.8 billion worth of food in 2022. Throughout the United States, you can find 2,806 different stores. They can be anywhere from the Las Vegas Strip, to a small, rural town in Georgia. Compare these numbers to McDonald's (NYSE: MCD), the company that's widely viewed as the most successful chain in the United States. McDonald's sold $48.7 billion worth of food. Now, you're probably thinking McDonald's is a lot more successful purely based on the sales totals.
However, McDonald's is a worldwide company, while Chick-fil-A is just in the United States, Puerto Rico, and Canada. If we're just talking about physical stores in the United States, McDonald's has 13,455 to Chick-fil-A's 2,806. There are almost five times as many units just in the United States. Even so, they only made about 2.5 times as much money. Chick-fil-A is also closed on Sundays, giving them one less day per week to make money. Chick-fil-A's business model has proven to be wildly profitable and successful. 
The Other Fun Quirk You'll See at Chick-fil-A
The next time you get a sandwich from Chick-fil-A, take a look at the patty. Each one is shaped like a heart. Chick-fil-A knows most of their customers put a sauce of some kind on their sandwich before they eat it. When the customer opens the sandwich, they'll be able to notice the heart. This directly ties back to the mission statement, they want to make customers feel loved and wanted. The heart is also a great way to send positive energy to everyone, even if you've never truly looked at it and noticed. Chick-fil-A has all of the little details down when it comes to acting on its mission statement and purpose in the world.
Sponsored: Tips for Investing
A financial advisor can help you understand the advantages and disadvantages of investment properties. Finding a qualified financial advisor doesn't have to be hard. SmartAsset's free tool matches you with up to three financial advisors who serve your area, and you can interview your advisor matches at no cost to decide which one is right for you. If you're ready to find an advisor who can help you achieve your financial goals, get started now.
Investing in real estate can diversify your portfolio. But expanding your horizons may add additional costs. If you're an investor looking to minimize expenses, consider checking out online brokerages. They often offer low investment fees, helping you maximize your profit.