Old-School Semiconductor Giant Among 4 'Strong Buy' Stocks With Dividend Hikes Likely This Week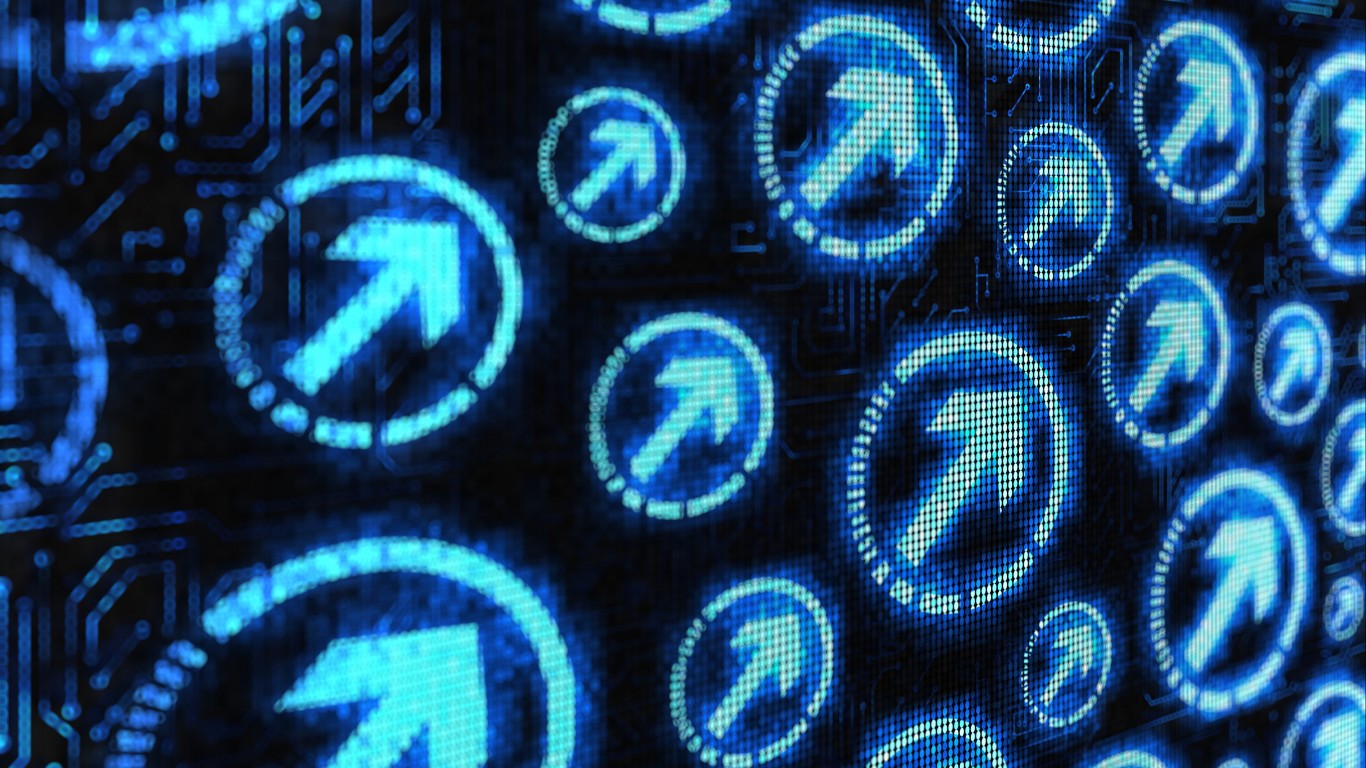 With interest rates rising over the past year, many investors are looking at short-term Treasury debt, as the volatile stock market has made some market participants quite nervous. However, many long-term horizon investors still turn to equities, not only for the growth potential but also for solid and dependable dividends that help to provide a passive income stream. What this equates to is total return, which is one of the most powerful investment strategies going.
We like to remind our readers about the impact total return has on portfolios because it is one of the best ways to help improve the chances for overall investing success. Again, total return is the combined increase in a stock's value plus dividends. For instance, if you buy a stock at $20 that pays a 3% dividend, and it goes up to $22 in a year, your total return is 13%. That is, 10% for the increase in stock price and 3% for the dividends paid.
Four top large-cap companies that are Wall Street favorites are expected to raise their dividends this week. We screened our 24/7 Wall St. research universe and found that all are rated Buy at top firms on Wall Street.
While it is always possible that not all of the four do raise their dividends, top analysts expect them to, based on past increases in each firm's dividend payouts. It is important to remember that no single analyst report should be used as a sole basis for any buying or selling decision.

Korn Ferry
This stock is a great international idea for growth investors seeking to expand portfolios. Korn Ferry Inc. (NYSE: KFY) provides organizational consulting services worldwide to public and private companies, middle market and emerging growth companies, and government and nonprofit organizations.
The company provides executive search services to recruit board level, chief executive, other senior executive and general management talent of organizations. It also offers organizational strategy, assessment and succession, leadership and professional development, and total reward services.
In addition, Korn Ferry provides recruitment process outsourcing and business project, professional search and outsource recruiting solutions. The company also offers tech-enabled solutions that identify structures, roles, capabilities and behaviors to drive businesses.
Korn Ferry shareholders receive a 1.21% yield. The company is expected to lift the dividend to $0.17 per share from $0.15.
Goldman Sachs has a $64 target price, while the consensus target is $64.25. Korn Ferry stock closed over 2% higher on Monday at $50.88.

Lindsay
While somewhat off the radar, this top stock has big-time upside potential. Lindsay Corp. (NYSE: LNN) provides water management and road infrastructure products and services in the United States and internationally.
Lindsay's Irrigation segment manufactures and markets center pivot, lateral move irrigation systems, and irrigation controls under the Zimmatic brand; hose reel travelers under the Perrot brand; and chemical injection systems, variable rate irrigation systems, flow meters, weather stations, soil moisture sensors and remote monitoring and control systems.
This segment also offers repair and replacement parts for its irrigation systems and controls, and diameter steel tubing; global positioning system positioning and guidance, variable rate irrigation, wireless irrigation management, irrigation scheduling and smartphone applications; and industrial Internet of Things technology solutions, data acquisition and management systems, and custom electronic equipment for applications under the Elecsys brand.
The Infrastructure segment provides Quickchange moveable barrier systems that help in highway reconstruction, paving and resurfacing, road widening, median and shoulder construction, and tunnels and bridge repairs. Its redirective and non-redirective crash cushions are used to enhance highway safety at such locations as toll booths, freeway off-ramps, medians and roadside barrier ends, bridge supports, utility poles and other fixed roadway hazards.
The segment also offers specialty barrier products, road marking and road safety equipment, and railroad signals and structures. It serves departments of transportation, municipal transportation road agencies, roadway contractors, subcontractors, distributors and dealers.
Lindsay shareholders receive a 1.09% yield. The company's $0.34 per share dividend is expected to increase to $0.35.
Stifel has set its target price at $166. Lindsay has a $154.50 consensus target, and Monday's closing share price was $125.06.

Micron Technology
This old-school chip giant is offering investors a very solid entry point despite the technology melt-up rally this year. Micron Technology Inc. (NASDAQ: MU) designs, develops, manufactures and sells memory and storage products worldwide.
Micron Technology provides memory and storage technologies:
DRAM products are dynamic random access memory semiconductor devices with low latency that provide high-speed data retrieval.
NAND products are non-volatile and rewritable semiconductor storage devices.
NOR memory products are non-volatile rewritable semiconductor memory devices that provide fast read speeds.
It offers these products under the Micron and Crucial brands, as well as through private labels.
The company offers memory products for the cloud server, enterprise, client, graphics, networking, industrial and automotive markets, as well as for smartphone and other mobile-device markets; solid-state drives and component-level solutions for the enterprise and cloud, client and consumer storage markets; discrete storage products in component and wafers; and memory and storage products for the automotive, industrial and consumer markets.
Micron markets its products through its direct sales force, independent sales representatives, distributors and retailers, as well as a web-based customer direct sales channel and through channel and distribution partners.
Shareholders receive a 0.70% yield, but the per-share dividend is expected to $0.12 from $0.115.
The Rosenblatt Securities target price for Micron Technology stock is $100. The consensus target is $72.55, and shares closed on Monday at $65.45.
Worthington Industries
Shares of this top company have been on a solid run since last year, and they look poised to trade even higher. Worthington Industries Inc. (NYSE: WOR) an industrial manufacturing company focused on value-added steel processing and manufactured metal products in North America and internationally.