Cisco Systems (CSCO) Stock Punished by Weak Guidance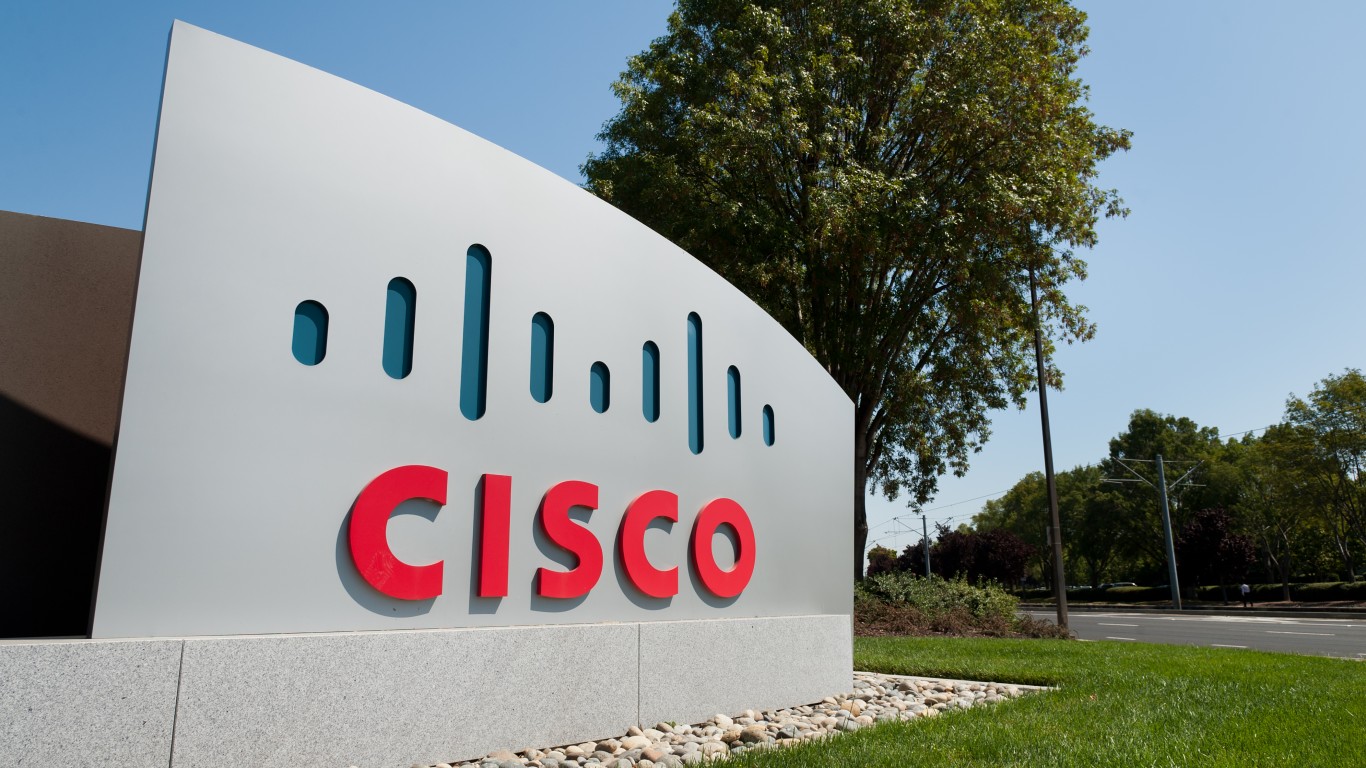 After U.S. markets closed on Wednesday, Cisco Systems Inc. (NASDAQ: CSCO) put up some pretty good numbers for its first quarter of fiscal 2024. Then, Cisco stock got pummeled in after-hours trading and the beating continued in Thursday's premarket session.
What the numbers say
For the quarter that ended in October, Cisco reported revenue of $14.67 billion, up 8% year over year and barely higher than the consensus estimate. Adjusted earnings per share came in at $1.11, up 29% year over year, and 8 cents better than the consensus estimate.
Net income rose 36% to $3.6 billion in the quarter ($4.5 billion on an adjusted basis) for a net margin of 24.5% (30.7% adjusted).
While the numbers came in better than expected, expectations were low. The adjusted EPS forecast, for example, was 9.6% lower than the prior quarter's actual number. (These 20 companies have the best reputations.)
Cisco's guidance rules
In its press release,
Cisco prefaced its comments
on second-quarter and full-year guidance with this statement:
Cisco saw a slowdown of new product orders in the first quarter of fiscal 2024 and believes the primary reason is that customers are currently focused on installing and implementing products in their environments following exceptionally strong product delivery over the past three quarters.
On the company's conference call, CEO Chuck Robbins tried to soften the impact by noting that new orders and Cisco's backlog and lead times for deliveries "have largely returned to normal levels."
Not good enough, apparently. For the second quarter, Cisco made the following forecast:
Revenue: $12.6 to $12.8 billion
Adjusted gross margin: 65% to 66%
Adjusted operating margin: 31.5% to 32.5%
Adjusted EPS: $0.82 to $0.84
The revenue forecast was well short of the consensus estimate for $14.23 billion in sales. The consensus estimate for EPS was $0.98.
For the 2024 fiscal year, Cisco expects revenue of $53.8 to $55 billion and EPS of $3.87 to $3.93. The revenue forecast is $2 to $3.2 billion below last year's total revenue of $57 billion. Analysts ‌had forecast EPS of $4.05 for the fiscal year.
Investors flee
Cisco declared its quarterly dividend payment of $0.39 (annual yield of 2.93%) and noted $1.3 billion in share buybacks during the quarter. The company also noted that it had closed five acquisitions in the quarter and announced a sixth: its $28 billion deal for cybersecurity company Splunk Inc. (
NASDAQ: SPLK
).
But that guidance? To say investors are disappointed is an understatement. The stock traded down more than 11% in Thursday's premarket session at $47.24 in a 52-week range of $45.16 to $58.19.
Sponsored: Tips for Investing
A financial advisor can help you understand the advantages and disadvantages of investment properties. Finding a qualified financial advisor doesn't have to be hard. SmartAsset's free tool matches you with up to three financial advisors who serve your area, and you can interview your advisor matches at no cost to decide which one is right for you. If you're ready to find an advisor who can help you achieve your financial goals, get started now.
Investing in real estate can diversify your portfolio. But expanding your horizons may add additional costs. If you're an investor looking to minimize expenses, consider checking out online brokerages. They often offer low investment fees, helping you maximize your profit.