30 Best Western Films of All Time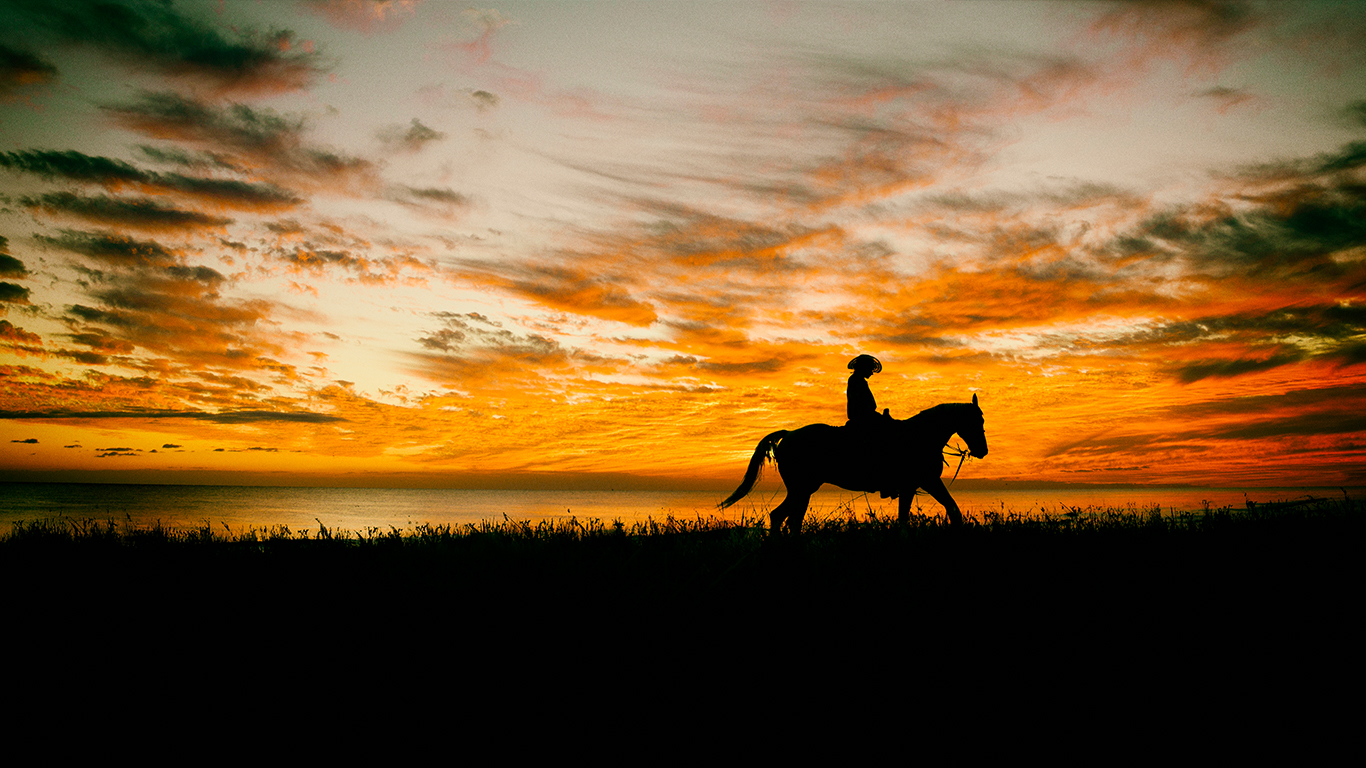 The American West has captured the imagination of filmmakers and moviegoers as long as there has been a film industry. Western film has shaped the way stories are told on the big screen. From the sprawling landscapes to the brawny gunslingers, the Western motion picture has made an indelible mark on not only film as an art form, but also the American consciousness. The Western is the American epic story.
Though the word "Western" is usually associated with stoic leading men like John Wayne and Clint Eastwood, it's a medium that has explored the complexities of heroism, masculinity, and morality. Films like Joan Crawford's "Johnny Guitar" (1954) placed women front and center while other movies such as "High Noon" (1952) and "Unforgiven" (1992) challenged Western conventions by presenting deeply flawed heroes.
The Western film serves not only as a mirror of American landscapes and traditions, but also as a canvas on which human stories unfold. This is perhaps most evident in the work of Sergio Leone, the legendary Italian filmmaker credited with creating the Spaghetti Western subgenre.
From the 1930s to the present day, the Western remains a vibrant platform for stories that resonate the world over.
Click here to see the 30 best western films of all time.
Click here to see our methodology.
30. Ride the High Country (1962)
> Directed by: Sam Peckinpah
> Starring: Joel McCrea, Randolph Scott, Mariette Hartley
"Ride the High Country" doesn't feature Sam Peckinpah's signature on-screen violence, but it established his frequently used motif of "the West in decline." The film follows Steve Judd (Joel McCrea) as he guards a shipment of gold moving through a dangerous section of the frontier. Judd gets double-crossed by his partner Gil Westrum (Randolph Scott), and the pair shoot it out in a series of classic bullet-dodging battles.
29. The Magnificent Seven (1960)
> Directed by: John Sturges
> Starring: Yul Brynner, Steve McQueen, Charles Bronson
John Sturges' 1960 classic "The Magnificent Seven" is a western reimagining of Akira Kurosawa's 1954 Japanese release "The Seven Samurai" about a Mexican village that hires seven gunfighters for protection from bandits. Kurosawa loved the film and even sent Sturges a ceremonial sword to express his appreciation.
28. The Shootist (1976)
> Directed by: Don Siegel
> Starring: John Wayne, Lauren Bacall, Ron Howard
"The Shootist" marked John Wayne's final motion picture. He stars as J.B. Brooks, an aging gun fighter hoping to live out his final days without too much pain. Wayne was reportedly sensitive about his character's cancer diagnosis on the set and asked that they pull back on references to the disease. The legend himself died of cancer three years later.
27. Blazing Saddles (1974)
> Directed by: Mel Brooks
> Starring: Cleavon Little, Gene Wilder, Slim Pickens
Mel Brooks' 1974 classic "Blazing Saddles" brought a comedic twist to the typically dark Western genre. The director had initially sought Richard Pryor in the lead role of Sheriff Black Bart, but investors were leery of the comedian because of his racially charged stand-up act and his struggles with drugs and alcohol. Cleavon Little, instead, won the role and Pryor came on as a writer.
26. The Outlaw Josey Wales (1976)
> Directed by: Clint Eastwood
> Starring: Clint Eastwood, Sondra Locke, Chief Dan George
Philip Kaufman was the first director of "The Outlaw Josey Wales" before Eastwood took over in October 1975. The move outraged Directors Guild of America members and they quickly passed a bylaw stating that directors may not be fired and replaced by a leading actor in a film. It became an iconic role for Eastwood and earned high praise from critics.
25. Fort Apache (1948)
> Directed by: John Ford
> Starring: John Wayne, Henry Fonda, Shirley Temple
"Fort Apache" finds John Wayne in the lead as Captain Kirby York. The Duke's character struggles with his commitment to duty when the command of his post is handed over to a dishonorable young officer. The fort used during the film was a set built for this picture but appeared in many later pictures as well. It is currently a city park in Simi Valley, California. "Fort Apache" was one of the so-called three "cavalry" movies that Wayne and Ford collaborated on.
24. Shane (1953)
> Directed by: George Stevens
> Starring: Alan Ladd, Jean Arthur, Van Heflin
Alan Ladd stars in the titular role of George Stevens' 1953 classic "Shane." Ladd's character is a mysterious gunfighter hoping to start a new life in farm country when his future is disrupted by a feud between farmers and ranchers. The film was historically expensive at the time, costing Paramount Pictures $3.1 million or $29.4 million today.
23. Bad Day at Black Rock (1955)
> Directed by: John Sturges
> Starring: Spencer Tracy, Robert Ryan, Anne Francis
"Bad Day at Black Rock" was ahead of its time in both style and subject matter. This post-World War II suspense/thriller finds Spencer Tracy as a physically disabled World War II veteran who encounters bigotry when he tries to visit an Asian-American war hero's family in a small town in the west. Tracy earned an Oscar nomination for best actor and John Sturges earned a best director nod.
22. True Grit (2010)
> Directed by: Ethan Coen, Joel Coen
> Starring: Jeff Bridges, Matt Damon, Hailee Steinfeld
Joel and Ethan Coen's "True Grit" scores the first modern entry on our list. Jeff Bridges stars as Rooster Cogburn, a U.S. marshal in search of the man who killed the father of Mattie Ross (played by Hailee Steinfeld). According to AFI.com, the Coens knew their longtime collaborator Bridges would star as Cogburn but they held a nationwide search before casting Steinfeld as Mattie Ross.
21. Winchester '73 (1950)
> Directed by: Anthony Mann
> Starring: James Stewart, Shelley Winters, Dan Duryea
"Winchester `73" marked the first of several successful collaborations between James Stewart and filmmaker Anthony Mann. Stewart stars as Lin McAdam, a sharpshooter in search of his stolen one-of-a-kind rifle. The picture helped usher in a new era of Western films by underscoring the senseless violence of the Old West.
20. The Revenant (2015)
> Directed by: Alejandro G. Iñárritu
> Starring: Leonardo DiCaprio, Tom Hardy, Will Poulter
Leonardo DiCaprio stars a fur trapper fighting for his life after being left for dead by his partners in Alejandro G. Iñárritu's "The Revenant." Leo's character Hugh Glass was a real life pirate-turned-pioneer who was, in fact, betrayed by his partners and sought revenge on them. There is no historical evidence that Glass gutted his horse and slept in its stomach.
19. Way Out West (1937)
> Directed by: James W. Horne
> Starring: Stan Laurel, Oliver Hardy, Sharon Lynn
Laurel and Hardy's "Way Out West" marks the oldest film on our list, dating back to 1937. In the film the bumbling comic duo attempt to deliver the deed to a western gold mine to a prospector's daughter, only to have it stolen. "Way Out West" had a number of working titles before its release including "They Done It Wrong" and "Tonight's the Night."
18. Hell or High Water (2016)
> Directed by: David Mackenzie
> Starring: Chris Pine, Ben Foster, Jeff Bridges
"Hell or High Water" stars Chris Pine and Ben Foster as brothers who knock off a series of banks in hopes of saving their family farm. The film was added to Hollywood's coveted "Black List" for the best unmade scripts under the title "Commancheria." AFI also named it one of its top ten films for 2016.
17. Johnny Guitar (1954)
> Directed by: Nicholas Ray
> Starring: Joan Crawford, Sterling Hayden, Mercedes McCambridge
Joan Crawford and Sterling Hayden lead Nicholas Ray's 1954 classic "Johnny Guitar." Crawford appears as Vienna, a cool saloon owner falsely accused of murder after she connects with Hayden's Johnny Guitar. This Western is unique because it features a male supporting role in distress while a strong female lead carries most of the action.
16. The Ox-Bow Incident (1943)
> Directed by: William A. Wellman
> Starring: Henry Fonda, Dana Andrews, Mary Beth Hughes
Henry Fonda stars in this 1943 classic from William A. Wellman. Fonda's character, Gil Carter and his partner Art Croft (Harry Morgan), become embroiled in town's blood lust after a farmer turns up dead. Initial production plans were hampered in California by spending caps imposed because of national defense regulations.
15. Butch Cassidy and the Sundance Kid (1969)
> Directed by: George Roy Hill
> Starring: Paul Newman, Robert Redford, Katharine Ross
Paul Newman and Robert Redford star as true-life outlaws Butch Cassidy and the Sundance Kid in director George Roy Hill's 1969 film of the same. In the Western classic, the pair flee to Bolivia after a failed train robbery attempt. Lula Parker Betenson, Cassidy's sister, visited the set during production and claimed that Butch faked his death in Bolivia and returned to live out his life in the United States.
14. McCabe & Mrs. Miller (1971)
> Directed by: Robert Altman
> Starring: Warren Beatty, Julie Christie, Rene Auberjonois
Warren Beatty stars opposite Julie Christie in Robert Altman's 1971 offering "McCabe & Mrs. Miller." The pair team up to open a successful brothel in Washington state until they butt heads with a mining operation. Altman intentionally avoided Western tropes in the picture and even referred to this as an "anti-Western."
13. Rio Bravo (1959)
> Directed by: Howard Hawks
> Starring: John Wayne, Dean Martin, Ricky Nelson
"Rio Bravo" notches another entry for John Wayne in our 30 Best Western Films list. In this one Wayne plays a sheriff charged with detaining a murderer, also the brother of a powerful businessman, for several days until a U.S. marshal arrives with backup. Dean Martin co-stars as Wayne's newly sober ex-deputy.
12. My Darling Clementine (1946)
> Directed by: John Ford
> Starring: Henry Fonda, Linda Darnell, Victor Mature
Henry Fonda stars as Wyatt Earp in the days leading up to the famed showdown at the O.K. Corral in this 1946 film. Director John Ford met Wyatt Earp while working on silent film sets in his youth and claimed that the legend personally recounted the battle of the O.K. Corral for him during coffee breaks.
11. Red River (1948)
> Directed by: Howard Hawks, Arthur Rosson
> Starring: John Wayne, Montgomery Clift, Joanne Dru
"Red River" director Howard Hawks worked briefly with Howard Hughes on "The Outlaw" in 1940. Hughes filed injunctions to stop the premier of "Red River" in 1948. Hughes claimed Hawks copied sections of a gun fight scene between John Wayne's character Thomas Dunson and Montgomery Clift's Matt Garth. Wayne plays Clift's stepfather in the film and the pair square off during a cattle drive.
10. The Man Who Shot Liberty Valance (1962)
> Directed by: John Ford
> Starring: James Stewart, John Wayne, Vera Miles
"The Man Who Shot Liberty Valance" stars James Stewart as Senator Ranse Stoddard, who returns to his small western town and tells the story of his battle against a ruthless gunfighter years earlier. Despite being shot in the 1960s, the film is photographed entirely in black and white. Director John Ford claimed that he filmed the picture in black and white to build tension, but many have speculated that Paramount made the decision to cut production costs.
9. Django Unchained (2012)
> Directed by: Quentin Tarantino
> Starring: Jamie Foxx, Christoph Waltz, Leonardo DiCaprio
Jamie Foxx stars as the title character Django Freeman in Quentin Tarantino's "Django Unchained." In the picture, Foxx is a freed slave in search of his wife with the help of a German bounty hunter (Christoph Waltz). Will Smith had initially been offered the lead role but turned it down because of "creative differences" with Tarantino.
8. The Wild Bunch (1969)
> Directed by: Sam Peckinpah
> Starring: William Holden, Ernest Borgnine, Robert Ryan
"The Wild Bunch" established Sam Peckinpah as one of the great filmmakers of his era, and also the most violent. The picture follows a crew of outlaws in search of their last great score when things go awry and turn bloody. J. Hoberman of the Village Voice said "The Wild Bunch" was a Western "that galvanizes the cliches of its dying genre with a shocking jolt of delirious carnage."
7. High Noon (1952)
> Directed by: Fred Zinnemann
> Starring: Gary Cooper, Grace Kelly, Thomas Mitchell
Gary Cooper and Grace Kelly lead the cast of Fred Zinnemann's 1952 classic "High Noon." Cooper plays Marshal Will Kane, the one man who will stand up to a vicious outlaw despite his new bride's pleas to lay low. Some sources claim the film's plot and characters reflected screenwriter Carl Foreman's experiences with the House Committee on Un-American Activities and his eventual blacklisting in the Hollywood community. Before he died in 1997, Zinnemann disputed this assertion.
6. The Searchers (1956)
> Directed by: John Ford
> Starring: John Wayne, Jeffrey Hunter, Vera Miles
"The Searchers" was shot in Technicolor and stars John Wayne in one his most iconic roles as Ethan Edwards. He's a Civil War veteran in search of his niece (Natalie Wood), who has been kidnapped by Native Americans. Wayne loved the role so much he later named his son Ethan.
5. Unforgiven (1992)
> Directed by: Clint Eastwood
> Starring: Clint Eastwood, Gene Hackman, Morgan Freeman
Clint Eastwood's "Unforgiven" scored four Oscar wins in 1992 including best director and best picture. He both directed and starred in the film appearing as William Munny, a pig farmer-turned-bounty hunter. The film opened as a number one box office smash and was one of Eastwood's biggest financial successes.
4. Stagecoach (1939)
> Directed by: John Ford
> Starring: John Wayne, Claire Trevor, Andy Devine
John Wayne and Claire Trevor top the bill in director John Ford's classic 1939 picture "Stagecoach." The stars appear as wagon train passengers coping with interpersonal conflict as they try to cross through Native American country unscathed. "Stagecoach" was a big budget film at the time and was Ford's first picture using Monument Valley as a location.
3. The Treasure of the Sierra Madre (1948)
> Directed by: John Huston
> Starring: Humphrey Bogart, Walter Huston, Tim Holt
"The Treasure of the Sierra Madre" follows Fred C. Dobbs (Humphrey Bogart) and Curtin (Tim Holt) — two washed-up prospectors in Mexico fighting to locate and keep one last big score of gold. Walter Huston and John Huston won the best actor and best director Oscars for this film, the first-ever father-son team ever win.
2. The Good, the Bad and the Ugly (1966)
> Directed by: Sergio Leone
> Starring: Clint Eastwood, Eli Wallach, Lee Van Cleef
Director Sergio Leone helped launch Clint Eastwood to international stardom with his 1966 classic "The Good, the Bad and the Ugly." The film, with an unforgettable score from Ennio Morricone, centers on three bounty hunters in a race to uncover hidden treasure during the Civil War. Though now considered a classic, the film earned mixed reviews with critics poking fun at the over-the-top death scenes.
1. Once Upon a Time in the West (1968)
> Directed by: Sergio Leone
> Starring: Henry Fonda, Charles Bronson, Claudia Cardinale
Considered Sergio Leone's greatest achievement, "Once Upon a Time in the West," stars Henry Fonda and Charles Bronson as dueling gunslingers who briefly team up to help a woman in distress. The film is noteworthy for Fonda playing against type as a stone-cold killer as well as its 10-minute, wordless opening scene of three men waiting for a train.

Methodology
To determine the best Western films of all time, 24/7 Wall St. created an index based on each film's Rotten Tomatoes average critic rating, Rotten Tomatoes average audience rating from the film review site Rotten Tomatoes, and Internet Movie Database average user rating. To be considered, each film tagged as a Western on IMDb needed to have at least 10,000 combined IMDb and Rotten Tomatoes user ratings and 10 approved Tomatometer critic reviews. Films that were tagged as Westerns but considered as falling too far outside of the genre such as "The General" were removed at the discretion of 24/7 Wall St.
We averaged the user ratings from Rotten Tomatoes and IMDb and weighted each film by the number of votes they received. The combined user rating was then averaged with the Rotten Tomatoes critic rating.
Sponsored: Attention Savvy Investors: Speak to 3 Financial Experts – FREE
Ever wanted an extra set of eyes on an investment you're considering? Now you can speak with up to 3 financial experts in your area for FREE. By simply clicking here you can begin to match with financial professionals who can help guide you through the financial decisions you're making. And the best part? The first conversation with them is free.
Click here to match with up to 3 financial pros who would be excited to help you make financial decisions.