6 Reasons to Avoid Walmart Stock Today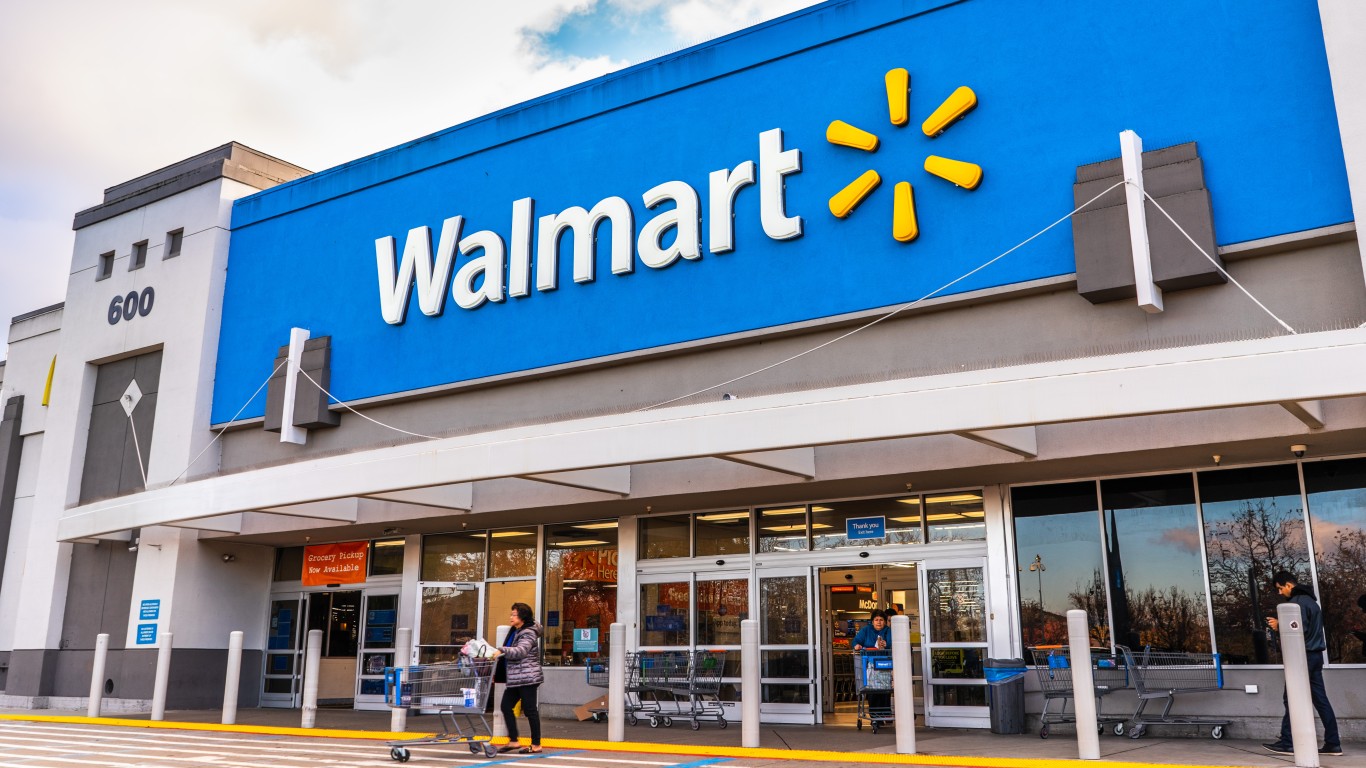 Walmart Stores Inc. (NYSE: WMT) is the world's largest retailer, operating retail stores under the formats:
Walmart Stores
Supercenters
Neighborhood Markets
Sam's Club locations in the United States and a growing e-commerce business (including Jet.com)
Internationally, Walmart also operates locations in several countries, including Argentina, Brazil, Canada, China, Japan, Mexico, and the United Kingdom
Walmart had a total of 10,623 retail stores throughout the world as of January 31, 2023. Additionally, the company operated 380 distribution facilities. In total, Walmart operated 11,003 stores. The decrease in stores compared to 2021 is because, in the first quarter of fiscal 2022, the company terminated its operations in the United Kingdom and Japan.
Walmart, formerly known as Wal-Mart Stores, Inc., is one of the most well-known and valuable brands in the world. Walmart began in the United States as a single discount store whose model was to sell more for less. Nowadays, Walmart has discount stores, supercenters, and neighborhood markets worldwide.
Mr. Sam Walton would be proud of the chain that he started as what was known as a Five and Dime back in the day, and on July 2, 1962, Mr. Sam opened the first Walmart store in Rogers, Arkansas. While a ubiquitous retail behemoth, we found six good reasons to avoid Walmart.
Walmart stock is expensive
Trading at a whopping 32 times trailing earnings and right at the top of the 52-week range, Walmart shares are priced to perfection. While the holidays always put a wind in retail sales, this year could be a turning point.
Walmart has taken a beating over the lack of checkout clerks.
If there is one thing that makes people steamed at the company, it's the massive lack of people working the checkout lanes. While do-it-yourself is okay with just a few items, a grocery cart full of a week's worth of groceries is a hassle. Plus, many people, after having to self-checkout, get steamed when having to show their receipts.
Walmart has put many mom-and-pop stores out of business
One of the biggest complaints the mega-retailer has had over the years, especially when they open up in a smaller community, is how many small retailers go out of business. There is often fuel put on the fire if the town and surrounding area can't support the store and Walmart closes it. With the smaller retailers gone, there is no place for consumers to shop.
The economy and inflation are taking a toll on consumers
Data shows that the economy and significantly rising prices from the ongoing inflation are starting to take a toll on many. While Walmart is a destination for bargain shoppers, many lower-income consumers may begin going to Dollar Stores for even lower pricing.
Discount pricing wars could be on the horizon.
With every retail dollar being targeted for the best values now, it's entirely possible Walmart could face price wars with not only big box competitors like Target Corporation (NYSE: TGT) but also substantial grocery chains like The Kroger Co. (NYSE: KR), which have added many new products and services that compete directly with Walmart. Those price battles could compress the already small gross margins.
Walmart's e-commerce revenue is solid for now, but watch if it dips
While sales from the e-commerce silo have been solid, they could face increased competition from Costco Wholesale Corporation (NASDAQ: COST) and Amazon.com (NASDAQ: AMZN) via their ownership of Whole Foods Market. Plus, if the company has to rely more on lower-margin general merchandise sales as opposed to grocery sales, that could cut profits.
Walmart stock has been a goldmine for many for the last 50 years, but it is expensive now, and it makes sense for investors looking to buy the shares to see if the stock doesn't back up some as institutional and retail investors take profit at the end of the year. A 10-20% decline could be a perfect entry point for this retail legend.