5 Recognizable 'Strong Buy' Stocks Trading Under $10 With Huge Upside Potential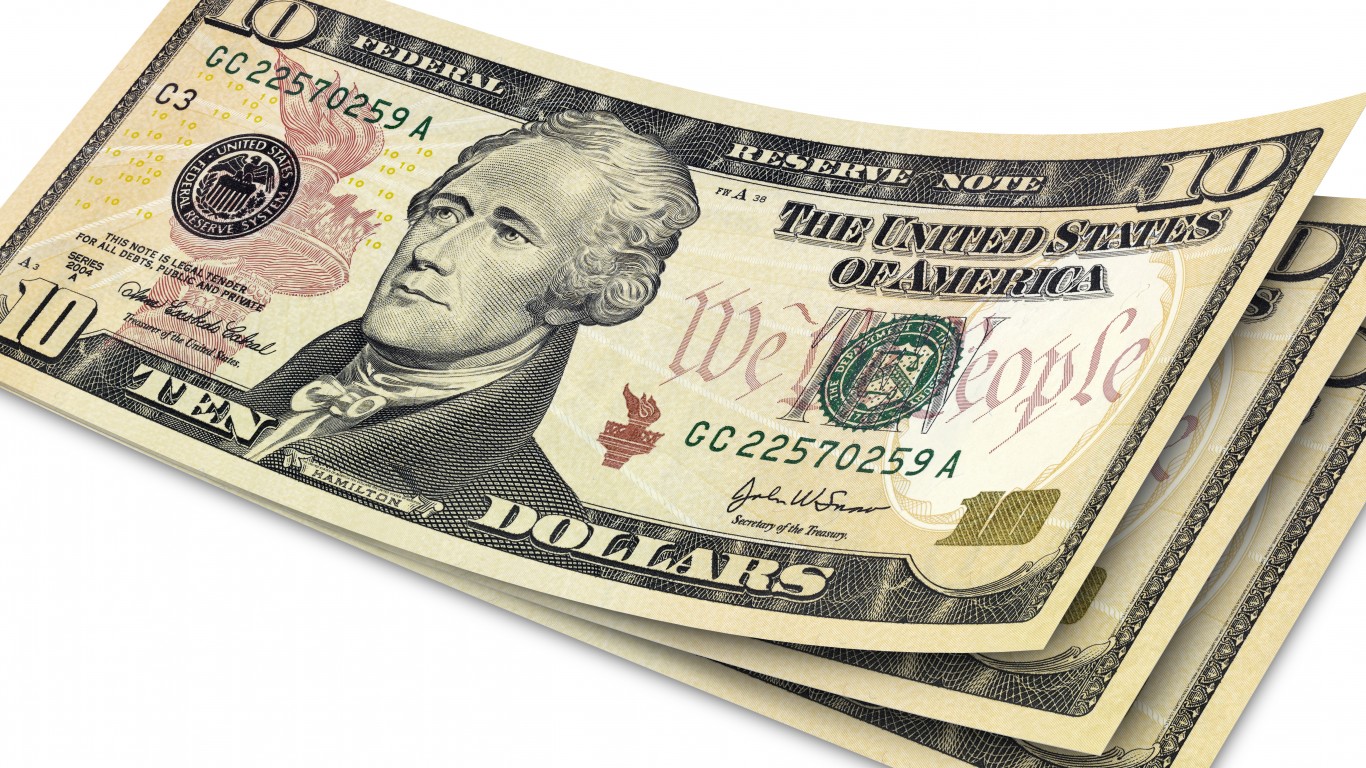 While most of Wall Street focuses on large-cap and mega-cap stocks, as they provide a degree of safety and liquidity, many investors are limited in the number of shares they can buy. Many of the biggest public companies, especially the technology giants, trade in the hundreds, all the way up to over $1,000 per share or more. At those steep prices, it is difficult to get any decent share count leverage.

Many investors, especially more aggressive traders, look at lower-priced stocks as a way not only to make some good money but to get a higher share count. That can really help the decision-making process, especially when you are on to a winner, as you can always sell half and keep half.
Skeptics of low-priced shares should remember that at one point Amazon, Apple and Netflix traded in the single digits. One stock we featured over the years, Zynga, was purchased by Take-Two Interactive. Cogent Biosciences, which we featured last March, has tripled since then.

We screened our 24/7 Wall St. research database looking for smaller cap companies that could offer patient investors some huge returns for 2023 and beyond. While these five stocks are rated Buy and have a ton of Wall Street coverage, it is important to remember that no single analyst report should be used as a sole basis for any buying or selling decision.
Cushman & Wakefield
The real estate service giant's stock has been mauled and offers serious upside potential. Cushman & Wakefield PLC (NYSE: CWK) provides commercial real estate services under the Cushman & Wakefield brand in the United States, Australia, the United Kingdom and elsewhere.
The company offers integrated facilities management, project and development, portfolio administration, transaction management and strategic consulting services. Its property management services include client accounting, engineering and operations, lease compliance administration, project and development and sustainability services. Its self-performed facilities services include janitorial, maintenance, critical environment management, landscaping and office services.

The company also provides owner representation and tenant representation leasing services; capital market services, including investment sales and equity and debt and structured financing for real estate purchase and sales transactions; and appraisal management, investment management, valuation advisory, portfolio advisory, diligence advisory, dispute analysis and litigation support, financial reporting, and property and portfolio valuation services on real estate debt and equity decisions.
Raymond James has a Strong Buy rating, and its $23 target price is well above the $16.14 consensus target. The shares closed on Friday at $9.51.

JetBlue Airways
This stock has been obliterated over the past two months even though the carrier holds a commanding position on the east coast of the United States. JetBlue Airways Corp. (NASDAQ: JBLU) provides air transportation services. As of December 31, 2021, the company operated a fleet of 63 Airbus A321 aircraft, eight Airbus A220 aircraft, 21 Airbus A321neo aircraft, 130 Airbus A320 aircraft and 60 Embraer E190 aircraft.

The carrier serves 107 destinations in 31 states, the District of Columbia, Puerto Rico, the U.S. Virgin Islands, and 24 countries in the Caribbean and Latin America. The company also has a strategic partnership with American Airlines to create connectivity for travelers in the Northeast.
The Deutsche Bank price target on JetBlue Airways stock is $8.50, and the consensus target is $8.45. On Friday, shares closed at $6.79.
LendingClub
With the potential for lending to get crimped, this may be a solid idea at current levels. LendingClub Corp. (NYSE: LC) operates as a bank holding company for LendingClub Bank, which provides a range of financial products and services in the United States.
The company offers deposit products, including savings accounts, checking accounts and certificates of deposit. The company also provides loan products. Its consumer loans include unsecured personal loans, secured auto refinance loans and patient and education finance loans. Its commercial loans include small business loans. In addition, it operates an online lending marketplace platform.
It should be noted that the top 13 shareholders own 51% of the stock, with institutions being the biggest buyers, owning 78% of the shares.
J.P. Morgan started coverage last week, but its $11 target price for LendingClub stock is shy of the $11.86 consensus target. Shares closed at $7.19 on Friday.

LG Display
If you are in the market for an ultra-HD TV, this could be the company you buy it from. LG Display Co. Ltd. (NYSE: LPL) engages in the design, manufacture and sale of thin-film transistor liquid crystal display and organic light-emitting diode technology-based display panels. Its display panels are primarily used in televisions, notebook computers, desktop monitors, tablet computers, mobile devices and automotive displays.
LG Display also provides display panels for industrial and other applications, including entertainment systems, portable navigation devices and medical diagnostic equipment. It operates in South Korea, China, the United States, Poland and elsewhere. The company was formerly known as LG Philips LCD.
J.P. Morgan upgraded the stock this past week. Its $7.54 target price is well above the $4.10 consensus figure. LG Display stock closed at $6.39 on Friday.

WW International
If you have ever tried to lose weight, then this company may have helped at some point. WW International Inc. (NASDAQ: WW) provides weight management products and services worldwide. It offers a range of nutritional, activity, behavioral and lifestyle tools and approaches products and services.
The company provides various digital subscription products to wellness and weight management businesses, which provide interactive and personalized resources that allow users to follow its weight management program through its app and web-based platform, including personal coaching and digital products. And it allows members to inspire and support each other by sharing their experiences with other people on weight loss and weight management journeys.

In addition, it offers various consumer products, including bars, snacks, cookbooks, kitchen tools and other products. Further, the company licenses its trademarks and other intellectual property in food, beverages and other relevant consumer products and services, as well as provides publishing services. It offers products through e-commerce platforms and through partners. The company was formerly known as Weight Watchers International and changed its name in September 2019.
WW International stock has an $11 price target at D.A. Davidson. The consensus target is just $7.20, and the stock closed on Friday at $7.56.

These are five stocks for aggressive investors looking to get share count leverage on companies that have sizable upside potential. While not suited for all investors, they are not penny stocks with absolutely no track record or liquidity, and major Wall Street firms have research coverage.
Sponsored: Want to Retire Early? Here's a Great First Step
Want retirement to come a few years earlier than you'd planned? Or are you ready to retire now, but want an extra set of eyes on your finances?
Now you can speak with up to 3 financial experts in your area for FREE. By simply clicking here you can begin to match with financial professionals who can help you build your plan to retire early. And the best part? The first conversation with them is free.
Click here to match with up to 3 financial pros who would be excited to help you make financial decisions.