3 Wireless Stocks Likely to Excel on Solid Sector Dynamics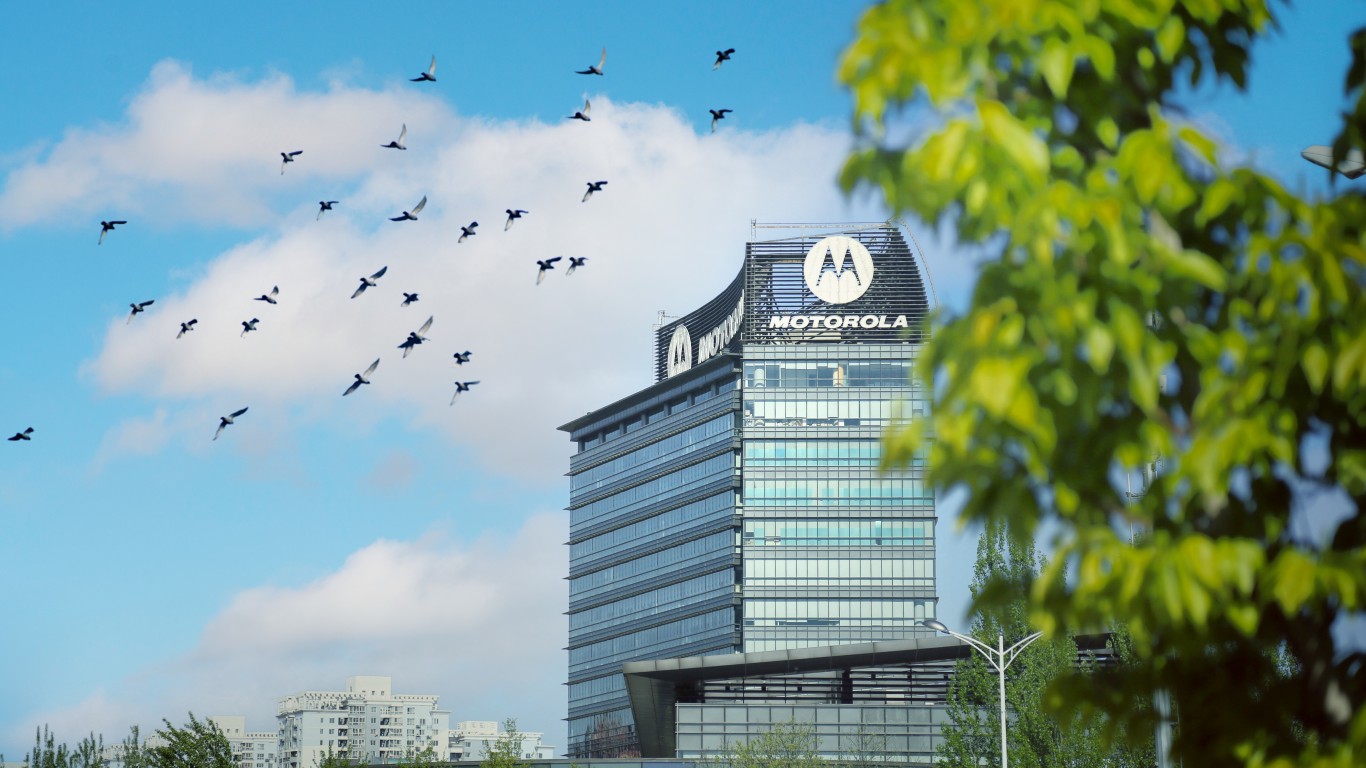 The Zacks Wireless Equipment industry is expected to capitalize on the healthy demand trends backed by an accelerated pace of 5G deployment and fiber network infrastructure upgrade. However, large-scale investments for seamless 5G transition, margin erosion due to price wars, higher customer inventory levels and inflated raw material costs amid a challenging macroeconomic environment and uncertain business conditions might erode profitability.
Nevertheless, Motorola Solutions, Inc. MSI, Ubiquiti Inc. UI and Aviat Networks, Inc. AVNW are likely to profit from the strong industry dynamics driven by a vast proliferation of IoT, rapid fiber densification and a gradual shift to cloud services.
Industry Description
The Zacks Wireless Equipment industry primarily comprises companies providing various networking solutions, wireless telecom products and related services for wireless voice and data communications through scalable modular platforms. Their product portfolio encompasses integrated circuit devices (chips) and system software for wireless voice and data communications, analog and digital two-way radio, satellite telecommunications, wireless networking and signal processing, and end-to-end enterprise mobility solutions. The firms also provide a broad range of routing, switching and security products, video surveillance and machine-to-machine communication components that secure VPN appliances, enable intrusion detection and thwart data theft. Some firms even provide electronic warfare, avionics, robotics, advanced communications and maritime systems to the defense industry.
What's Shaping the Future of the Wireless Equipment Industry?
Focus on Demand-Driven Operations: With the exponential growth of mobile broadband traffic and home Internet solutions, demand for advanced networking architecture has increased manifold. This has forced service providers to spend more on routers and switches to upgrade their networks and support the surge in home data traffic. Moreover, a faster pace of 5G deployment is expected to augment the telecommunications industry's scalability, security and universal mobility and propel the wide proliferation of IoT. Expansion of fiber optic networks by carriers to support their 4G LTE and 5G wireless standards, as well as wireline connections, are likely to act as tailwinds. The fiber-optic cable network is vital for backhaul and the last mile local loop, which are required by wireless service providers for 5G deployment. Fiber networks are also essential for the growing deployment of small cells that bring the network closer to the user and supplement macro networks to provide extensive coverage. The industry participants are facilitating its customers to move away from an economy-of-scale network operating model to demand-driven operations and seamlessly migrate to 5G by offering easy programmability and flexible automation through steady infrastructure investments.
Margin Woes Persist: Although higher infrastructure investments will eventually help minimize service delivery costs to support broadband competition and wireless densification, short-term profitability has largely been compromised. Margins are likely to be affected by the high cost of first-generation 5G products, profitability challenges in China, the prolonged Russia-Ukraine war and pricing pressure in early 5G deals. Uncertainty regarding chip shortage and supply-chain disruptions leading to a dearth of essential fiber materials, shipping delays and shortages of other raw materials are expected to affect the expansion and rollout of new broadband networks. Extended lead times for basic components are also likely to hurt the delivery schedule and escalate production costs. Further, the high technological obsolescence of most products has escalated operating costs with steady investments in R&D. High customer inventory levels, owing to intense market volatility, pose another headwind for the companies.
Cloud Networking Thrust: The majority of the industry participants offer mission-critical communication infrastructure, devices, accessories, software and services that enable its customers to run businesses with increased efficiency and safety for their mobile workforce. These systems drive demand for additional device sales, software upgrades, infrastructure overhaul and expansion, as well as additional services to maintain, monitor and manage these complex networks and solutions. The comprehensive suite of services ensures continuity and reduces risks for constant critical communication operations. The wide proliferation of cloud networking solutions is further resulting in increased storage and computing on a virtual plane. As both consumers and enterprises use the network, there is tremendous demand for quality networking equipment.
Zacks Industry Rank Indicates Bullish Prospects
The Zacks Wireless Equipment industry is housed within the broader Zacks Computer and Technology sector. It carries a Zacks Industry Rank #76, which places it in the top 31% of more than 250 Zacks industries.
The group's Zacks Industry Rank, which is basically the average of the Zacks Rank of all the member stocks, indicates bright prospects. Our research shows that the top 50% of the Zacks-ranked industries outperform the bottom 50% by a factor of more than 2 to 1.
Before we present a few wireless equipment stocks that are well-positioned to outperform the market based on a strong earnings outlook, let's take a look at the industry's recent stock-market performance and valuation picture.
Industry Lags S&P 500, Sector
The Zacks Wireless Equipment industry has lagged the S&P 500 composite and the broader Zacks Computer and Technology sector over the past year.
The industry has lost 10.3% over this period against the S&P 500 and sector's growth of 17.7% and 30.7%, respectively.
Industry's Current Valuation
On the basis of trailing 12-month Enterprise Value-to EBITDA (EV/EBITDA), which is the most appropriate multiple for valuing telecom stocks, the industry is currently trading at 25.07X compared with the S&P 500's 13.27X. It is also trading above the sector's trailing-12-month EV/EBITDA of 12.36X.
Over the past five years, the industry has traded as high as 37.25X and as low as 11.87X and at the median of 20.34X.
3 Wireless Equipment Stocks to Keep a Close Eye on
Motorola: Based in Chicago, IL, Motorola is a leading communications equipment manufacturer with strong market positions in bar code scanning, wireless infrastructure gear and government communications. It develops and services both analog and digital two-way radio, voice and data communications products and systems for private networks, wireless broadband systems and end-to-end enterprise mobility solutions to a wide range of enterprise markets. The stock has a long-term earnings growth expectation of 9% and has climbed 23.2% over the past year. Motorola expects to record strong demand across video security and services, land mobile radio products and related software while benefiting from a solid foundation. These systems drive the demand for additional device sales and promote software upgrades and infrastructure expansion. The comprehensive suite of services ensures continuity and reduces risks related to critical communications operations. The Zacks Consensus Estimate for the current fiscal earnings has been revised 3.2% upward over the past year. Motorola carries a Zacks Rank #2 (Buy).
Ubiquiti: Headquartered in New York, Ubiquiti offers a comprehensive portfolio of networking products and solutions for service providers and enterprises at disruptive prices. It offers high-performance radios, antennas, software, communications protocols and management tools designed to deliver carrier and enterprise-class wireless broadband access and other services primarily in the unlicensed radio frequency spectrum. Ubiquiti boasts a proprietary network communication platform that is well-equipped to meet end-market customer needs. In addition, this Zacks Rank #2 stock is committed to reducing its operational costs by using a self-sustaining mechanism for rapid product support and dissemination of information by leveraging the strength of the Ubiquiti Community. The Zacks Consensus Estimate for the current fiscal earnings has been revised 17.9% upward over the past year.Aviat: Headquartered in Austin, TX, Aviat has been a global provider of microwave networking solutions. It offers public and private operators communications networks to cater to the accretive demand for IP-centric, multi-gigabit data services. Backed by avant-garde technology, Aviat simplifies the entire lifecycle of designing, deploying and maintaining wireless transport networks with greater performance and reliability. The company is well-positioned to benefit from robust market dynamics, cost-reduction efforts, favorable customer mix and higher investments in innovative software solutions. A solid liquidity position and healthy balance sheet are likely to aid the company in executing key long-term strategic objectives. It has a VGM Score of A. This Zacks Rank #3 (Hold) stock has gained 3.4% in the past year. The Zacks Consensus Estimate for the current fiscal earnings has been revised 8.6% upward since Nov 2022.
Motorola Solutions, Inc. (MSI): Free Stock Analysis Report
Aviat Networks, Inc. (AVNW): Free Stock Analysis Report
Ubiquiti Inc. (UI): Free Stock Analysis Report
To read this article on Zacks.com click here.
This article originally appeared on Zacks
Sponsored: Attention Savvy Investors: Speak to 3 Financial Experts – FREE
Ever wanted an extra set of eyes on an investment you're considering? Now you can speak with up to 3 financial experts in your area for FREE. By simply clicking here you can begin to match with financial professionals who can help guide you through the financial decisions you're making. And the best part? The first conversation with them is free.
Click here to match with up to 3 financial pros who would be excited to help you make financial decisions.