7 Dividend Stocks To Buy For the Coming Bull Market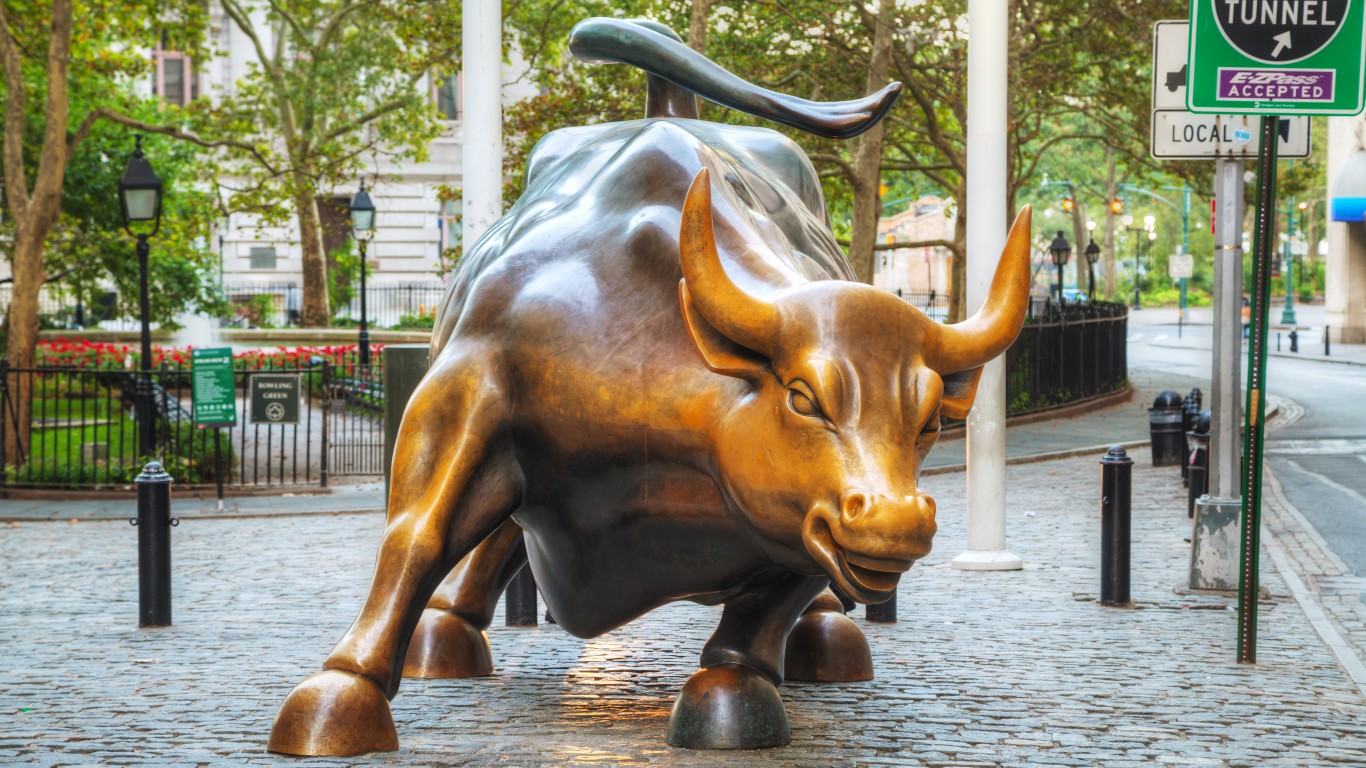 2023 has been a much better year than 2022, as all major indices are higher. The tech-heavy Nasdaq is up a whopping 32.5%, while the venerable S&P 500 is up 15.36% and the Dow Jones Industrial just 3.5%, but it hasn't felt like a bull market, at least not yet.
That could all change after the October consumer price index came in below estimates, and the year-over-year inflation rate has tumbled from 9.1% in June of 2022 to 3.2% in October as gasoline and used car prices dropped. The core inflation figure, which strips out the volatile food and energy components, climbed 4% over last year and 0.2% month-over-month. All of the inflation figures came in below Wall Street estimates.
The hope across Wall Street is that the Federal Reserve is done raising interest rates, and if this trend stays in place, they may conclude with one final increase in December or announce they are done. If that happens, expect the stock market to take off into a new bull market run.
We screened our 24/7 Wall St. growth stock database, looking for the top stocks that will run in a bull market phase that also pays dividends. Seven top companies pass muster, all rated 'Strong Buy' across Wall Street.
Broadcom
This stock has rallied back nicely, and Wall Street continues to like the company for dividend growth and the current 1.95% yield. Broadcom Limited (NASDAQ: AVGO) has an extensive semiconductor product portfolio that addresses applications within the wired infrastructure, wireless communications, enterprise storage, and industrial end markets.
Applications for Broadcom's products in these end markets include:
Data center networking
Home connectivity
Broadband access
Telecommunications equipment
Smartphones
Base stations
Servers
Storage
Factory automation
Power generation
Alternative energy systems, and displays
Top analysts and many on Wall Street are very optimistic about the company's massive $10 billion share repurchase authorization through December of 2023, representing about 4.2% of the company's market cap.
Cisco
This is a mega-cap tech leader for more conservative accounts that posted outstanding results earlier this year and paid a solid 3% dividend. Cisco Systems, Inc. (NASDAQ: CSCO) designs, manufactures, and sells Internet Protocol (IP) based networking products and services related to the worldwide communications and information technology industry.
Cisco provides switching products, including fixed-configuration and modular switches and storage products that provide connectivity to end users:
Workstations,
IP phones,
Wireless access points
Servers
Next-generation network routing products that interconnect public and private wireline
Mobile networks for mobile, data, voice, and video applications.
Cisco cybersecurity products give clients the scope, scale, and capabilities to keep up with the complexity and volume of threats. Putting security above everything helps corporations innovate while keeping their assets safe.
Citigroup
This top bank has rallied nicely off the lows, and Warren Buffett bought a massive $2.5 billion worth of stock in the summer of 2022. Citigroup Inc. (NYSE: C) is a leading global diversified financial service company that provides consumers, corporations, and governments with a broad range of financial products and services.
Citigroup offers:
Consumer banking and credit
Corporate and investment banking
Securities brokerage
Transaction services
Wealth management services
Trading at a cheap 7.3 times estimated 2023 earnings, this company looks very reasonable in a volatile stock market and a dramatically lagged sector. In addition, investors can pocket a rich 4.87% dividend.
Dell Technologies
This high-quality company is paying a solid 2% dividend; it has rallied but remains way below the levels posted in early 2022. Dell Technologies, Inc. (NYSE: DELL) designs, develops, manufactures, markets, sells, and supports information technology (IT) solutions, products, and services worldwide.
The company operates through three segments:
Infrastructure Solutions Group (ISG)
Client Solutions Group (CSG)
VMware
The ISG segment provides traditional and next-generation storage solutions and rack, blade, tower, and hyperscale servers. This segment also offers networking products and services that help its business customers to transform and modernize their infrastructure, mobilize and enrich end-user experiences, and accelerate business applications and processes; attached software and peripherals; and support and deployment, configuration, and extended warranty services.
The CSG segment provides desktops, workstations, and notebooks; displays and projectors; attached and third-party software and peripherals; and support, deployment, configuration, and extended warranty services.
The VMware segment supports customers in hybrid and multi-cloud, modern applications, networking, security, and digital workspaces, helping customers manage IT resources across private clouds and complex multi-cloud, multi-device environments.
Dell Technologies Inc. also provides information security, cloud software, and infrastructure-as-a-service solutions that enable customers to migrate, run, and manage mission-critical applications in cloud-based IT environments.
Exxon Mobil
Despite the rally in oil this year, this mega-cap energy leader trades reasonably and pays a 3.62% dividend. Exxon Mobil Corporation (NYSE: XOM) is the world's largest international integrated oil and gas company that explores for and produces crude oil and natural gas in the United States, Canada/South America, Europe, Africa, Asia, and Australia/Oceania.
Exxon Mobil also manufactures and markets commodity petrochemicals, including olefins, aromatics, polyethylene and polypropylene plastics, and specialty products, and transports and sells crude oil, natural gas, and petroleum products.
Top Wall Street analysts expect the company to remain a key beneficiary in this higher oil price environment, and most remain very positive around the company's sharp positive inflection in capital allocation strategy, Upstream portfolio, and leverage to a further demand recovery, with ExxonMobil offering greater Downstream/Chemicals exposure relative to peers.
Merck
This company remains a leading healthcare stock for conservative investors who are paid a dependable 2.80% dividend. Merck & Co. Inc. (NYSE: MRK) is a global healthcare company.
Merck operates through two segments:
Pharmaceutical
Animal Health
The Pharmaceutical segment offers human health pharmaceutical products in oncology, hospital acute care, immunology, neuroscience, virology, cardiovascular, and diabetes, as well as vaccine products, such as preventive pediatric, adolescent, and adult vaccines.
The Animal Health segment discovers, develops, manufactures, and markets veterinary pharmaceuticals, vaccines, and health management solutions and services, as well as digitally connected identification, traceability, and monitoring products.
Merck serves drug wholesalers, retailers, hospitals, and government agencies; managed health care providers, such as health maintenance organizations, pharmacy benefit managers, and other institutions; and physicians, physician distributors, veterinarians, and animal producers.
The company collaborates with
AstraZeneca PLC
Bayer AG
Eisai Co., Ltd.
Ridgeback Biotherapeutics
Gilead Sciences, Inc. to jointly develop and commercialize long-acting treatments in HIV
Simon Property Group
This leading company has been pounded and offered the best entry point since last year, offering patient investors a massive 6.58% dividend. Simon Property Group Inc. (NYSE: SPG) invests in the global real estate markets.
The company invests, owns, manages, and develops properties. The company primarily invests in regional malls, premium outlets, mills, and community/lifestyle centers to create its portfolio.
Through its subsidiary partnership, it owns or has an interest in about 230 properties in the US and Asia. The company also has a 28.9% interest in Klepierre, a European REIT with over 260 shopping centers in 13 countries.
Sponsored: Want to Retire Early? Here's a Great First Step
Want retirement to come a few years earlier than you'd planned? Or are you ready to retire now, but want an extra set of eyes on your finances?
Now you can speak with up to 3 financial experts in your area for FREE. By simply clicking here you can begin to match with financial professionals who can help you build your plan to retire early. And the best part? The first conversation with them is free.
Click here to match with up to 3 financial pros who would be excited to help you make financial decisions.