America's 25 Dying Industries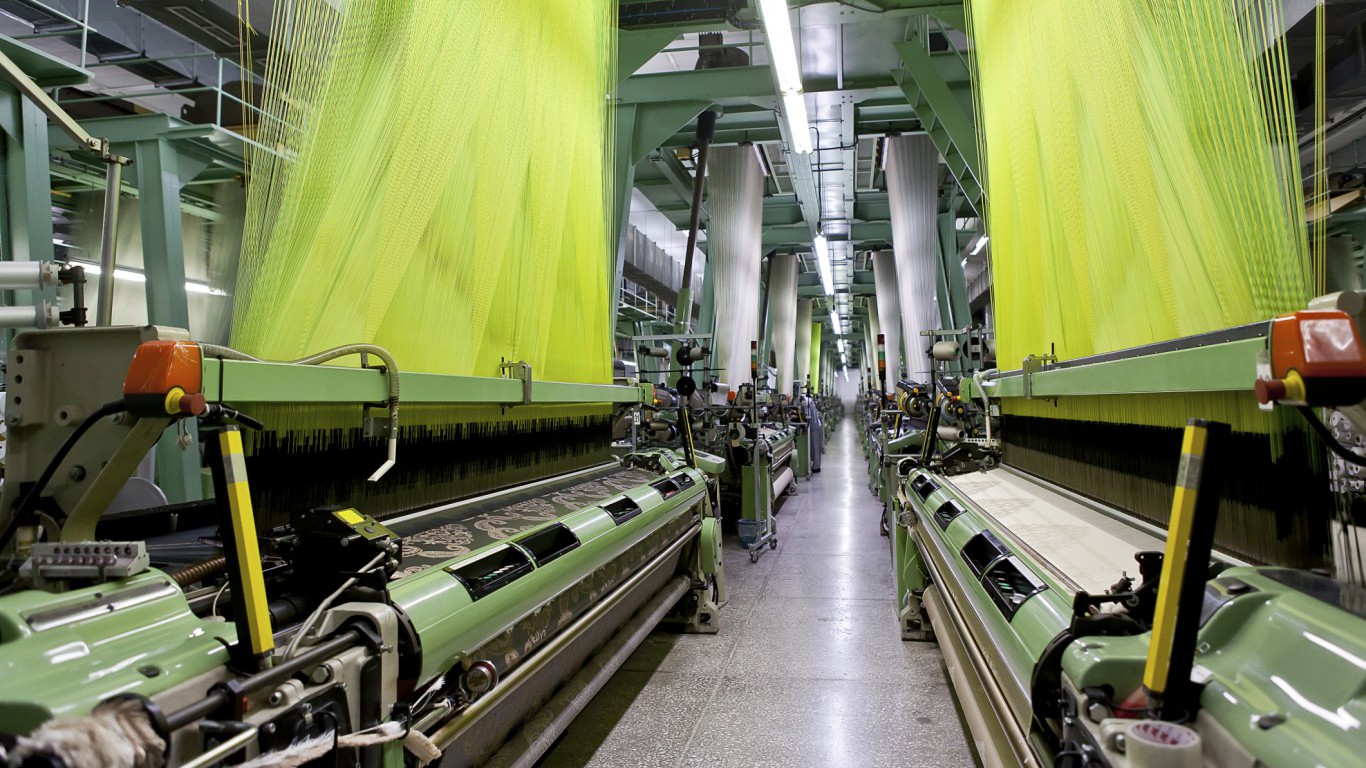 25. Knit fabric mills
> Employment change from 2006-2015: 43.0%
> Employment total: 6,642
> Wage growth from 2006-2015: 18.3%
> Avg. annual wage: $39,405
Knit fabric mills produce garments and other fabrics, manufacture lace, and often have dye operations. The U.S. textile industry has been declining for years. Since 1990, the employment decline in the garment manufacturing industry has outpaced that of any other manufacturing industry. Outsourcing these jobs to countries with less expensive labor, and increasing use of automation technology largely explain the employment drops.
24. Masonry contractors
> Employment change from 2006-2015: -43.5%
> Employment total: 141,371
> Wage growth from 2006-2015: 25.2%
> Avg. annual wage: $43,430
Stone setting and bricklaying jobs are far less common now than they were 10 years ago. The number of masonry contractors working in the U.S. has dropped from a quarter million in 2006 to fewer than 142,000 last year. Masons often work on home construction projects, and the decline in new home construction following the housing crisis may partially account for the decline in masonry occupations. Close to 2 million residential construction projects were started in 2006. In 2009, during the recession, only 554,000 new homes were built. While new home construction has yet to return to pre-recession levels, housing-related professions like masons are projected to grow as the U.S. housing sector continues to recover.
23. Mortgage and nonmortgage loan brokers
> Employment change from 2006-2015: -44.8%
> Employment total: 80,210
> Wage growth from 2006-2015: 54.0%
> Avg. annual wage: $95,688
Jobs in loan and mortgage agencies and brokerages are on the decline in the United States. In the last 10 years, the number of industry workers has fallen by nearly 45%, one of the largest employment declines of any U.S. industry. Many mortgage establishments closed following the subprime mortgage crisis. Further, stricter regulations may have resulted in fewer mortgage approvals, which could be tied to the decline in mortgage broker employment. Under the new rules brokers also can no longer earn as much money. For this reason, some industry observers have suggested that interest in the mortgage loan broker profession has declined substantially.
22. Other depository credit intermediation
> Employment change from 2006-2015: -45.4%
> Employment total: 11,556
> Wage growth from 2006-2015: 31.0%
> Avg. annual wage: $74,359
There have been significant employment changes in the banking industry in the past decade as the industry itself has changed. Online banking and mobile apps have meaningfully reduced the need for tellers and many other banking operations that once required personal interaction. Workers in the other depository credit intermediation industry are employed at banking establishments other than mainstream commercial banks and credit unions. Total employment fell by nearly half over the last 10 years at such establishments, following ongoing industry consolidation. This decline is likely greater than at larger commercial banks because the number of small and industrial banks declined by about 28%, while the number of commercial banks fell by just 15%.
21. Private households
> Employment change from 2006-2015: -46.4%
> Employment total: 282,538
> Wage growth from 2006-2015: +46.3%
> Avg. annual wage: $23,870
The private household industry includes caretakers, maintenance workers, and gardeners, as well as butlers, maids, nannies, and cooks. The number of these workers has been effectively cut in half over the past decade. The decline may be due to a shift away from what some may view as an antiquated tradition of having live-in maids or servants.