18 of the 'Ugliest Dogs' of All Time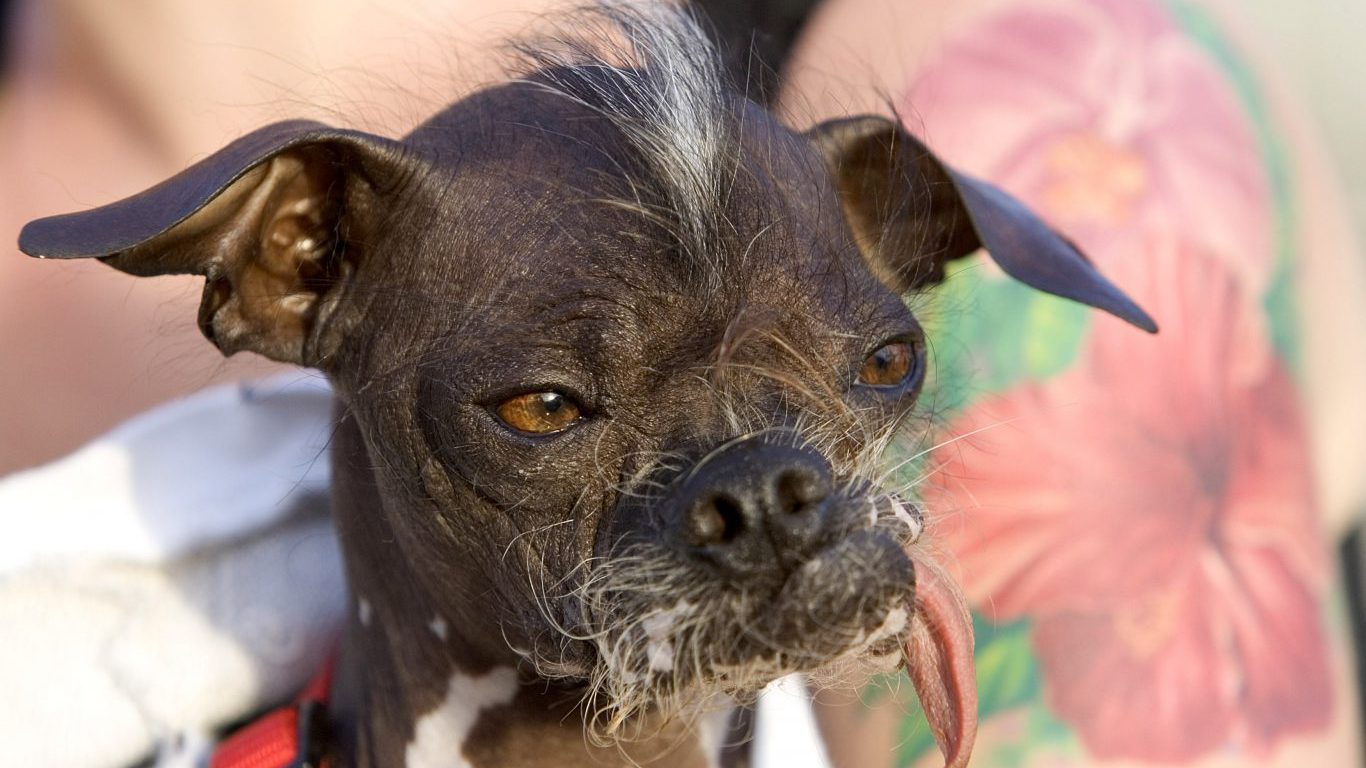 People love dogs for a variety of reasons: They're loyal, playful, and usually very cute. But not always. Sometimes, man's best friend isn't the best-looking animal. There are many breeds of dogs that lack the fluffy fur and adorable faces that many of the more popular dog breeds have.
While these odd-looking dogs may have a hard time racking up likes and shares on social media, they are still worthy of recognition. Each year, the Sonoma-Marin Fair in Petaluma, California, holds the World's Ugliest Dog Contest – a celebration of the less conventionally cute companions. Dog owners from across the U.S. and even the world bring their unattractive pets to compete. (These are the newest dog breeds you have probably never heard of before.)
While there is a winner every year, some of these dogs really stand out as uncommonly ugly. 24/7 Tempo reviewed photos of winners and competitors in the World's Ugliest Dog Contest to determine the ugliest dogs in the world. While the Sonoma-Marin Fair decides on a winner for the ugliest dog each year, we have selected canines who competed in the contest from previous years that did not win but we considered them ugly enough to be included on our list. Our list is rendered in alphabetical order and is not ranked.
Click here to see the ugliest dogs in the world
Many winning dogs look a bit off because of a pronounced underbite or an extra droopy face. Some may have look stunted as a result of inbreeding. And others have more severe difficulties that hamper their looks as well as their way of life. Quasi Modo, the 2015 contest winner, got his name from his abnormal back. The purebred German shepherd has short spine syndrome, and he required surgery to alleviate some of the pain from his neck and back. (These dogs have the shortest lifespan.)
Though many types of dogs have tried to claim the title of Ugliest Dog, there is one breed that stands alone in producing the most unsightly canines – the Chinese crested. Since the beginning of the World's Ugliest Dog Contest in the 1970s, the winner has been either a purebred or part Chinese crested at least 22 times. The breed is small, mostly hairless, and prone to buggy eyes – not a recipe for cuteness. Still, they are a beloved breed. The American Kennel Club describes Chinese cresteds as a "frolicsome, ultra-affectionate companion dog."
1. Brutus
> Breed: Mutt
> Ugliest Dog contest results: 2017 contestant
2. Chase
> Breed: Chinese Crested
> Ugliest Dog contest results: 2017 3rd place
3. Ellie Mae
> Breed: Chinese Crested
> Ugliest Dog contest results: 2013 contestant
4. Elwood
> Breed: Chinese Crested
> Ugliest Dog contest results: 2007 1st place
5. Icky
> Breed: Mutt
> Ugliest Dog contest results: 2017 contestant
6. Josie
> Breed: Chinese Crested
> Ugliest Dog contest results: 2018 3rd place
7. Martha
> Breed: Neapolitan Mastiff
> Ugliest Dog contest results: 2017 1st place
8. Moe
> Breed: Brussel Griffon Pug
> Ugliest Dog contest results: 2017 2nd place
9. Mugly
> Breed: Chinese Crested
> Ugliest Dog contest results: 2012 1st place
10. Pabst
> Breed: Boxer
> Ugliest Dog contest results: 2009 1st place
11. Peanut
> Breed: Shih-tzu-Chihuahua mix
> Ugliest Dog contest results: 2014 1st place
12. Pee Wee Martini
> Breed: Japanese Chin / Chinese Crested
> Ugliest Dog contest results: 2006 Ugliest mutt
13. Penny
> Breed: Pug
> Ugliest Dog contest results: 2013 contestant
14. Quasi Modo
> Breed: Pit bull-Dutch Shepherd mix
> Ugliest Dog contest results: 2015 1st place
15. Rascal Deux
> Breed: Chinese Crested
> Ugliest Dog contest results: 2016 contestant
16. Reggie
> Breed: Peruvian mix
> Ugliest Dog contest results: 2013 contestant
17. Rue
> Breed: Chinese Crested
> Ugliest Dog contest results: 2016 contestant
18. Walle
> Breed: Beagle-Boxer-Basset Hound
> Ugliest Dog contest results: 2013 1st place