These 13 States Have Multi-Billion Dollar Gun Economies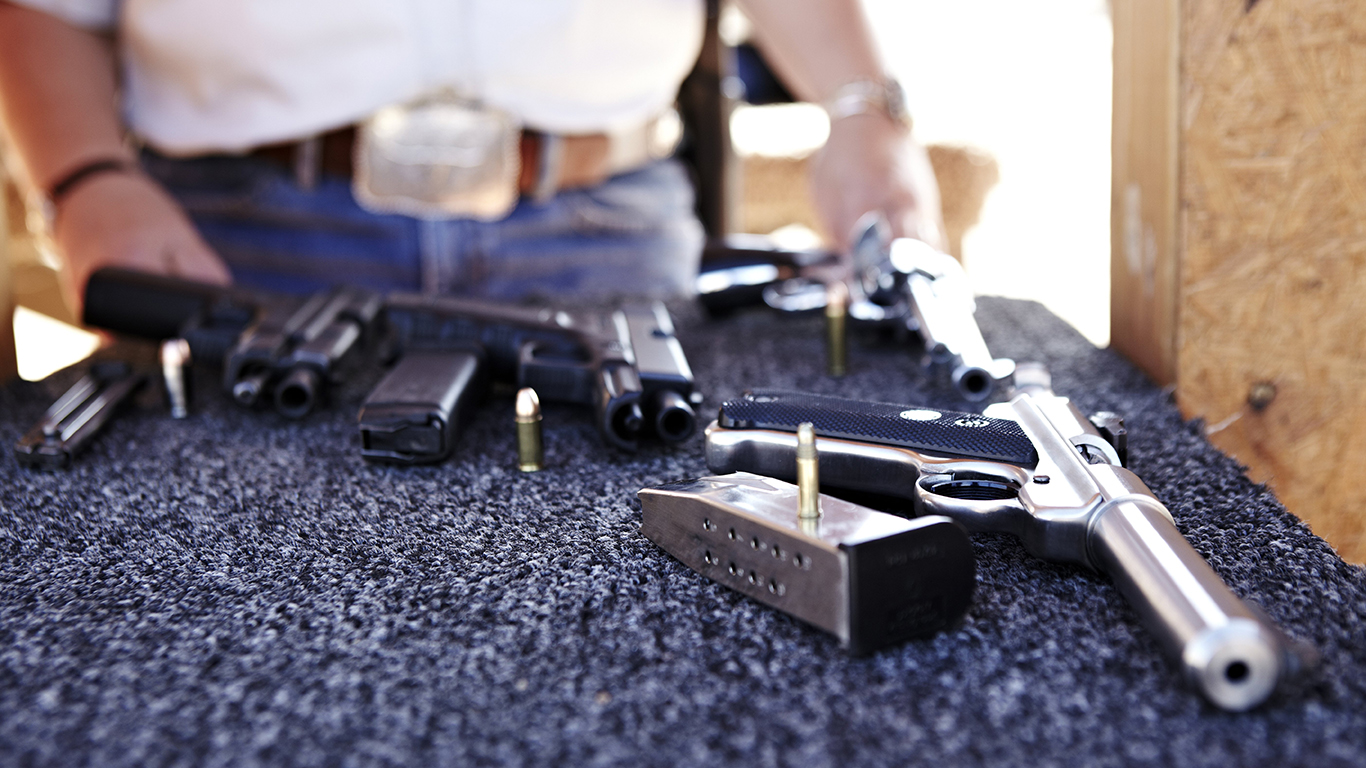 The number of firearms circulating in the United States it difficult to accurately calculate, but the most common estimate from a 2018 report by the Small Arms Survey estimated there were 393.3 million guns in civilian possession, or about 120 guns for every 100 people — making the U.S. the most armed civilian population on Earth — by a very long shot.

Considering that U.S. consumers purchased nearly 60 million guns between 2020 and 2022, according to The Trace, a nonprofit news organization covering U.S. gun violence, the number of firearms in the country today can safely be estimated to top 400 million, even accounting for the attrition of guns that are removed from the population. (These are every state's grade on gun laws.)
Such an enormous U.S. market means lots of jobs — and a significant contribution to the economy. (These are the 22 most popular guns purchased online last year.)
According to the National Shooting Sports Foundation's Firearm and Ammunition Industry Economic Impact report for 2023, the companies that manufacture, distribute, and sell firearms, ammunition, and hunting equipment, as well as their suppliers and ancillary industries, generated nearly 394,000 jobs across the 50 states and the District of Columbia in 2022. Combined the industry's direct and indirect economic output was nearly $81 billion.
To identify the states with multibillion dollar gun economies, 24/7 Wall St. reviewed the NSSF's report. States and the District of Columbia were ranked by the total economic output from gun sales, which include direct contributions such as jobs, wages, and business taxes, contributions from suppliers, and indirect contributions. The federal gun business tax, total gun jobs, and total and average gun job wages all came from the report. For each state and D.C. we also added gross domestic product for 2022 in current U.S. dollars from the Bureau of Economic Analysis and population data from the Census Bureau's 2022 American Community Survey.
In 28 states, the gun economy has a total output of over $1 billion. In 16 states, firearms-related economies are more than $2 billion.

As one would expect, the country's most populous states and largest economies have the most firearms-industry direct and indirect jobs, including states with stronger gun-control laws like California and New York. In these two states, the NSSF says the gun industry supports nearly 42,000 direct and indirect jobs and generates a combined direct and indirect economic output of about $9.1 billion.  
One outlier on this list is New Hampshire. The state has only about 1.4 million residents but ranks ninth among the 50 states and the District of Columbia in economic output at $3 billion. It also ranks 14th in the number of jobs in the industry at nearly 11,000, while the average annual wage for a worker in the industry of more than $101,000 ranks second. Major firearms manufacturing plants from Sturm, Ruger and Company, and Sig Sauer have plants in New Hampshire, whose state motto is "Live Free or Die."
Here are states with multi-billion-dollar firearm economies.
51. District of Columbia
Gun industry economic output (direct & indirect), 2022: $24.28 million
State GDP, 2022: $165.1 billion — 17th lowest
Federal gun business tax, 2022: $0.8 million — the lowest
Total gun jobs, 2022: 111 – the lowest
Total gun wages, 2022: $8.9 million — the lowest
Average gun job wage, 2022: $79,792 — 7th highest
Population, 2022: 671,803 — 3rd lowest
50. Hawaii
Gun industry economic output (direct & indirect), 2022: $78.41 million
State GDP, 2022: $101.1 billion — 11th lowest
Federal gun business tax, 2022: $5.6 million — 4th lowest
Total gun jobs, 2022: 554 – 3rd lowest
Total gun wages, 2022: $27.4 million — 3rd lowest
Average gun job wage, 2022: $49,506 — 11th lowest
Population, 2022: 1,440,196 — 12th lowest
49. Delaware
Gun industry economic output (direct & indirect), 2022: $78.71 million
State GDP, 2022: $90.2 billion — 9th lowest
Federal gun business tax, 2022: $2.8 million — 2nd lowest
Total gun jobs, 2022: 460 – 2nd lowest
Total gun wages, 2022: $22.6 million — 2nd lowest
Average gun job wage, 2022: $49,084 — 10th lowest
Population, 2022: 1,018,396 — 7th lowest
48. North Dakota
Gun industry economic output (direct & indirect), 2022: $97.99 million
State GDP, 2022: $72.7 billion — 6th lowest
Federal gun business tax, 2022: $5.5 million — 3rd lowest
Total gun jobs, 2022: 674 – 4th lowest
Total gun wages, 2022: $32.1 million — 4th lowest
Average gun job wage, 2022: $47,611 — 9th lowest
Population, 2022: 779,261 — 5th lowest
47. Alaska
Gun industry economic output (direct & indirect), 2022: $117.61 million
State GDP, 2022: $65.7 billion — 3rd lowest
Federal gun business tax, 2022: $7.3 million — 5th lowest
Total gun jobs, 2022: 1,048 – 6th lowest
Total gun wages, 2022: $43.7 million — 5th lowest
Average gun job wage, 2022: $41,706 — 3rd lowest
Population, 2022: 733,583 — 4th lowest
46. Vermont
Gun industry economic output (direct & indirect), 2022: $142.08 million
State GDP, 2022: $40.8 billion — the lowest
Federal gun business tax, 2022: $9.3 million — 6th lowest
Total gun jobs, 2022: 786 – 5th lowest
Total gun wages, 2022: $45.8 million — 6th lowest
Average gun job wage, 2022: $58,308 — 26th highest
Population, 2022: 647,064 — 2nd lowest
45. New Mexico
Gun industry economic output (direct & indirect), 2022: $191.79 million
State GDP, 2022: $125.5 billion — 14th lowest
Federal gun business tax, 2022: $11.5 million — 7th lowest
Total gun jobs, 2022: 1,463 – 8th lowest
Total gun wages, 2022: $55.6 million — 7th lowest
Average gun job wage, 2022: $38,028 — the lowest
Population, 2022: 2,113,344 — 16th lowest
44. West Virginia
Gun industry economic output (direct & indirect), 2022: $254.77 million
State GDP, 2022: $97.4 billion — 10th lowest
Federal gun business tax, 2022: $12.9 million — 9th lowest
Total gun jobs, 2022: 1,695 – 9th lowest
Total gun wages, 2022: $69.9 million — 8th lowest
Average gun job wage, 2022: $41,238 — 2nd lowest
Population, 2022: 1,775,156 — 13th lowest
43. Rhode Island
Gun industry economic output (direct & indirect), 2022: $320.23 million
State GDP, 2022: $72.8 billion — 7th lowest
Federal gun business tax, 2022: $19.3 million — 10th lowest
Total gun jobs, 2022: 1,325 – 7th lowest
Total gun wages, 2022: $100.8 million — 9th lowest
Average gun job wage, 2022: $76,078 — 11th highest
Population, 2022: 1,093,734 — 8th lowest
42. Montana
Gun industry economic output (direct & indirect), 2022: $389.25 million
State GDP, 2022: $67.1 billion — 4th lowest
Federal gun business tax, 2022: $25.9 million — 13th lowest
Total gun jobs, 2022: 2,555 – 12th lowest
Total gun wages, 2022: $121.0 million — 11th lowest
Average gun job wage, 2022: $47,365 — 7th lowest
Population, 2022: 1,122,867 — 9th lowest
41. South Dakota
Gun industry economic output (direct & indirect), 2022: $400.43 million
State GDP, 2022: $68.8 billion — 5th lowest
Federal gun business tax, 2022: $24.4 million — 12th lowest
Total gun jobs, 2022: 1,810 – 10th lowest
Total gun wages, 2022: $117.1 million — 10th lowest
Average gun job wage, 2022: $64,702 — 20th highest
Population, 2022: 909,824 — 6th lowest
40. Oklahoma
Gun industry economic output (direct & indirect), 2022: $461.49 million
State GDP, 2022: $242.7 billion — 22nd lowest
Federal gun business tax, 2022: $22.9 million — 11th lowest
Total gun jobs, 2022: 2,779 – 13th lowest
Total gun wages, 2022: $127.6 million — 12th lowest
Average gun job wage, 2022: $45,917 — 6th lowest
Population, 2022: 4,019,800 — 24th lowest
39. Kansas
Gun industry economic output (direct & indirect), 2022: $503.08 million
State GDP, 2022: $209.3 billion — 19th lowest
Federal gun business tax, 2022: $12.0 million — 8th lowest
Total gun jobs, 2022: 2,039 – 11th lowest
Total gun wages, 2022: $143.3 million — 13th lowest
Average gun job wage, 2022: $70,287 — 13th highest
Population, 2022: 2,937,150 — 17th lowest
38. Iowa
Gun industry economic output (direct & indirect), 2022: $577.59 million
State GDP, 2022: $238.3 billion — 21st lowest
Federal gun business tax, 2022: $27.4 million — 14th lowest
Total gun jobs, 2022: 2,956 – 14th lowest
Total gun wages, 2022: $164.9 million — 15th lowest
Average gun job wage, 2022: $55,780 — 19th lowest
Population, 2022: 3,200,517 — 21st lowest
37. Maine
Gun industry economic output (direct & indirect), 2022: $611.28 million
State GDP, 2022: $85.8 billion — 8th lowest
Federal gun business tax, 2022: $46.0 million — 17th lowest
Total gun jobs, 2022: 4,174 – 19th lowest
Total gun wages, 2022: $197.9 million — 17th lowest
Average gun job wage, 2022: $47,407 — 8th lowest
Population, 2022: 1,385,340 — 10th lowest
36. Wyoming
Gun industry economic output (direct & indirect), 2022: $616.97 million
State GDP, 2022: $49.1 billion — 2nd lowest
Federal gun business tax, 2022: $35.8 million — 16th lowest
Total gun jobs, 2022: 3,632 – 16th lowest
Total gun wages, 2022: $163.5 million — 14th lowest
Average gun job wage, 2022: $45,012 — 4th lowest
Population, 2022: 581,381 — the lowest
35. Louisiana
Gun industry economic output (direct & indirect), 2022: $693.20 million
State GDP, 2022: $292.0 billion — 26th highest
Federal gun business tax, 2022: $34.5 million — 15th lowest
Total gun jobs, 2022: 3,758 – 17th lowest
Total gun wages, 2022: $186.7 million — 16th lowest
Average gun job wage, 2022: $49,674 — 12th lowest
Population, 2022: 4,590,241 — 25th highest
34. Nevada
Gun industry economic output (direct & indirect), 2022: $802.31 million
State GDP, 2022: $222.9 billion — 20th lowest
Federal gun business tax, 2022: $59.3 million — 23rd lowest
Total gun jobs, 2022: 3,909 – 18th lowest
Total gun wages, 2022: $238.0 million — 19th lowest
Average gun job wage, 2022: $60,888 — 22nd highest
Population, 2022: 3,177,772 — 20th lowest
33. Nebraska
Gun industry economic output (direct & indirect), 2022: $849.07 million
State GDP, 2022: $164.9 billion — 16th lowest
Federal gun business tax, 2022: $47.7 million — 19th lowest
Total gun jobs, 2022: 3,252 – 15th lowest
Total gun wages, 2022: $216.8 million — 18th lowest
Average gun job wage, 2022: $66,668 — 17th highest
Population, 2022: 1,967,923 — 15th lowest
32. Alabama
Gun industry economic output (direct & indirect), 2022: $875.75 million
State GDP, 2022: $281.6 billion — 25th lowest
Federal gun business tax, 2022: $47.4 million — 18th lowest
Total gun jobs, 2022: 5,395 – 25th lowest
Total gun wages, 2022: $244.5 million — 20th lowest
Average gun job wage, 2022: $45,322 — 5th lowest
Population, 2022: 5,074,296 — 24th highest
31. New Jersey
Gun industry economic output (direct & indirect), 2022: $958.90 million
State GDP, 2022: $754.9 billion — 9th highest
Federal gun business tax, 2022: $73.6 million — 26th highest
Total gun jobs, 2022: 4,382 – 21st lowest
Total gun wages, 2022: $384.3 million — 26th highest
Average gun job wage, 2022: $87,710 — 4th highest
Population, 2022: 9,261,699 — 11th highest
30. Kentucky
Gun industry economic output (direct & indirect), 2022: $972.08 million
State GDP, 2022: $259.0 billion — 24th lowest
Federal gun business tax, 2022: $54.7 million — 20th lowest
Total gun jobs, 2022: 5,384 – 24th lowest
Total gun wages, 2022: $287.0 million — 22nd lowest
Average gun job wage, 2022: $53,314 — 16th lowest
Population, 2022: 4,512,310 — 26th highest
29. Maryland
Gun industry economic output (direct & indirect), 2022: $997.52 million
State GDP, 2022: $480.1 billion — 17th highest
Federal gun business tax, 2022: $68.7 million — 24th lowest
Total gun jobs, 2022: 4,227 – 20th lowest
Total gun wages, 2022: $334.1 million — 24th lowest
Average gun job wage, 2022: $79,036 — 9th highest
Population, 2022: 6,164,660 — 19th highest
28. Colorado
Gun industry economic output (direct & indirect), 2022: $1.14 billion
State GDP, 2022: $491.3 billion — 15th highest
Federal gun business tax, 2022: $95.0 million — 25th highest
Total gun jobs, 2022: 6,951 – 23rd highest
Total gun wages, 2022: $410.8 million — 25th highest
Average gun job wage, 2022: $59,094 — 24th highest
Population, 2022: 5,839,926 — 21st highest
27. South Carolina
Gun industry economic output (direct & indirect), 2022: $1.18 billion
State GDP, 2022: $297.5 billion — 24th highest
Federal gun business tax, 2022: $72.8 million — 25th lowest
Total gun jobs, 2022: 6,471 – 24th highest
Total gun wages, 2022: $346.3 million — 25th lowest
Average gun job wage, 2022: $53,520 — 17th lowest
Population, 2022: 5,282,634 — 23rd highest
26. Mississippi
Gun industry economic output (direct & indirect), 2022: $1.19 billion
State GDP, 2022: $140.0 billion — 15th lowest
Federal gun business tax, 2022: $59.2 million — 22nd lowest
Total gun jobs, 2022: 4,865 – 22nd lowest
Total gun wages, 2022: $284.0 million — 21st lowest
Average gun job wage, 2022: $58,386 — 25th highest
Population, 2022: 2,940,057 — 18th lowest
25. Indiana
Gun industry economic output (direct & indirect), 2022: $1.27 billion
State GDP, 2022: $470.3 billion — 19th highest
Federal gun business tax, 2022: $55.0 million — 21st lowest
Total gun jobs, 2022: 5,944 – 25th highest
Total gun wages, 2022: $324.9 million — 23rd lowest
Average gun job wage, 2022: $54,657 — 18th lowest
Population, 2022: 6,833,037 — 17th highest
24. Massachusetts
Gun industry economic output (direct & indirect), 2022: $1.32 billion
State GDP, 2022: $691.5 billion — 12th highest
Federal gun business tax, 2022: $96.4 million — 24th highest
Total gun jobs, 2022: 5,704 – 26th highest
Total gun wages, 2022: $465.9 million — 22nd highest
Average gun job wage, 2022: $81,684 — 6th highest
Population, 2022: 6,981,974 — 16th highest
23. Utah
Gun industry economic output (direct & indirect), 2022: $1.44 billion
State GDP, 2022: $256.4 billion — 23rd lowest
Federal gun business tax, 2022: $104.1 million — 22nd highest
Total gun jobs, 2022: 8,999 – 16th highest
Total gun wages, 2022: $450.2 million — 24th highest
Average gun job wage, 2022: $50,031 — 13th lowest
Population, 2022: 3,380,800 — 22nd lowest
22. Connecticut
Gun industry economic output (direct & indirect), 2022: $1.49 billion
State GDP, 2022: $319.3 billion — 23rd highest
Federal gun business tax, 2022: $118.5 million — 18th highest
Total gun jobs, 2022: 5,163 – 23rd lowest
Total gun wages, 2022: $531.4 million — 19th highest
Average gun job wage, 2022: $102,921 — the highest
Population, 2022: 3,626,205 — 23rd lowest
21. Virginia
Gun industry economic output (direct & indirect), 2022: $1.52 billion
State GDP, 2022: $663.1 billion — 13th highest
Federal gun business tax, 2022: $105.2 million — 21st highest
Total gun jobs, 2022: 7,808 – 22nd highest
Total gun wages, 2022: $452.6 million — 23rd highest
Average gun job wage, 2022: $57,964 — 24th lowest
Population, 2022: 8,683,619 — 12th highest
20. Missouri
Gun industry economic output (direct & indirect), 2022: $1.54 billion
State GDP, 2022: $396.9 billion — 21st highest
Federal gun business tax, 2022: $102.2 million — 23rd highest
Total gun jobs, 2022: 8,873 – 17th highest
Total gun wages, 2022: $495.9 million — 20th highest
Average gun job wage, 2022: $55,892 — 20th lowest
Population, 2022: 6,177,957 — 18th highest
19. Oregon
Gun industry economic output (direct & indirect), 2022: $1.66 billion
State GDP, 2022: $297.3 billion — 25th highest
Federal gun business tax, 2022: $137.2 million — 16th highest
Total gun jobs, 2022: 8,540 – 18th highest
Total gun wages, 2022: $591.6 million — 16th highest
Average gun job wage, 2022: $69,272 — 15th highest
Population, 2022: 4,240,137 — 25th lowest
18. Wisconsin
Gun industry economic output (direct & indirect), 2022: $1.78 billion
State GDP, 2022: $396.2 billion — 22nd highest
Federal gun business tax, 2022: $108.3 million — 20th highest
Total gun jobs, 2022: 8,292 – 21st highest
Total gun wages, 2022: $532.6 million — 18th highest
Average gun job wage, 2022: $64,230 — 21st highest
Population, 2022: 5,892,539 — 20th highest
17. Washington
Gun industry economic output (direct & indirect), 2022: $1.96 billion
State GDP, 2022: $738.1 billion — 10th highest
Federal gun business tax, 2022: $161.5 million — 12th highest
Total gun jobs, 2022: 9,636 – 15th highest
Total gun wages, 2022: $639.7 million — 15th highest
Average gun job wage, 2022: $66,386 — 18th highest
Population, 2022: 7,785,786 — 13th highest
16. Arkansas
Gun industry economic output (direct & indirect), 2022: $2.13 billion
State GDP, 2022: $166.0 billion — 18th lowest
Federal gun business tax, 2022: $111.6 million — 19th highest
Total gun jobs, 2022: 8,508 – 19th highest
Total gun wages, 2022: $476.4 million — 21st highest
Average gun job wage, 2022: $55,998 — 21st lowest
Population, 2022: 3,045,637 — 19th lowest
15. Michigan
Gun industry economic output (direct & indirect), 2022: $2.13 billion
State GDP, 2022: $622.6 billion — 14th highest
Federal gun business tax, 2022: $150.2 million — 14th highest
Total gun jobs, 2022: 12,254 – 10th highest
Total gun wages, 2022: $707.6 million — 14th highest
Average gun job wage, 2022: $57,743 — 23rd lowest
Population, 2022: 10,034,118 — 10th highest
14. Idaho
Gun industry economic output (direct & indirect), 2022: $2.32 billion
State GDP, 2022: $110.9 billion — 13th lowest
Federal gun business tax, 2022: $131.9 million — 17th highest
Total gun jobs, 2022: 8,374 – 20th highest
Total gun wages, 2022: $559.9 million — 17th highest
Average gun job wage, 2022: $66,866 — 16th highest
Population, 2022: 1,939,033 — 14th lowest
13. Georgia
Gun industry economic output (direct & indirect), 2022: $2.42 billion
State GDP, 2022: $767.4 billion — 8th highest
Federal gun business tax, 2022: $146.9 million — 15th highest
Total gun jobs, 2022: 10,859 – 13th highest
Total gun wages, 2022: $710.7 million — 13th highest
Average gun job wage, 2022: $65,452 — 19th highest
Population, 2022: 10,912,876 — 8th highest
12. Arizona
Gun industry economic output (direct & indirect), 2022: $2.42 billion
State GDP, 2022: $475.7 billion — 18th highest
Federal gun business tax, 2022: $195.7 million — 10th highest
Total gun jobs, 2022: 11,867 – 11th highest
Total gun wages, 2022: $828.4 million — 10th highest
Average gun job wage, 2022: $69,808 — 14th highest
Population, 2022: 7,359,197 — 14th highest
11. Ohio
Gun industry economic output (direct & indirect), 2022: $2.53 billion
State GDP, 2022: $826.0 billion — 7th highest
Federal gun business tax, 2022: $160.2 million — 13th highest
Total gun jobs, 2022: 15,506 – 5th highest
Total gun wages, 2022: $797.1 million — 11th highest
Average gun job wage, 2022: $51,405 — 14th lowest
Population, 2022: 11,756,058 — 7th highest
10. North Carolina
Gun industry economic output (direct & indirect), 2022: $2.66 billion
State GDP, 2022: $716.0 billion — 11th highest
Federal gun business tax, 2022: $166.1 million — 11th highest
Total gun jobs, 2022: 12,452 – 9th highest
Total gun wages, 2022: $749.9 million — 12th highest
Average gun job wage, 2022: $60,227 — 23rd highest
Population, 2022: 10,698,973 — 9th highest
9. New Hampshire
Gun industry economic output (direct & indirect), 2022: $3.04 billion
State GDP, 2022: $105.0 billion — 12th lowest
Federal gun business tax, 2022: $246.6 million — 5th highest
Total gun jobs, 2022: 10,733 – 14th highest
Total gun wages, 2022: $1,090.1 million — 8th highest
Average gun job wage, 2022: $101,561 — 2nd highest
Population, 2022: 1,395,231 — 11th lowest
8. Pennsylvania
Gun industry economic output (direct & indirect), 2022: $3.10 billion
State GDP, 2022: $911.8 billion — 6th highest
Federal gun business tax, 2022: $234.1 million — 7th highest
Total gun jobs, 2022: 19,660 – 4th highest
Total gun wages, 2022: $1,116.7 million — 6th highest
Average gun job wage, 2022: $56,802 — 22nd lowest
Population, 2022: 12,972,008 — 5th highest
7. New York
Gun industry economic output (direct & indirect), 2022: $3.19 billion
State GDP, 2022: $2,048.4 billion — 3rd highest
Federal gun business tax, 2022: $215.1 million — 9th highest
Total gun jobs, 2022: 11,812 – 12th highest
Total gun wages, 2022: $1,120.0 million — 5th highest
Average gun job wage, 2022: $94,821 — 3rd highest
Population, 2022: 19,677,151 — 4th highest
6. Tennessee
Gun industry economic output (direct & indirect), 2022: $3.27 billion
State GDP, 2022: $485.7 billion — 16th highest
Federal gun business tax, 2022: $223.9 million — 8th highest
Total gun jobs, 2022: 13,231 – 8th highest
Total gun wages, 2022: $1,051.9 million — 9th highest
Average gun job wage, 2022: $79,501 — 8th highest
Population, 2022: 7,051,339 — 15th highest
5. Minnesota
Gun industry economic output (direct & indirect), 2022: $3.66 billion
State GDP, 2022: $448.0 billion — 20th highest
Federal gun business tax, 2022: $262.2 million — 4th highest
Total gun jobs, 2022: 13,261 – 7th highest
Total gun wages, 2022: $1,152.5 million — 4th highest
Average gun job wage, 2022: $86,908 — 5th highest
Population, 2022: 5,717,184 — 22nd highest
4. Illinois
Gun industry economic output (direct & indirect), 2022: $3.69 billion
State GDP, 2022: $1,025.7 billion — 5th highest
Federal gun business tax, 2022: $241.4 million — 6th highest
Total gun jobs, 2022: 14,257 – 6th highest
Total gun wages, 2022: $1,094.9 million — 7th highest
Average gun job wage, 2022: $76,799 — 10th highest
Population, 2022: 12,582,032 — 6th highest
3. Florida
Gun industry economic output (direct & indirect), 2022: $3.79 billion
State GDP, 2022: $1,439.1 billion — 4th highest
Federal gun business tax, 2022: $310.2 million — 3rd highest
Total gun jobs, 2022: 23,045 – 3rd highest
Total gun wages, 2022: $1,216.8 million — 3rd highest
Average gun job wage, 2022: $52,799 — 15th lowest
Population, 2022: 22,244,823 — 3rd highest
2. Texas
Gun industry economic output (direct & indirect), 2022: $5.88 billion
State GDP, 2022: $2,402.1 billion — 2nd highest
Federal gun business tax, 2022: $380.1 million — 2nd highest
Total gun jobs, 2022: 32,130 – the highest
Total gun wages, 2022: $1,867.1 million — 2nd highest
Average gun job wage, 2022: $58,112 — 25th lowest
Population, 2022: 30,029,572 — 2nd highest
1. California
Gun industry economic output (direct & indirect), 2022: $5.99 billion
State GDP, 2022: $3,641.6 billion — the highest
Federal gun business tax, 2022: $483.8 million — the highest
Total gun jobs, 2022: 30,133 – 2nd highest
Total gun wages, 2022: $2,187.5 million — the highest
Average gun job wage, 2022: $72,595 — 12th highest
Population, 2022: 39,029,342 — the highest