This Was the Most-Used American Submarine in WWII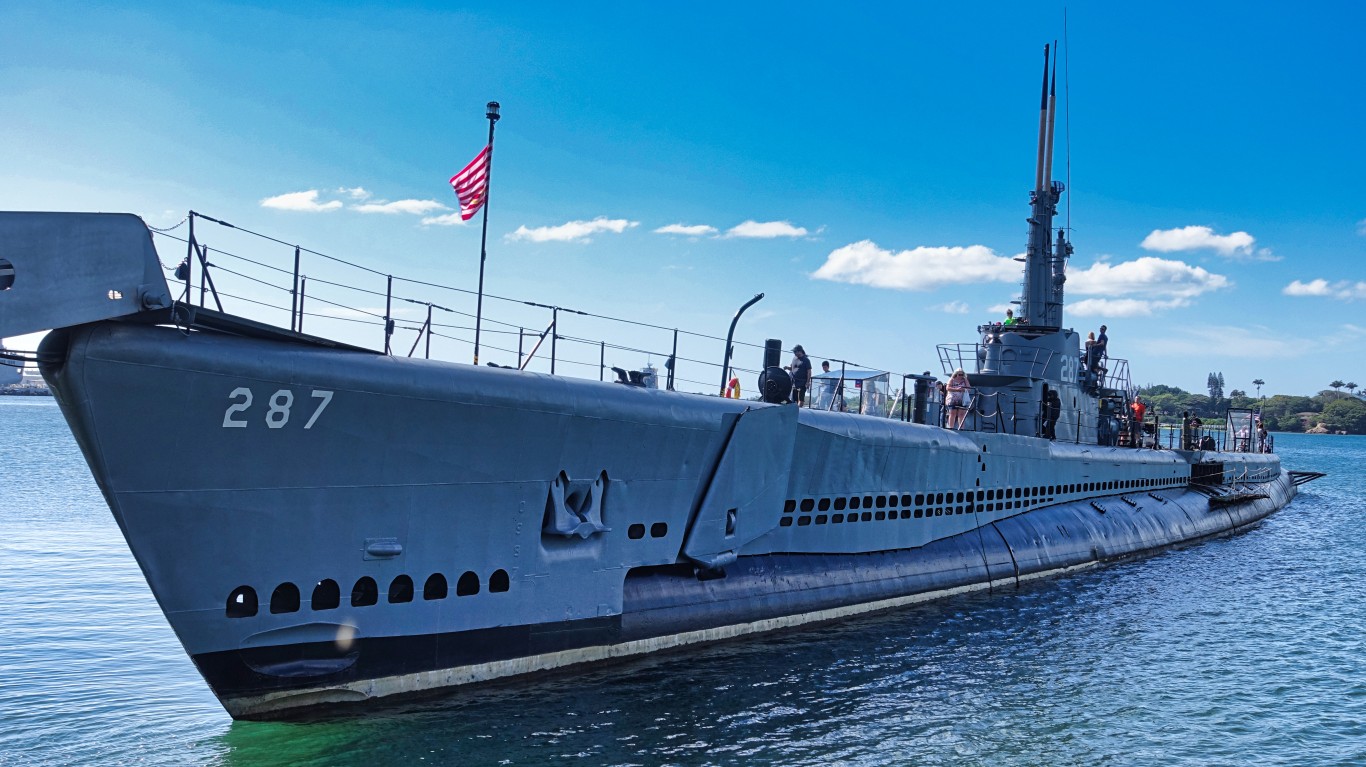 The United States used submarines extensively in World War II, striking hard at enemy ships, and safeguarding American and Allied interests. In order to fight the Japanese armada in the Pacific Theater, the U.S. had to deploy as many submarines as it could produce. Here, we are taking a look at the most produced US military submarines in World War II.
To determine the most produced U.S. submarines used in World War II, 24/7 Wall St. reviewed production totals from Military Factory, an online database of military vehicles, aircraft, arms, and more. This list represents all of the American submarine classes that saw service in WWII. The eight different classes are ranked by the total number of the class produced over its lifetime, including before and after WWII. Supplemental information about type, notable submarines, and a notable submarine's personnel and year it entered service also came from Military Factory. Submarines belonging to the same class often had differing crew complements.
The two most produced classes of submarines on this list are the Gato-class and the Balao-class. All the submarines produced during this time were diesel-electric, the nuclear submarines that would make up the US fleet did not come until a decade after the end of WWII. (Currently, these are the 19 ships and submarines in U.S. naval fleet.)
The Gato-class submarines hold the distinction of being the first mass-produced wartime submarines. The U.S. produced a total of 77 Gato-class submarines, mostly after 1941. These diesel-electric submarines were designed for prolonged operations and were used for patrol, submerged attack, and fleet support. The Gato-class submarines helped in disrupting enemy supply lines in the Pacific and Atlantic oceans throughout the war. (Also see, a battle with Japan during WWII was the largest in U.S. naval history.)
The Balao-class submarines sought to address some of the Gato-class shortcomings. Developed over the course of WWII, specifically between 1943 and 1945, the U.S. produced at least 120 Balao-class subs. These vessels, along with the Gato-class subs were vital in the fight in the Pacific Theater. Both classes left an indelible mark on the war, demonstrating the importance of submarine warfare in achieving naval dominance. 
Here's a look at some of the most produced submarines of World War II.
8. V-5 (Narwhal)-class
> Number produced: 2
> Type: Diesel-electric attack submarine
> Notable submarine(s): USS Narwhal (SS-167), USS Nautilus (SS-168)
> Year USS Narwhal (SS-167) entered service: 1930
> USS Narwhal (SS-167) personnel: 89
7. V-8 (Cachalot)-class
> Number produced: 2
> Type: Diesel-electric attack submarine
> Notable submarine(s): USS Cuttlefish (SS-171)
> Year USS Cuttlefish (SS-171) entered service: 1934
> USS Cuttlefish (SS-171) personnel: 48
6. Barracuda-class
> Number produced: 3
> Type: Diesel-electric ocean-going attack submarine
> Notable submarine(s): USS Bass (SS-164) / (V2-2 (SF-5)
> Year USS Bass (SS-164) / (V2-2 (SF-5) entered service: 1925
> USS Bass (SS-164) / (V2-2 (SF-5) personnel: 88
5. Salmon-class
> Number produced: 6
> Type: Diesel-electric attack submarine
> Notable submarine(s): USS Salmon (SS-182)
> Year USS Salmon (SS-182) entered service: 1938
> USS Salmon (SS-182) personnel: 59
4. Porpoise-class
> Number produced: 10
> Type: Diesel-electric attack submarine
> Notable submarine(s): USS Porpoise (SS-172)
> Year USS Porpoise (SS-172) entered service: 1935
> USS Porpoise (SS-172) personnel: 56
3. Tench-class
> Number produced: 29
> Type: Diesel-electric attack submarine
> Notable submarine(s): USS Tench (SS-417)
> Year USS Tench (SS-417) entered service: 1944
> USS Tench (SS-417) personnel: 81
2. Gato-class
> Number produced: 77
> Type: Diesel-electric attack submarine
> Notable submarine(s): USS Gato (SS-212), USS Ray (SS-271), USS Cavalla (SS-244)
> Year USS Gato (SS-212) entered service: 1941
> USS Gato (SS-212) personnel: 80
1. Balao-class
> Number produced: 120
> Type: Diesel-electric attack submarine
> Notable submarine(s): USS Bowfin (SS-287), USS Balao (SS-285)
> Year USS Bowfin (SS-287) entered service: 1943
> USS Bowfin (SS-287) personnel: 80