These Very Famous People All Died at the Dinner Table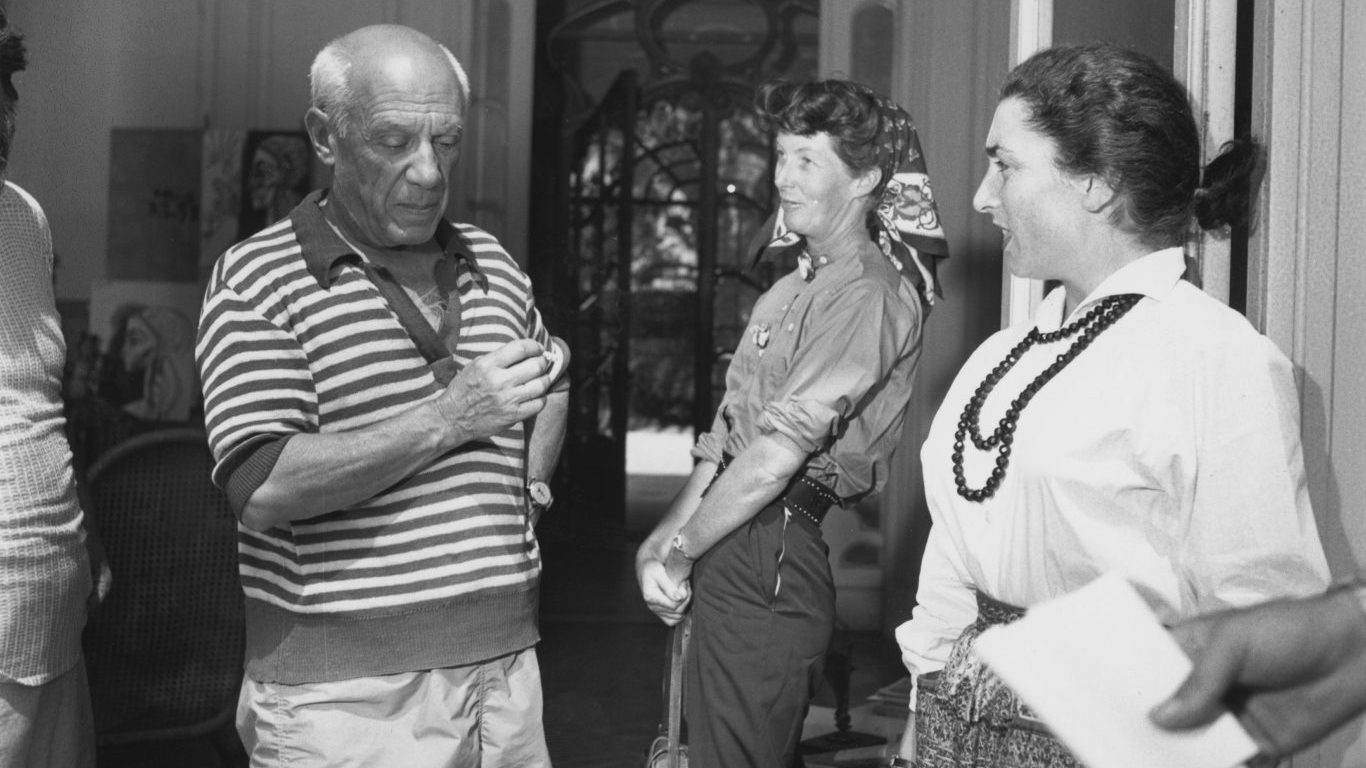 Pablo Picasso, the rapper Prodigy, and the fourth president of the United States have something in common: They all died while eating.
There's an old Catalan proverb that says "The table kills more people than war does" — and there are certainly plenty of famous food-related deaths throughout history. Monarchs seem particularly susceptible: The early 12th-century English king Henry I is said to have died from a surfeit of lampreys (an eel-like fish); one of his successors, King John, was done in by a surfeit of underripe peaches. The 18th-century Swedish king Adolf Frederick was felled by digestive problems after wolfing down a repast of caviar, lobster, herring, and sauerkraut, accompanied by champagne and finished off with a supposed 14 servings of semla, a cream-filled bun bathed in hot milk.
None of those deaths actually occurred at the table, however. And the demises of Picasso, Prodigy, and President James Madison can't be blamed directly on the consumption of too much food. Neither can those of anyone else on the list (with one possible exception).
A few of these unfortunate diners did choke to death, one was shot, and one was undeniably poisoned — but most of them simply happened to die of heart attacks or natural causes while sitting down to eat. (These are the 15 leading causes of death in America.)
The people on this list were often sitting with family or friends at the time of their departures, and assuming that they were enjoying their meals, it's tempting to think that there must be worse ways to go.
Click here to see the 15 famous people who died at the dinner table
Britannicus
c. February 11, 55 AD
Tiberius Claudius Caesar Britannicus, son of the Roman emperor Claudius, was in line for the throne occupied by the notorious Nero as soon as he became an adult — which was at the age of 14, according to Roman tradition. Nero couldn't have that and engaged the services of the same skilled poisoner who had helped Claudius into the hereafter. According to the historian Tacitus, at a dinner party attended by various nobles, the then-13-year-old Britannicus was served a hot beverage of some kind. His food taster tried it with no ill effects. But Britannicus asked for it to be cooled down, and poison-laced cold water was added. The effect was instantaneous and the boy expired. Nero denied responsibility and claimed that the boy had had an epileptic fit.
Tycho Brahe
October 24, 1601
The great Danish scientist, considered to be one of the founders of modern astronomy (even though he worked without a telescope, an instrument not invented until after his death), didn't exactly die at the table but because he stayed at the table. While seated at a banquet in Prague, he found nature calling, urgently. He refused to get up to relieve himself, however, as he believed it would be a breach of etiquette. When the meal was finally over and he got home, he was unable to urinate. He died 11 days later from uremia, urine in the blood, the result of his ill-advised politeness.
Old Tom Parr
Date unknown, 1635
Long celebrated in England as the world's oldest man, Parr was said to have been almost 153 years old when he died. He was so famous that his portrait was painted by Rubens and Van Dyck, and shortly before his demise, he was brought to London to meet King Charles I. This was unfortunate. The monarch feted him at a banquet, in the course of which he choked on some food and passed away.
Denis Diderot
July 31, 1784
This famed French philosopher and writer, best-known for his mid-18th-century Encyclopédie, or Encyclopedia, was also a noted gourmand. After a large meal at his daughter's home, the story goes, Diderot, who suffered from emphysema, reached for an apricot for dessert. His wife told him he'd had enough to eat, but he scoffed, ate the fruit, and died.
James Madison
June 28, 1836
Madison, who was considered the "Father of the Constitution" for having drafted much of it, and who went on to serve as Secretary of State before becoming the fourth president of the United States, died quietly at the breakfast table on a Tuesday morning at his plantation in Virginia. He was 83, an advanced age in that era, and apparently succumbed to natural causes.
Andrew Saks
April 9, 1912
In 1902, Saks and his brother Isadore, who had run a men's store in Washington, D.C., opened Saks & Company on 34th Street in Manhattan. After the store moved to a new location, it eventually became Saks Fifth Avenue. Andrew didn't live to see it, though. In 1912, a dozen years before the new store appeared, he died of unspecified causes while eating dinner in a private room at Sherry's, an elegant and expensive New York City restaurant that catered to high society.
King Farouk of Egypt
March 18, 1965
Farouk I, the second-to-last King of Egypt and onetime brother-in-law to the Shah of Iran, was a thin boy when he ascended to the throne at the age of 16. By the time he was deposed 16 years later, he was a bloated glutton weighing more than 325 pounds. Despite his girth, he was a notorious playboy and was dining with an attractive blonde 20 years his junior at the Île de France restaurant in Rome when he died. His last meal is said to have consisted of oysters, lobster, lamb, cake, and fruit. He was just lighting a post-prandial cigar when death struck. Rumors that he was poisoned by Egypt's then-president, Gamal Abdel Nasser, have never been substantiated.
Joseph "Crazy Joe" Gallo
April 7, 1972
The infamous mafia crime boss, responsible for numerous murders and for igniting a bloody mob war with the rival Colombo crime family, was shot to death on his 43rd birthday while eating at Umberto's Clam House in New York City's Little Italy. He was dining — at 4.30 in the morning — with his sister Carmella, his new wife, her young daughter, his bodyguard, and the bodyguard's girlfriend. As Gallo was reaching for a second helping of shrimp and scungilli salad, four Colombo gunmen entered the place, riddling him with bullets.
Pablo Picasso
April 8, 1973
The most famous artist of the 20th century, Picasso was still working, and planning for a new exhibition, up to the day of his death at the age of 91. Suffering from pulmonary edema (water in the lungs) and a heart condition, he succumbed at the dinner table while dining with his 47-year-old wife, Jacqueline Roque.
Anthony Blunt
March 28, 1983
A respected British art historian and official curator of Queen Elizabeth's art collection, Blunt was revealed to have been a longtime Soviet spy. Unlike his fellow conspirators — Kim Philby, Donald Maclean, and Guy Burgess — he remained in England after his treachery was discovered and died of an apparent heart attack while eating breakfast in his apartment in London.
Michael Witney
November 30, 1983
Witney was a popular movie and TV actor, primarily in Westerns, in the 1960s and '70s. He later married the British supermodel Twiggy. He died of a heart attack during an early dinner with their 4-year-old daughter at a McDonald's on New York's Upper East Side.
John Gregory Dunne
December 30, 2003
Like his wife, Joan Didion, Dunne was an acclaimed screenwriter, novelist, and journalist. He had just sat down to dinner with her at their Manhattan apartment when he had a heart attack. He was rushed to the hospital, but couldn't be resuscitated.
Arthur M. Schlesinger Jr.
February 28, 2007
A distinguished historian and author, Schlesinger is best known for his political writing, most notably the Pulitzer Prize-winning book "A Thousand Days: John F. Kennedy in the White House" (he and Kennedy were close friends). He suffered cardiac arrest at the age of 89 while dining with family members at an unnamed New York City restaurant.
Jimmy Dean
June 13, 2010
The country singer, actor, and one-time sausage mogul — he called his autobiography "30 Years of Sausage, 50 Years of Ham" — died of natural causes at the age of 81. He was eating dinner in front of the television at his home near Richmond, Virginia. His wife reported that she left the room for a few minutes and found him gone when she returned.
Prodigy (Albert Johnson)
June 20, 2017
Half of the hip hop duo Mobb Deep, Johnson had long suffered from sickle-cell anemia, even writing a song about it called "You Can Feel My Pain." While taking part in the Art of Rap tour in Las Vegas with fellow artists Ghostface Killah and Ice-T he became ill and was admitted to a local hospital. Tragically, he choked to death on an egg while eating lunch in his bed.
Sponsored: Tips for Investing
A financial advisor can help you understand the advantages and disadvantages of investment properties. Finding a qualified financial advisor doesn't have to be hard. SmartAsset's free tool matches you with up to three financial advisors who serve your area, and you can interview your advisor matches at no cost to decide which one is right for you. If you're ready to find an advisor who can help you achieve your financial goals, get started now.
Investing in real estate can diversify your portfolio. But expanding your horizons may add additional costs. If you're an investor looking to minimize expenses, consider checking out online brokerages. They often offer low investment fees, helping you maximize your profit.