This Is the Average Cost of a Home in New Hampshire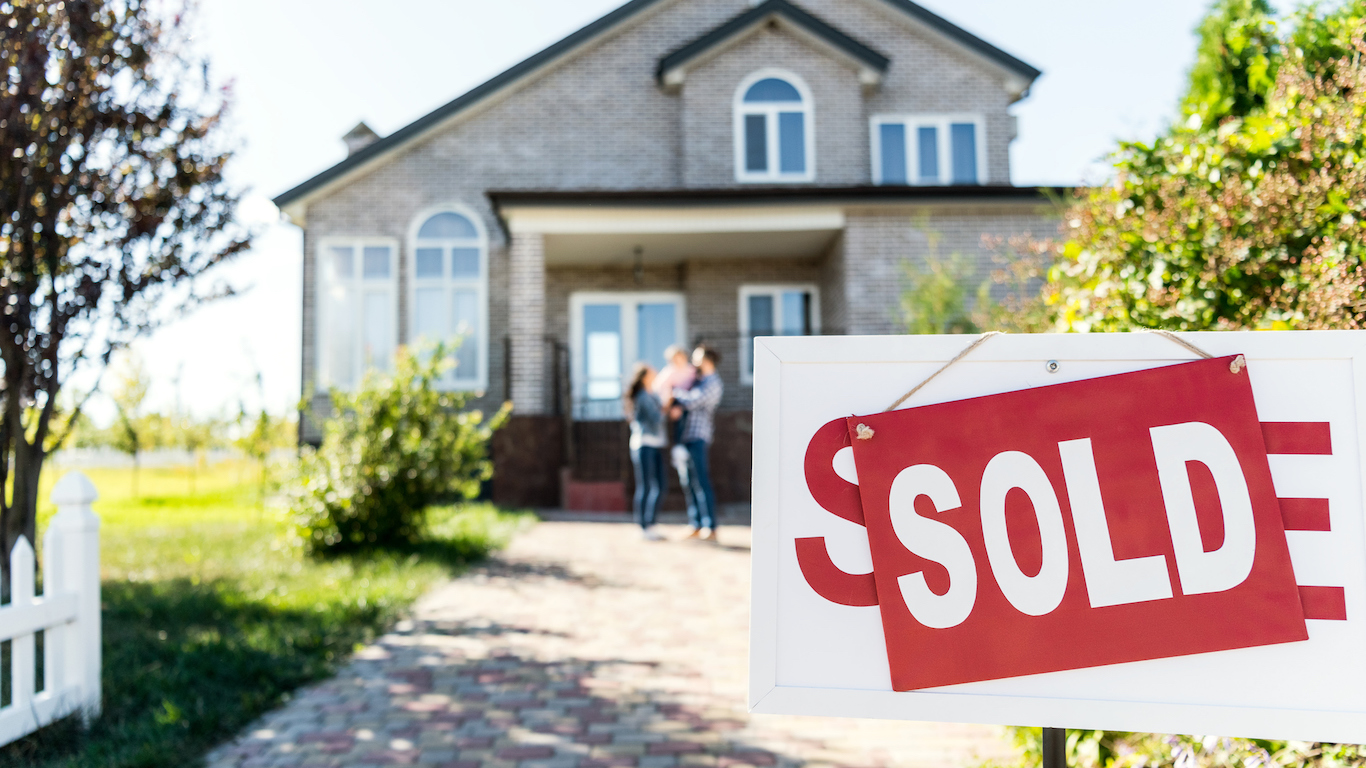 A surge in demand for homes in the United States, in addition to limited housing inventory, has created a sellers market unlike anything seen in recent memory. Homes are now selling faster than ever before — and also for more money than ever before.
As of August 2021, a typical single-family home in the United States costs $303,288. Of course, home values are not uniform across the country, and in some states, the typical home costs far more than the national average — while in others, homes cost far less.
According to estimates from Zillow, a Seattle-based real estate data company, the value of a typical single-family home in New Hampshire is $381,978, higher than the national average.
Across New Hampshire, the value of a single-family home across increased by 21.8% over the one year period from August 2020 to August 2021, compared to the national one-year home value appreciation of 17.7%.
Housing prices are determined by supply and demand forces as well as what local residents are willing to pay — and that is influenced largely by what they can afford. As a result, areas with higher than average home values often also have higher-income residents. New Hampshire is no exception. The typical household in the state earns $77,933 annually, $12,200 more than the national median household income of $65,712.
This is How Much Home You Can Buy For 200K in Every State
| Rank | State | Value of a typical single-family home | 1-yr. increase in home value | Median household income |
| --- | --- | --- | --- | --- |
| 1 | Hawaii | $764,146 | 14.5% | $83,102 |
| 2 | California | $708,936 | 21.9% | $80,440 |
| 3 | Massachusetts | $533,440 | 18.5% | $85,843 |
| 4 | Washington | $542,012 | 22.8% | $78,687 |
| 5 | Colorado | $509,800 | 20.3% | $77,127 |
| 6 | Oregon | $468,953 | 20.7% | $67,058 |
| 7 | Utah | $493,221 | 28.5% | $75,780 |
| 8 | New Jersey | $421,124 | 18.9% | $85,751 |
| 9 | New York | $363,990 | 14.2% | $72,108 |
| 10 | Idaho | $427,410 | 36.0% | $60,999 |
| 11 | Maryland | $373,264 | 14.7% | $86,738 |
| 12 | Rhode Island | $387,693 | 21.5% | $71,169 |
| 13 | Nevada | $389,397 | 23.8% | $63,276 |
| 14 | New Hampshire | $381,978 | 21.8% | $77,933 |
| 15 | Montana | $374,980 | 22.7% | $57,153 |
| 16 | Arizona | $376,369 | 30.7% | $62,055 |
| 17 | Virginia | $335,198 | 12.7% | $76,456 |
| 18 | Alaska | $304,908 | 4.1% | $75,463 |
| 19 | Connecticut | $326,124 | 20.7% | $78,833 |
| 20 | Delaware | $317,985 | 16.5% | $70,176 |
| 21 | Minnesota | $307,644 | 13.4% | $74,593 |
| 22 | Vermont | $308,300 | 12.9% | $63,001 |
| 23 | Maine | $318,628 | 22.7% | $58,924 |
| 24 | Florida | $313,217 | 20.1% | $59,227 |
| 25 | Wyoming | $279,449 | 6.4% | $65,003 |
| 26 | North Dakota | $252,788 | 6.4% | $64,577 |
| 27 | New Mexico | $253,790 | 17.8% | $51,945 |
| 28 | North Carolina | $260,597 | 19.0% | $57,341 |
| 29 | South Dakota | $249,314 | 11.9% | $59,533 |
| 30 | Texas | $257,628 | 18.1% | $64,034 |
| 31 | Georgia | $256,962 | 18.6% | $61,980 |
| 32 | Illinois | $239,408 | 13.3% | $69,187 |
| 33 | Pennsylvania | $240,658 | 16.2% | $63,463 |
| 34 | Wisconsin | $236,551 | 14.6% | $64,168 |
| 35 | Tennessee | $241,626 | 17.4% | $56,071 |
| 36 | South Carolina | $236,344 | 15.7% | $56,227 |
| 37 | Nebraska | $210,585 | 12.5% | $63,229 |
| 38 | Michigan | $214,231 | 17.4% | $59,584 |
| 39 | Missouri | $198,838 | 14.8% | $57,409 |
| 40 | Louisiana | $193,114 | 8.7% | $51,073 |
| 41 | Indiana | $191,054 | 14.8% | $57,603 |
| 42 | Ohio | $186,211 | 15.3% | $58,642 |
| 43 | Kansas | $180,914 | 12.5% | $62,087 |
| 44 | Kentucky | $172,433 | 11.6% | $52,295 |
| 45 | Iowa | $168,545 | 7.7% | $61,691 |
| 46 | Alabama | $175,586 | 13.7% | $51,734 |
| 47 | Arkansas | $153,263 | 12.2% | $48,952 |
| 48 | Oklahoma | $155,012 | 11.9% | $54,449 |
| 49 | Mississippi | $144,074 | 9.8% | $45,792 |
| 50 | West Virginia | $118,581 | 8.2% | $48,850 |