29 Horrifying Images of the Vietnam War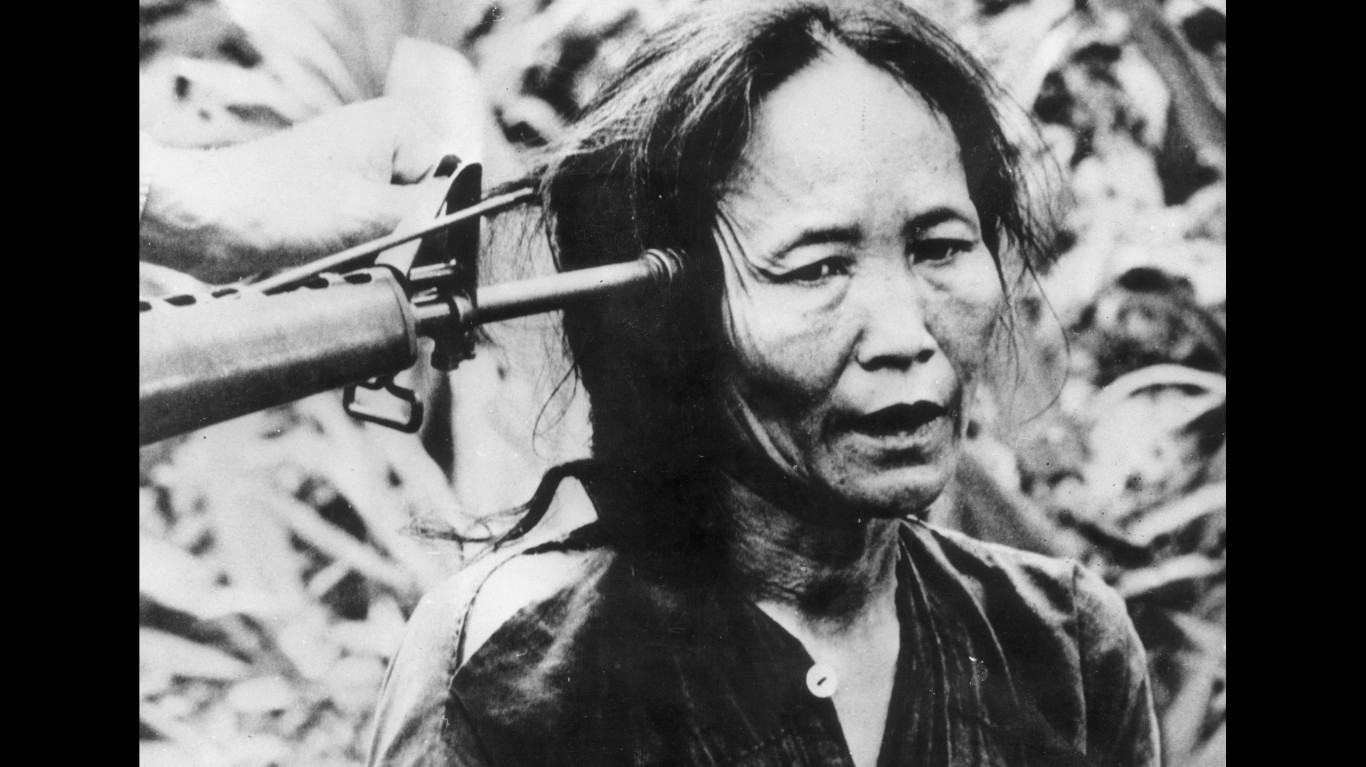 The Vietnam War was the first major armed conflict to be broadcast live into American homes through TV news. Nightly, Americans witnessed the brutal realities of war – aerial bombings, infantry battles in jungles and rice paddies, villages engulfed in flames, and the suffering of the Vietnamese people.
The war was also captured in unforgettable images from brave photographers around the world, including Pulitzer Prize winners Horst Faas and Sal Veder. Despite grave risks, these photojournalists recorded the combat and aftermath with striking photographs. Some, like Dickey Chapelle, lost their lives documenting the war's harsh truths. She became the first female American correspondent killed in action
To assemble a collection of some of the most terrifying images of the Vietnam War by a variety of photographers – some of them unknown – 24/7 Tempo reviewed historical photo archives from sources including Getty Images and the Library of Congress.
America was involved in combat operations in Vietnam from 1964 to 1973, one of the nation's longest wars. By the war's end, 58,000 American soldiers had perished. (It was one of the wars in which the most Americans died.)
The war split the nation in two and damaged confidence in America's role as a superpower. At home and in Vietnam, photographers captured the tremendous fear, chaos, anguish, and division spawned by the conflict. (Here's how every war in U.S. history ended.)
Click here to see 29 horrifying images of the Vietnam War
A Viet Cong detachment advances through the forest in January 1967. A dead American soldier lies In the foreground.
A U.S. Air Force Strategic Air Command B-52 Stratofortress drops 750-pound bombs on the Vietnamese coast in October 1965.
Staff Sergeant R.E. Steffy binds and blindfolds a Viet Cong fighter who was taken prisoner in Van Tuong in August 1965.
U.S. soldiers Ruediger Richter (left) and Daniel E. Spencer await a helicopter to evacuate their fallen comrade after a battle in jungle-covered hills in Long Khanh Province in 1966.
U.S. soldiers carry a wounded comrade through a swamp in 1969.
A Vietnamese civilian with a gun pointed at the side of her head.
U.S. Air Force Lieutenant Colonel James L. Hughes, forced to eject from his F-105 over North Vietnam on May 5, 1967, is paraded barefoot and with a bandaged face through the street by two North Vietnamese soldiers during the Vietnam War.
Ten Marine Corps test jumpers in "stick" formation are towed by a helicopter during tests of the special patrol insertion/extraction system at the Naval Aerospace Recovery Facility in El Centro, Calif.
North Vietnamese Army casualties
The bodies of three North Vietnamese soldiers lie in the street in Tan Son Nhut following a battle with U.S. and South Vietnamese troops.
The Air Force attacks Hanoi
A plume of black smoke rises from a petroleum storage facility in Hanoi following a bombing run by U.S. planes on June 29, 1966.
A U.S. Air Force Fairchild C-123 Provider sprays defoliants in the dense jungle growth in 1966.
U.S. Marines alight from helicopters and find themselves waist-high in swampy fields, as they move in position to clean out a Viet Cong position (the white smoke in the background is from a phosphorous rocket used as a landing marker)
American helicopters in action against the Viet Cong, a common scene during the Vietnam War.
Marines scramble to avoid enemy gunfire as they board a helicopter at Khe Sanh on April 18, 1968.
Carrying a fallen comrade
Marines of Company E, 2nd Battalion 7th Marines carry a dead comrade to a helicopter during Operation Arizona, in which four Marine battalions fought to clear the Viet Cong out of Quang Nam Province over eight days beginning June 14, 1967.
Dead North Vietnamese soldiers
In the foreground is a group of slain North Vietnamese soldiers as a Chinook helicopter rises above the area on Dec. 27, 1966.
Members of the 9th Infantry Division (Mechanized) survey the dead Viet Cong soldiers and weapons after the assault on the II Field Forces complex at the Long Binh Post, the U.S. Army's largest base in South Vietnam.
Three military policemen in Saigon lie on stretchers after they were killed during the Tết Offensive in January 1968, with a dead Viet Cong fighter in the background.
Viet Cong fighters killed by gunships and South Vietnamese soldiers lie in a ditch in the French National Cemetery near the Tan Son Nhut Air Base just outside Saigon.
A dead Viet Cong fighter lies on the ground in Saigon during the Tết Offensive in January 1968, as people carry on as usual around him.
Specialist George R. Sanchez of the 101st Airborne Division fires an M72 rocket launcher at an enemy position.
American soldiers sleeping in their foxholes between engagements on Aug. 26, 1966.
A resident of Hanoi takes refuge in an air-raid shelter on July 5,1967 during an American bombing raid.
The aftermath of the Battle of Huế, in which American and South Vietnamese forces recaptured the Central Vietnamese city from the Viet Cong on March 15, 1968.
A large bamboo crossbow device used by the Viet Cong to fire eight-foot spears at low-flying or landing helicopters.
An American soldier rests inside a M-113 armored personnel carrier that was part of a search and destroy mission against the Viet Cong at Filhol Plantation by the Saigon River, 10 miles northeast of the unit's base camp at Củ Chi in 1967.
A minefield at Biên-Hòa Air Base near Saigon in 1966; somewhere in the area is a South Vietnamese soldier who was wounded after stepping on a landmine.
Bombers over North Vietnam
Flying under radar control with a B-66 Destroyer, Air Force F-105 Thunderchief pilots bomb a military target through low clouds over the southern panhandle of North Vietnam on June 14, 1966.
South Vietnamese troops advance against Viet Cong guerillas through the marshy terrain of South Vietnam's delta region.
Sponsored: Attention Savvy Investors: Speak to 3 Financial Experts – FREE
Ever wanted an extra set of eyes on an investment you're considering? Now you can speak with up to 3 financial experts in your area for FREE. By simply clicking here you can begin to match with financial professionals who can help guide you through the financial decisions you're making. And the best part? The first conversation with them is free.
Click here to match with up to 3 financial pros who would be excited to help you make financial decisions.